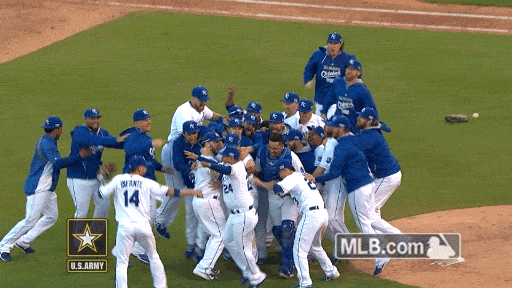 Welcome to the 2016 Razzball Team Previews! You'll find everything you need to know about each team to get yourself ready for the upcoming fantasy baseball season. And I mean everything, folks. We've got line-ups, charts, Slurpees, lube, a guide for beginner electricians, and even a cactus! Well, that's a lie. That's what Jay had last year sitting in front of him. This year? Um…a little less lube? Take that as you will. But hey, we've got teams to preview and questions to ask, so let's hop to it. We a very special guest for this post…Max Rieper, to provide his take on what the team has in store this season. Now enough rambling, let's see what 2016 holds for the Kansas City Royals!
2016 Kansas City Royals Depth Chart & Projections
Starting Lineup
Bench
Starting Rotation
Bullpen
27Note: Projections provided by Steamer.
And now we specifically want to get to the specifics. So, let's bring in Max Rieper from Royals Review to give us the low down on Kansas City in 2016.
All is right in the world in Kansas City. I mean, after recording their highest win total since 1980 and their first WS title since '85 the Royals are flying high. Add in the factor that they bring back most of the same lineup and that terrifying bullpen, and Kansas City could make a run at three straight WS appearances. Damn, what is this? The 90's Braves? It's been a remarkable two years; however, when looking at the projections there seem to be some big humps to get over. I have a hard time being overly optimistic about 2016 when I see the power projections for this lineup. They proved over the past two years that you can win with small ball (much to fantasy owners chagrin), but are the Royals trendsetters for the new look of MLB success, or will their lack of power catch up to them in 2016? I doubt Alex Gordon, Eric Hosmer, Mike Moustakas, or Salvador Perez just up and hit 30 HR out of nowhere anytime soon (but wouldn't it be great if they did?!?).
Max Rieper: The Royals are never going to be much of a power team, but the last two seasons they haven't had to be. 2015 actually represented a big increase in the power department for them, as they moved from begin dead last in the league in home runs to second-to-last! Despite their power outage, they were sixth in the league in runs scored. Kauffman Stadium allowed the fewest home runs out of any American League park, so much of that is a product of their home ballpark. Accordingly, they have adopted a philosophy of having high-contact hitters who put the ball in play. They also seem to emphasize having lots of decent hitters in the lineup rather than one or two big hitters. Basically, it is killing your opponent with death by a thousand cuts. The Royals don't have anyone that will hit 30 home runs, but they have a good number of hitters – Eric Hosmer, Alex Gordon, Salvador Perez, Mike Moustakas, Lorenzo Cain, and Kendrys Morales – all capable of hitting 15-20 home runs. They will continue to try to win games using high contact, speed, and defense.
Totally makes sense, especially given the stats about Kauffman Stadium. And you're right, there are some big bright spots in the lineup. One of the biggest improvements last season was the power found in Lorenzo Cain's bat. The pop from 2015 (16 HR) hasn't been seen since his AAA days when he first joined the system in 2011. Moving from a solid contact hitter with wheels to a hitter with a .477 SLG% is a significant upgrade for a team ghosting power. But beyond just the power, he improved everywhere: increased walk rate (6.1%), dropped K rate (16.2%), and hit a .307 clip with a much lower BABIP from 2014. Will 2015 prove to be an aberration from his career norm, or do we have a transcended player on our hands? Can he even repeat those numbers from last season?
Max Rieper: Lorenzo Cain is an interesting case because he came to baseball so late in his life. He did not pick up the game until he was in high school, so it has taken him awhile to refine his skills. I think we are starting to see the culmination of that hard work, with Cain finishing 3rd in MVP balloting last year. Cain made tremendous strides in his power due to a "lean-back" in his swing. I would expect him to regress a bit, simply because he had such a phenomenal season, but he should still be a solid hitter capable of hitting .280 – .300 with good double power and that amazing defense.
I'll shift from the power side of the conversation and jump over to a player with seemingly zero power in his bat. Ok, zero power isn't fair. That was unfair. How do you quantify less than zero? Negative power? I'll stop, but for real, Jarrod Dyson isn't intimidating any pitching staff for his pop, but those legs. Oooo, those legs. Dude can fly. If Jarrod Dyson actually gets the full-time gig in RF and sees more than 450 ABs, what's the ceiling for his his SB total?
Max Rieper: The Royals have said they can envision Dyson stealing 50 bases if he gets more playing time, which seems about right to me. Not only is Dyson a burner, but he is a very smart baserunner, noticing trends and tics from opposing pitchers that allows him to get the best jump. He was in the top five in baseball last year in Baserunning Runs per game, evidence that is one of the most effective runners around. The Royals will likely use him in a bit of a platoon role, sitting him against left-handers in favor of Paulo Orlando, but he should still get enough playing time to rack up a great stolen base total and possibly lead the league. His baserunning, combined with sensational defense and a decent ability to get on base, will make Dyson a very valuable player for the Royals.
Sounds like he could be a major key to the Royals 2016 success, along with their consistent lineup and their incredible pitching. The primary piece of the World Series rotation went out west to join a great contender from the other league, leaving a big hole at the top of the starting 5. See ya later, Johnny Cueto, and hello to…Ian Kennedy! Wait, those things are not the same, yet Kansas City paid a pretty penny to bring the underwhelming Kennedy in to anchor the rotation. Breaking off $70M for a 31 year old SP coming off a 4.28 ERA season while pitching in Petco is risky, but there are some promising peripherals he brings with him, most notably his continually climbing K/9. Is it more likely Kansas City just purchased an incredible bounceback candidate who can still circle around to his 2011 numbers (21 W, 2.88 ERA), or did they overpay for a declining, aging SP that can't keep his ERA under 4.00?
Max Rieper: Kennedy has been a big source of debate among Royals fans. His statistics have not looked good the last few years in San Diego, so the Royals will be banking that a move to Kansas City will help him out. Kennedy is a big fly ball pitcher who saw many of those fly balls leave the park last year in San Diego. Petco Park, long known as a pitcher's park, reconfigured their walls a bit last year and was actually a bit of a launching pad. Kennedy also played in front of an atrocious outfield defense with Matt Kemp, Wil Myers, and Justin Upton. Having Gold Glove-caliber outfielders like Alex Gordon, Jarrod Dyson, and Lorenzo Cain behind him should help immensely. Will he be worth $70 million? Probably not, but there will never be a shortage of teams that overpay for starting pitching. The Royals just need him to pitch 200 innings for them with a sub 4 ERA and I think they'll feel they got their money's worth.
Which is why I love what Atlanta is doing by stockpiling their young, cheap, and locked up pitching prospects. But none of them will provide what Kennedy does this year or next. So, one question left, and rather than spend time on the lockdown bullpen that should have no trouble closing out games from the 6th inning on, let's focus once more on the guys that will actually get the ball to the 6th. Perhaps Edinson Volquez outperforms expectations again like he has the past two years, and hopefully Yordano Ventura and Danny Duffy both make another stride forward, but, to me, a hidden gem in the staff this year is Kris Medlen. He was dominant for the Braves in 2012 and 2013, and now almost two full years removed from his second TJ surgery what should we expect from Medlen in 2016? His Steamer projections are very cautious at only 130 IP with a 1.30 WHIP; does he best those numbers?
Max Rieper: I agree that Medlen could be a very important piece for the Royals this year. I don't think we will ever see him dominate the way he did with the Braves those seasons, but the Royals really need him to be a solid 2 WAR pitcher or so. He looked pretty good in limited action last year, but the track record for guys with TWO Tommy John surgeries is not good. The Royals are in a position where they can take it easy on Medlen and let the bullpen come in before he gets overworked, so this may be the right environment for him to buck that trend.
Awesome! I appreciate the insight, and thanks for the conversation about the Kansas City Royals in 2016! Make sure to catch more of  Max's writings at Royals Review and keep checking back! More 2016 Team Previews to come!