We already made two trades in this league, so keep that in mind.  You want me to tell you the trades up front?  You and those dimples!  Okay,  I'll tell you.  We traded… Here it comes… Wait for it… Wait, where did it go?  Oh, here it is.  We traded Pena for The Dread Pirate.  And since you liked that one so much, we sent Rafael Soriano packing for Matt Garza.  You say tomato, I say we got Matt Garza for some saves.  The other trade will probably be a push, but The Dread Pirate worked better on our team, at least according to Advanced Quantum Fantasy Baseball Theory.  Anyway, here's our auction draft fantasy baseball team:
14 teams, H2H, 6×6 (OPS and Holds) C, 1B, 2B, 3B, SS, CI, MI, OF, OF, OF, Util, Util, SP, SP, RP, RP, P, P, P, P, BN, BN, BN, BN, BN, DL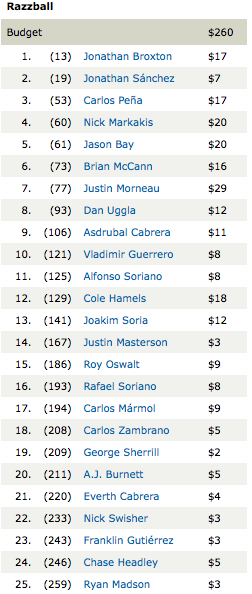 Jonathan Broxton – $17 — All 12 guys that went before our first pick went for much more than we were willing to spend.  Almost all of them going for more than $30.  We, Rudy and I — he drafted with me — had the most money at almost all times in the draft.  So in the grand scheme of things, we knew pretty early that we could have just about anyone we really wanted under $30.  I think I might've nominated Broxton, because I wanted someone to spend $20+ for him.  Yeah, that didn't work.  We knew that other closers would go for more than Broxton. (They did; Rivera $19, Papelbon for $20, K-Rod went for just under at $16.)  Was I in love with this pick?  It was okay.  I wouldn't have went an extra dollar if someone outbid me.  Same with Soriano, Marmol and Soria.
Jonathan Sanchez – $7, Carlos Zambrano – $5, Roy Oswalt – $9, A.J. Burnett – $5, Cole Hamels – $18 — This was basically the story of our draft.  Someone would nominate Sabathia the bidding would go over $30, we'd back out.  Someone would nominate Haren, bidding would go to $30, we'd drop out.  Carpenter — $29, F-Her — $35, Jon Lester — $25, etc.  Someone would nominate a pitcher who was still very valuable, but maybe not as exciting and we'd get him.  Our staff is a bit weaker than I'd want in a roto league, but this is H2H, so we'll see.  For what it's Wuertz, we beat a team with Kershaw, Lincecum and Haren in our first week matchup.
Nick Markakis – $20, Jason Bay – $20, Brian McCann – $16, Alfonso Soriano – $8, Vladimir Guerrero – $8, Dan Uggla – $12 — Because of the insane amounts of money spent on the top guys, no one had any money for the unsexy guys.  Know what's real unsexy?  Losing.  You know what else is unsexy? Alfonso Soriano.  Dem's the breaks as they say in places that say that.
Holds – We let others pay for Holds guys.  (Thornton – $7, Sergio Romo – $3, Luke Gregerson – $5, etc)  We basically punted Holds so we would have more money to build the rest of our team.  It's not like there won't be a dozen Holds guys on waivers in a 14 team league.
Overall Thoughts – We were weak in Average and Steals.  The Pena for The Dread Pirate trade should help us there.  There will be guys on waivers that we can fill in week to week depending on the matchup.  We're strong in RBIs, Home Runs and OPS.  On our pitching staff, I'm not too concerned about our Ks or Saves.  Holds we'll figure out off of waivers.  Wins will figure itself out and our ERA and WHIP could be issues.  We might have to beat people into submission with quantity of starters over quality.