When Grey and Jay first approached me about doing some preseason posts about Two Start Pitchers "Strategy" I thought "uhhhh, play the best guy". Problem is that doesn't really make for intriguing content, now does it? So instead, I'm going to do 1500 words about soccer! Naw, I'm joking…if you wanted to be inundated with my footie ramblings, you'd be reading our soccer site…(shameless plug alert). So instead I'll focus my post on the very things I look for when ranking my two-start pitchers from week-to-week. An overview of what to look for when scouring the wire for that pick up to tip the scales of your counting stats in your weekly head-to-head match-up. So we'll break everything into sections; home vs. road splits, opposing lineup righty vs. lefty splits, K/BB ratio, and HR/9. To illustrate this we'll use an example player to discuss each when appropriate. Sound good? Just say yes, I don't care what you think! Muhahahaha!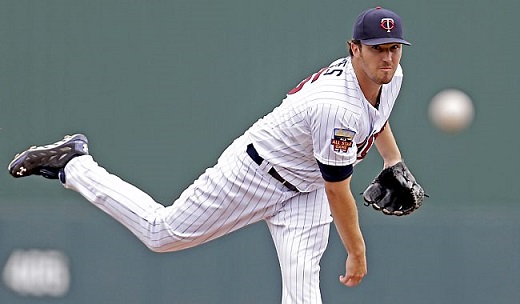 Rollin' Wit Da Homies (Home vs. Road Splits)
This tends to be an examination of the pitchers ballpark more often than not, but it's still worth discussing. The conventional ideology says that the real advantage lies with the home pitcher. Which is true more often than not and can even go to extremes i.e Henderson Alvarez/Josh Collmenter but it can also go the other way as well. Players like Phil Hughes for example despite comfy, cushy, and pitcher friendly home environments actually pitch better away from their respective home parks. Seriously go check out Hughes' splits, makes no sense. So it's important to go into a week prepared, well researched, and number-aware before making decisions on who to put in your active roster. Assume nothing! Especially in weekly leagues that ask you to submit final rosters before the first games on Monday. For comparison sake take a look at our two examples below, the homies will be represented by Josh Collmenter and the road-dogs by Jason Vargas.
| Josh Collmenter | ERA | WHIP | K/9 | BB/9 | K/BB | HR/9 | wOBA against | BABIP |
| --- | --- | --- | --- | --- | --- | --- | --- | --- |
| Home | 2.63 | 0.89 | 5.52 | 1.65 | 3.35 | 0.91 | .256 | .210 |
| Away | 4.76 | 1.50 | 6.17 | 2.44 | 2.53 | 0.90 | .355 | .345 |
As shown in the splits above Collmenter's home ERA is over a full two runs better at Chase Field, a hitter's paradise, than it is away. One on face value might look at his season ERA of 3.46 and take a chance as a two-start streamer in a weekly league, but upon further examination you might think again if it's two road starts. At home his BAA is a .106 points lower, his OBP against .116 points lower, and his wOBA against .99 points lower. With all that said he did get a bit lucky (<understatement font>) with his ungodly BABIP of .210 at Chase. I can't explain that and there's no way that it's sustainable year over year, but when you're light on starters heading into a head to head matchup for a week. You need to take a chance with a wavier wire Hail Mary, and you're going to go with the guy who has got the best situation to perform. In fantasy footie we call it form, in baseball we call it luck.
| Jason Vargas | ERA | WHIP | K/9 | BB/9 | K/BB | HR/9 | wOBA against | BABIP |
| --- | --- | --- | --- | --- | --- | --- | --- | --- |
| Home | 4.53 | 1.28 | 5.95 | 0.89 | 6.70 | 1.07 | .330 | .320 |
| Away | 2.73 | 1.26 | 6.41 | 3.26 | 1.97 | 0.74 | .296 | .271 |
On to the curious case of Jason Vargas and his struggles at his hitting-netural park of Kauffman Stadium. As shown above Vargas' road ERA and numbers are downright boner-inducing, well at least from a ratio standpoint. The really interesting thing with Vargas is the BB/9 on the road vs the BB/9 at home, he walks nearly no one in KC (.89) and walks a shizz ton of batters away (3.26). This would explain the higher xFIP on the road and the general peripherals saying he's lucky. His BABIP on the road of .271 would further support that claim and explain why his WHIP is almost the same at home. With all this said his K/9 is nearly a half strikeout higher away and his road .74 HR/9 tells me his game just doesn't play well at Kauffman. Sorry number crunchers, but sometimes that happens. In conclusion you need to track the luck a player is getting and exploit it. That's what's two start strategy is all about my friends.

You're a Bit Handsy Brah! (Righty vs Lefty Splits)
Another important component of choosing the right two start pitchers from week to week is checking out opposing lineups and their righty/lefty splits depending upon your pitchers handiness. There are some lineups that despite being mediocre to bad overall, that actually hit lefties pretty well and vice versa/ versa vice. I know this isn't ground breaking but it's amazing how many managers don't look at these advanced (not advanced at all) statistics before setting your lineup for the week. Conversely you should be looking at a pitcher's righty/lefty splits and focus on teams lineups being righty/lefty heavy. Don't forget the old cliche every coach/sales manager will tell you, "luck is where preparation meets opportunity", so be prepared. Also whether you think you can or you can't you're right….okay that last one is mumbo jumbo or as my phone's auto-correct calls it Mumbai-Jamba.
My favorite example of this from last season is the wind-farm of young studs know as the Chicago Cubs. The Cubbies ranked 23rd in overall team wOBA last year and struck out a shizz ton but also interestingly enough ranked 7th in team wOBA against lefties. So daily players and streamers were in for a rude awakening when starting lefties against the Cubs looking for a soft matchup. Once again do your homework.

K's and B's, P's and D's the Grey Principle (K/9 and BB/9)
This one has been talked about ad nauseam on this site and is one of the founding pillars of the Koran of Grey's fiefdom. Yeah I called you fiefs! It's pretty freaking simple, look at a players K/9 and then subtract his BB/9 and then look at the total. Math is fun! The higher the number the better the pitcher. It also tells you two things 1. How sustainable a pitcher's ERA and WHIP are 2. How lucky a players ERA and WHIP are. That's sort of the same thing said in a different way I guess, but let me explain. The less free passes a pitcher issues and the more outs a pitcher provides without putting the ball in play the more a pitcher controls his own destiny, and who doesn't want to control their own destiny. I actually prefer K/BB to the subtract K/9 from BB/9 method, but they'll get you to a similar place. So to take a different spin on it we'll look at K/BB below.
| Wei-Yin Chen | ERA | WHIP | K/9 | BB/9 | K/BB | HR/9 | wOBA against | BABIP |
| --- | --- | --- | --- | --- | --- | --- | --- | --- |
| 2014 | 3.54 | 1.23 | 6.59 | 1.70 | 3.89 | 1.11 | .319 | .296 |
One such pitcher is Wei-Yin Chen a streamer with some interesting upside. A player generally dismissed as unsexy by fantasy players and pundits a like, but there's a lot to believe in here. Unlike my failed attempt at a religion based on the under-celebrated musical catalogue of Eddie Money. I mean you haven't lived till you've heard "Two Tickets To Paradise" on a pipe organ, but that's neither here nor there. Take a look at Chen's K/BB of 3.89 it places him 21st in all of baseball right between Max Scherzer and Alex Wood, not bad company. Is he in Scherzer's league? Hell no, but he might be closer to Wood than many of you think. Even if you remove Wood from the conversation due to the pitchers early place (and struggles) in the Braves pen the next player in line is Cy Young candidate Johnny Cueto. Once again is he Cueto? No but he's better than you give him credit for and by studying your K/BB you'd know to take a flier on him.
Hey! Keep It In Your Pants…I Mean Park. (HR/9)
Anyone who knows Ralph knows I'm infatuated with a few things, women in pant suits, cheese steaks, and pitchers who keep the ball in the ball park. This explains my unhealthy obsession with Mr. Jose Quintana. The White Sox lefty cruised to a career year last year boosted by his ability to keep the ball in the park. His .45 HR/9 was top 5 in the game in the company of other pitchers like Clayton Kershaw, Adam Wainwright, Garrett Richards, and Jarred Cosart (?). In fact no one in the top 10 of HR/9 had an ERA above 3.70, and only Cosart was above 3.50. This much like the previous section speaks to a pitcher's ability to control his own destiny, and when chasing wavier wire heroes you want to find the options with the best ability to do this.
In closing do your research, look deeper into the numbers and pitcher's overall profile, and know who you're bringing in before you do so. Oh and read my post each week where we'll discuss this stuff.