Jay(Wrong) sent presentation rights over to me with the departure/hiatus of Tom Jacks. Tom passed the torch to me by way of a Captain Planet quote: "The Power is Yourz."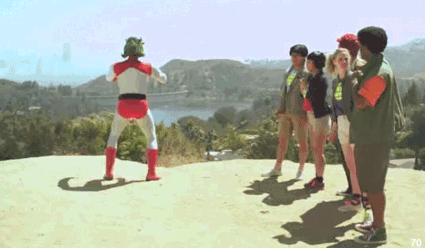 You all seemed to appreciate his content, and I hope to fill your passion-buckets with the same sense of quality. I will offer some value in my next post through OPS differential and possible pick-ups, but I wanted to take this time to summarize a few thoughts from Mr. Jacks' last post, while sharing my general approach. Hopefully Jay(Wrong) strategically publishes this in a slot where you all aren't salivating for immediate pick-ups! That's right. In my very first OPS post, I wrote Jay, slot and salivate in one sentence. [Jay's Note: Go easy on the ladies my friend.]
1) Regarding David Ortiz, it's as simple as VV: value veterans. "VV" especially when they fit your league format. Eric Hosmer by name and potential was enticing, sure, but Brandon Moss (currently at a perfectly sustainable level across the board: HR/FB; K% based on the Ct% and SwStr%) is glorious in OPS, even OBP leagues. If you incorporate these additional rates, then ensure you're using Razzball's Player Rater. Brandon Moss is the 27th most valuable asset to date if you use AVG and OPS…even better if you're using OBP and OPS.
2) Mike Trout is glorious. I traded (no joke) Troy Tulowitzki, Freddie Freeman, Buster Posey, Doug Fister and Mookie Betts for Trout, Adam Lind and Asdrubal Cabrera in a dynasty league. I then worked relentlessly to get Freeman back and thank gosh traded Prince Fielder and Madison Bumgarner for him. What am I getting at here?
a) Mike Trout is the best thing since sliced bagels. Forget normal bread. I'm talking a NY sliced salt bagel with bacon, eggs and gooey american cheese.
b) Buster Posey is valuable and well above replacement catcher value normally, but you can always pick-up/trade for catching assets since the value within the position isn't amazingly distinguishable… thanks Steven Vogt!
3) In general, I like to Win-Now and simultaneously Mitigate-Misk. Either way, the Trout deal was the opposite because it's a dynasty league and well I want to watch him each day and know that i'm accumulating what he does. My other deals will depict these strategies. I trade prospects to win-now until it's obvious that I can't win. I traded Gregory Polanco and Matt Harvey for Robinson Cano and Justin Upton who I then moved with a prospect for Tulowitzki. I trade a tier 3 or 4 starter for lesser-known pitchers with a great repertoire/pitch or two (Tyson Ross' slider) and hitters and stay active picking up relatively sustainable starters (again based on pitch repertoire, command ratios and balls in play data).  Jesse Chavez, Dallas Keuchel, Josh Beckett and Jason Hammel have propelled me to the top spot by supplementing a #2 starter and superior hitting.
4) Josh Donaldson in general is the real deal, but do you prefer the 2014 homerun counting stat Josh Donaldson, or would you prefer his overall 2013 value instead? When it comes to BABIP, it will take more time for us to know even still, but at the same time, we at least know what's going on. This year, it seems as though he's really shooting for the homerun: his HR/FB ratio is up as is his flyball rate in general while his linedrive rate is hideous. He will continue to hit HR's, but if he doesn't adjust, it will continue to hurt his BABIP and associated stats (AVG, OBP, SLG, OPS, etc). Keep an eye on his contact rate and type of contact for the rest of this year. It's not time to sell on him yet.
Moving Forward: I will attempt to not always talk about the Adam Dunn's and Seth Smith's of the world's (clearly general/platoon assets), but still offer prospective pick-ups for OBP/OPS league formats that should provide value based on their approaches. At times i'll be STATy with it and other times I won't…I'll look to your feedback for what you like more.
My first post in the series will look at OPS differential meaning whose been lucky so far because of their Homerun totals and BABIP. OPS is adjusted for luck in these departments. Naturally, I'll be throwing Albert Pujols under the OPS bus while touting Mike Trout's horn.
Need instant satisfaction? Follow Dano on Twitter @Rotobanter.