What a great week. Any time I have a legitimate excuse to binge watch Star Wars one day and bloat myself with an excess of Mexican food and homemade margarita slushies the next, it's a good week. Making matters even better, I was able to catch some quality KBO action on TV, something that revealed that my thirst for baseball can be temporarily quenched by just about any bat-to-ball action – other than that time I was on a cave tour in Pennsylvania and a big brown bat flew into my crotch.
Although I know not every Razzball reader and writer is a die-hard Star Wars fan such as myself, this got me thinking: how can I incorporate these two loves of baseball and late 1970s-early 1980s science fiction? Since there are only three truly great Star Wars films, I had the idea to split my prospect writing into three categories: 1) A New Hope (breakdown of the six top-100 prospects in the Marlins farm system), 2) The Empire Strikes Back (analysis of Yankees right-handers Clark Schmidt and Deivi Garcia) and 3) Return of the Jedi (what to expect from Brent Honeywell's long-awaited comeback).
As I began this project, it didn't take long before I completely lost track of time down in a Honeywellian rabbit hole. What I mean by this, is that I was trudging along, minding my own business with my eyes glued to 2017 Honeywell tape on my iPhone, when I literally fell into a hole in the ground and had no choice but to research Honeywell's outlook for the next three-to-four hours while I called for help. And that is how this piece went from one of my typical, wide-ranging prospect breakdowns to one focused on a singular arm: Brent Honeywell, the young Jedi Knight, the man who can do things on the hill that no one else can, but has long been struggling with his own inner battle of health and spiritual clarity. In this piece, I will not only break down Honeywell as a prospect, but speculate on his return to the mound, reasons behind his recent arm injuries and what level of health (or lack thereof) we might be able to predict moving forward.
If you play in any type of dynasty or open-world league, Honeywell has been part of your prospect vocabulary for probably five-to-six years already. But after two full seasons lost to Tommy John Surgery and a subsequent fracture to his throwing elbow, he's dropped nearly 80 spots in the prospect top-100. As it stands today, he is the No. 91 prospect in the game according to MLB Pipeline, slotting right behind Tampa Bay's Shane Baz and ahead of the aforementioned Garcia. Still, he only just turned 25 this past March and has plenty of time to reestablish his pro career.
I had the opportunity to watch Honeywell pitch in person on several occasions at Durham Bulls Athletic Park in 2017 prior to his UCL injury. What I saw was polarizing: a guy capable of absolutely shutting down a lineup for a turn or two, but was susceptible to occasional blow-ups in the middle innings. Don't get me wrong, there's a reason Honeywell was the No. 12 prospect in the game in 2017, right behind Walker Buehler and ahead of Lewis Brinson (Austin Meadows? No. 17). Yep, saw that one coming. I just threw up on the keyboard while typing Brinson's name, so please excuse me while I take a few seconds to clean up.
That reason is this: Honeywell's arsenal has always had the potential to be absolutely lethal at the MLB level, evidenced by his former ranking and projection as a top-of-the-rotation starter. He has at least five pitches, four of which are above average and the fifth being a loopy curveball that was at 45 on the 20-80 prior to the Honeywell plant being shut down for two years for repairs. Pitching prospects whose Minor League careers have already been littered with injuries concern me as much as anyone, but the fractured elbow stemming from a bullpen session seems more like a freak incident at face value. Truth be told, even being out two full seasons, I'm surprised Honeywell is ranked as low as he is. He's a top-75 prospect in the game, no question, and with the potential to contribute in 2020, he should be on everyone's radar, regardless of format: dynasty, keeper, re-draft, people playing in a league with their mom (guilty as charged), people who play with their seventh and eighth grade social studies teachers (still guilty), maybe even their old Spanish teacher (okay, I should really stop), industry expert leagues (still waiting for an invite, Grey) – really anything you can think of.
Prior to the injury, Honeywell dominated Double-A competition in 2016 and 2017. In 2016, he recorded a 2.28 ERA/1.09 WHIP/3.17 FIP/3.56 xFIP with a 8.0 K/9 and 2.1 BB/9 across 59 1/3 innings. But it wasn't until 2017, when he was ranked as the No. 12 prospect in the game, when Honeywell and his strikeout numbers truly took off.
Honeywell began 2017 at Double-A and lasted there for just 13 innings. Here's why: 2.08 ERA/0.62 WHIP/2.42 FIP/1.95 xFIP, 13.8 K/9, 2.7 BB/9. That prompted a speedy promotion to Triple-A, where he continued to pitch well. While with the Durham Bulls, Honeywell logged 123 2/3 frames with a 3.64 ERA/1.30 WHIP and 152 strikeouts, translating to an 11.06 K/9. The underlying numbers show he may have been even better than that, as Fangraphs pinned him with a 2.84 FIP/2.77 xFIP during that Triple-A stint. It's not rocket science to see why, as Honeywell was hurt by a .365 BABIP from opposing hitters, far higher than any mark posted during his Minor League career. In that short 2017 Double-A stint, opponents had a .158 BABIP and in the aforementioned 2016, it was .287. This was a pitcher on the brink of greatness; one on the cusp of an MLB debut during 2018 Spring Training. That's when it all came crashing down with a diagnosed UCL tear.
To bring us back to the present, Prospect Itch recently ranked Honeywell No. 68, one spot ahead of Michael Kopech, in his Top 75 Prospects for 2020 Fantasy Baseball. Grey has also been fairly bullish on Kopech in the past, saying "The only reason why we're even here talking about Honeywell is because I think he can be a top 20 starter when he's healthy. His stuff is just that intense."
The stuff? Back to those four plus-pitches: 60-fastball, 55-slider/cutter, 60-changeup and a 70-screwball. 70-screwball!? I thought that was a mythological offering, right up there with The Force and Earl Grayson's legendary "stopball" from Maniac Magee. But it's legit. It's a thing, and although it's not the most drastic, you can see clear pronation on this pitch:
Brent Honeywell, Screwball Movement (Home Plate View). pic.twitter.com/2HyRthWtEO

— Rob Friedman (@PitchingNinja) February 5, 2018
This clip leaves me with so many varying reactions I don't even know where to start: one, what a wad he's rocking on that delivery! Either that, or he's chewing up straws like a young Bo Jackson.
Two: maybe Honeywell really is a Jedi with the ability to summon otherworldly powers to create spin on the ball that many believe to be impossible.
Three: if this guy can ever stay healthy, he'll be a 1-2 starter in the Bigs. Like Grey said, his stuff is that good. He just screams "guy-who-would-suck-for-the-Pirates-but-dominate-for-the-Rays." I embrace any opportunity to throw shade on Ray Searage. The fastball sits in the mid-90s and tops out at 97. The change is plus-plus and the slider/cutter is above average. And, according to some scouts, the curveball is actually a smidge better than MLB Pipeline thinks, peaking at a 55 grade. Plus, we know how analytically-driven the Rays are, especially with their pitchers. They go above and beyond to not over-expose their arms at the MLB level, so if Honeywell ever does struggle to get through lineups for a third turn (which I think will be a non-factor based off his five-pitch mix), that problem will likely be thwarted by Tampa Bay's brass while cutting out on a small portion of his strikeout output.
Four: I truly hate to bring this up, but maybe the deep, wicked arsenal is actually Honeywell's undoing. Maybe, prior to 2017 TJS, he was having his cake and eating it, too. Judging by the look of him, he could use some added cake in the diet. The same cannot be said for Miguel Sano, and as a heavy-Sano owner this season, I really hope someone is keeping an eye on his Honey Bun consumption.
What I mean in regard to Honeywell, is maybe that rare pronation he's able to create on the baseball is contributing to the elbow injuries, and maybe that fractured elbow in the June of 2019 was not as fluky as we might want to think. I mean, how many times have you heard of a player literally fracturing their elbow via a non-contact injury?
There's a lot I love about Honeywell, but admittedly, this has me worried. What if he significantly tones down his usage of the screwball in 2020 to enhance durability and his bottom-line numbers plummet? What if team doctors tell him to scrap the pitch altogether? What if all of this is just unsupported speculation on my part? What if the Roanoke settlers really were abducted by aliens in the year 1590 and we're all just ignorant fools who refuse to accept the truth?
In an attempt to remove the "unsupported speculation," I decided to reach out to some people that could actually provide insight on the core of the issue. Having played college baseball and still being in close contact with many former teammates entrenched in the industry, one even being a physical therapist for a major university, I decided to ask them a simple question: could the screwball actually be the root of the problem? The answer I got was fascinating.
The bottom line is that the screwball is probably not the sole cause of the elbow injuries. Especially being an out-pitch, Honeywell doesn't throw the screwball enough for it to be a high-risk factor. Instead, the UCL tear was probably caused by weakness elsewhere. We'll get to that later.
As for the fracture, it was almost undoubtedly from the same injury. Normally, the UCL would have torn, but Honeywell's reconstructed UCL was stronger than the bone itself due to the surgery, so the UCL pulled at the bone using its increased strength. Hence, non-contact elbow fracture.
What could be the root of the issue, and again, this is all speculation as I nor anyone I spoke to has seen his medicals, is his status as what many refer to as a "W pitcher." No, this doesn't mean he's capable of racking up double-digit wins for your fantasy team, it means something else – although I am not closing the book on him becoming a formidable MLB starter whatsoever.
It means that during Honeywell's delivery, his body forms an inverted W prior to releasing the pitch. This occurs when a pitcher's elbows are lifted above and behind the level of his shoulders, with the forearm facing downwards. Take a look at this screenshot from the clip I included above: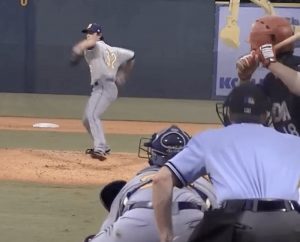 The camera angle isn't great, but if you look at the shape that Honeywell's arms are forming, you can see it. It's very similar to what we've seen from guys such as Mark Prior and Stephen Strasburg: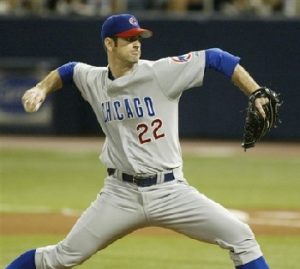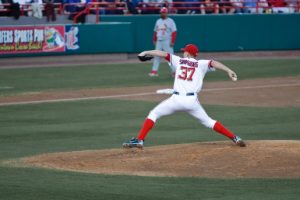 I need to preface this by saying that the "inverted W arm action" theory is by no means an accepted law of pitching mechanics, as many pitching gurus have debated both sides of this concept for years. However, both of these pitchers struggled with arm injuries, although one (Strasburg) was ultimately able to rehabilitate from TJS and is now in the midst of a stellar career. Hence the choice of these two pitchers: I am not saying that Honeywell's mechanics will derail his career. I am simply relaying the information that floats around the walls of my brain.
In his 2018 Brent Honeywell outlook post, Grey remarked that Honeywell looked "pretty low energy" in his delivery. Then, in 2019, he wrote this:
Pitchers are so unpredictable it's hilarious that I went out of my way to show you how low effort Honeywell is and he gets tagged for Tommy John surgery.  Either way, he had successful surgery on February 27th of last year, so figure 14 months and he's back *counting on fingers*  That gets him on the major league mound end of April, if you trust counting a thumb, which is so much more than just a finger, and if Honeywell were to go straight from Tommy John to the majors, which I can't imagine in any scenario.
Grey was 100% right. On all accounts. Honeywell is low energy and his delivery is seemingly effortless and smooth-looking. However, Mark Prior was lauded by scouts for the same characteristic as a top-tier prospect. So although we like Honeywell's delivery from a repeatability/tunneling standpoint, as a fantasy owner, you need to be aware of what else comes with it.
That wasn't the only part Grey hit on the head. Even though Honeywell missed all of 2019 due to his elbow injury in June of that season, there was no way he was ever, ever going to go from TJS to the MLB. That doesn't happen. Which brings us to a recent headline referring to Honeywell which read "Still unlikely to return in 2020." That headline is true, but also misleading. Isn't everyone unlikely to return in 2020, or at least measurably less likely to play? That's the world we're living in.
According to Juan Toribio of MLB.com (the source of the headline), the Rays will not utilize the young Padawan at the MLB level before seeing him pitch in real-game action at the Triple-A level. Translation: if the MiLB season is indeed cancelled entirely, as many are speculating, Honeywell will not pitch competitively this year. At all.
If you saw that headline, don't overreact. Maybe Honeywell will find a way to pitch to live hitters this summer in an alternative capacity. No one knows if the Rays will alter course with everything going on amidst the COVID-19 pandemic. And, wouldn't it almost be worse to keep someone rehabbing from back-to-back elbow injuries, who hasn't pitched competitively in two-plus years, out another full season completely? Hell, he might even forget how to pick up a baseball. Before the season was shut down, Honeywell was already throwing off flat ground as early as January.
Looks like #Rays Brent Honeywell got some work in at the Trop. pic.twitter.com/yjmyZseBpu

— Juan Toribio (@juanctoribio) January 18, 2020
So, when can we expect to see Honeywell in a Big League uniform? I have to admit, 2020 looks like a long shot. But, if he does overcome the odds and make his way to the Rays, we'll finally get to see what his arsenal looks like after the long layover. And, after getting lost in that hole in the ground and speaking with some people who have a better understanding of pitching mechanics than I do, I don't expect the screwball to be eliminated or reduced as part of his arsenal, as it's an out-pitch and he will likely never throw it more than 20% of the time at most.
If you're a Honeywell owner, hold. It's all you can do. If you do indeed own him, you likely have had him for quite some time, so why jump ship now? Don't be the one to bail prematurely on the next Luke Skywalker.