Looking for the Razzball Podcast? TOO BAD! It's now Razzball Radio, and you can check out all the episodes here!
This is a different kind of disaster my friends. And trust me, here in the metro area, we've suffered many disasters. Did you know about Snowmageddon in 2010? Sure, what we experienced during that time was what New England calls 'any Friday night in February', but we don't live up in the northeast, do we? No, we're more civilized and cultured and decided to live in a humid mid-atlantic swamp, with a cesspool of slime, filth, and trash. And that's just K street. Don't even get me started about the state of the Potomac river. As an added bonus, in 2011, there was the Earth quakepocolypse, where a 5.8 shaker did irreparable harm to my lawn chair. And I'll tell you this, no one called in off-shore drillers, trained as astronauts, like they should have to save us. Well, that time is now. With Francisco Rodriguez leading the universe in saves AND father in-law abuse, the world truly is on the precipice of disaster. Global warming? Pfft, that ain't nothin' compared to the state of our fantasy teams. With 87% of the MLB DL-eligible, as stated here by your's truly, we are now covering another harsh reality in this lede… the era of closers as we know it has ended. Thanks Obama! Rod Beck… hug me. Actually, don't get near me. You smell like a week-old hot dog and the great depression…
The RCL Top 10
Why the top-10? Because they're the top-10 teams out of 1,000+? And that's pretty amazing? I'm Ron Burgundy? Simply put, they're the best of the best of the best, and I think they deserve a little bit recognition. BUT NOT TOO MUCH. Just a taste.
– Once again, my leagues dominate the leader board. Way to promote the excellence that are my leagues gentlemen. Just don't tell anyone you're probably up top because my teams in those leagues are, you know, down-bottom. OR maybe that was my plan all along. BWAHAHAHAHA. Eh. Sad face.
– It was brought to my attention that Smokey's Humidor is actually Smokey's RCL. Which shatters the world of which I live in. I had believed that Smokey was called Smokey because, well, he smokes. Weed. Lots of it. And if you read his posts and watch his vids, I think it would be a fair assumption to make. But then why create a league that implies that you smoke cigars? Are you trying to throw us off the scent of your 100% hemp sweater? I call foul. (But if you have Padron's, all is forgiven.)
The RCL Round-Up
So, the lede talked about the muck that is the bullpen situation right now in the major leagues. To keep the theme going, let's go over some of your bullpens.
– Leading the RCL universe in saves is Kelly's Heroes from the Bad News Bears RCL. I find it remarkable that they have essentially punted Wins and are still in first place in the league, and 79th in the overall standings. Obviously, Francisco Rodriguez is on this team, but what else has made the calculus work?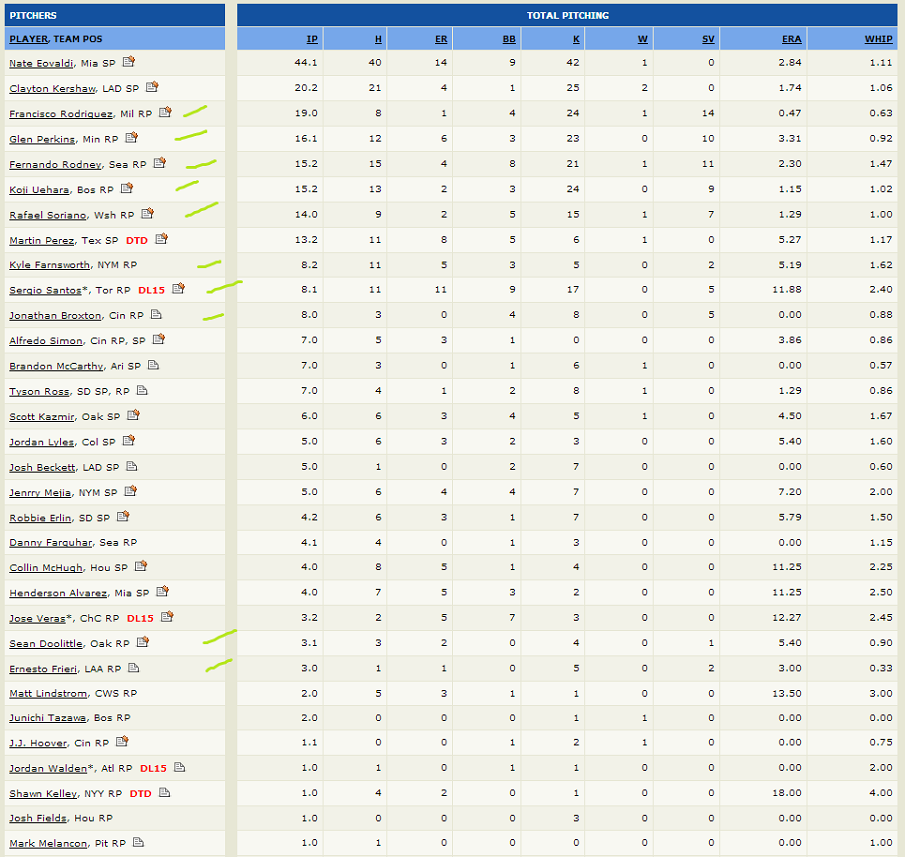 – So, what basically is making the calculus work, is having lots and lots of closers. Who woulda thought? CRAZY!
– Like your mom, we always take care of both sides here at the RCL post thing-a-ma-jig, so let's take a look the untamed beast that is the saves punter. And lo and behold, there are 20 RCL teams that have zero saves, and 10 teams that only have one save.
– Because I'm more interested in how some these teams have managed to garner at least 300 IP, and just net one save out of it… seems fascinating. So of course the team I'm going to focus on is called: Pitching is SO deep.., (but I guess ellipsis are shallow? HAR HAR ENGLISH MAJOR JOKE. You know, because he only used two periods together, instead of three… see, like that? Sigh. You people…), from the Frequent Commenter RCL. And it's funny, because, at first glance, it's not that he wants to punt saves…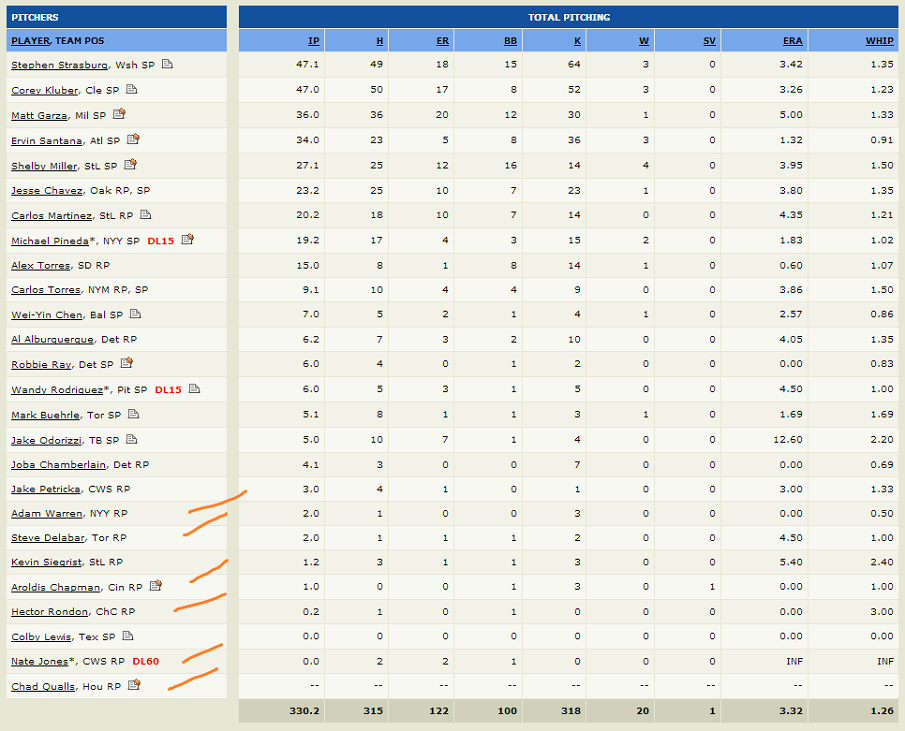 – So, it's not really from a lack of trying. Nate Jones, Chad Qualls, Steve Delabar, and Adam Warren were all, at some point, in line for saves, or had the chance to fall into saves… but obviously you aren't really in safe waters with that group. Combine that with Aroldis Chapman just coming off the DL and Hector Rondon looking like he's got the job secure for at least seven minutes, well, this team won't have 1 save for long. But does a total of 40 more, (assuming a favorable projection for both those guys) really help move the needle? I guess we'll find out? I just traded Aroldis Chapman and Hector Rodon for Yu Darvish the other day in one of my RCL's. Which also came with a free orgasm. So maybe explore your options if in a similar situation?
The RCL #1
The RCL #1, which sounds like a RCL made for 2001: Space Odyssey (Grey notified me that RCL #1 isn't related to a space shuttle, but is meant to be said like The Iron Sheik.  RCL #1! RCL #1! RCL #1!), is the Friends & Family league that Grey created so we could all be his fantasy baseball punching bags. Actually, maybe not so much punching bags as mustache combs. Seems more Grey-ish to me.
Regardless, this league stars myself, Rudy, Tehol the Elder God, Prospector Scott, Nick the Podcast Host, and Sky… err, the Blue? We need to find you a better title buddy. But that's us, that's the family. Which, I can assure you, I'm already filing paperwork to gain emancipation. The friends are Dalton Del Don from Yahoo, Brad Johnson from FanGraphs, Ryan Carey of Mastersball, Paul Singman of Baseball Prospectus, and Tim McLeod of RotoRob.
The Standings: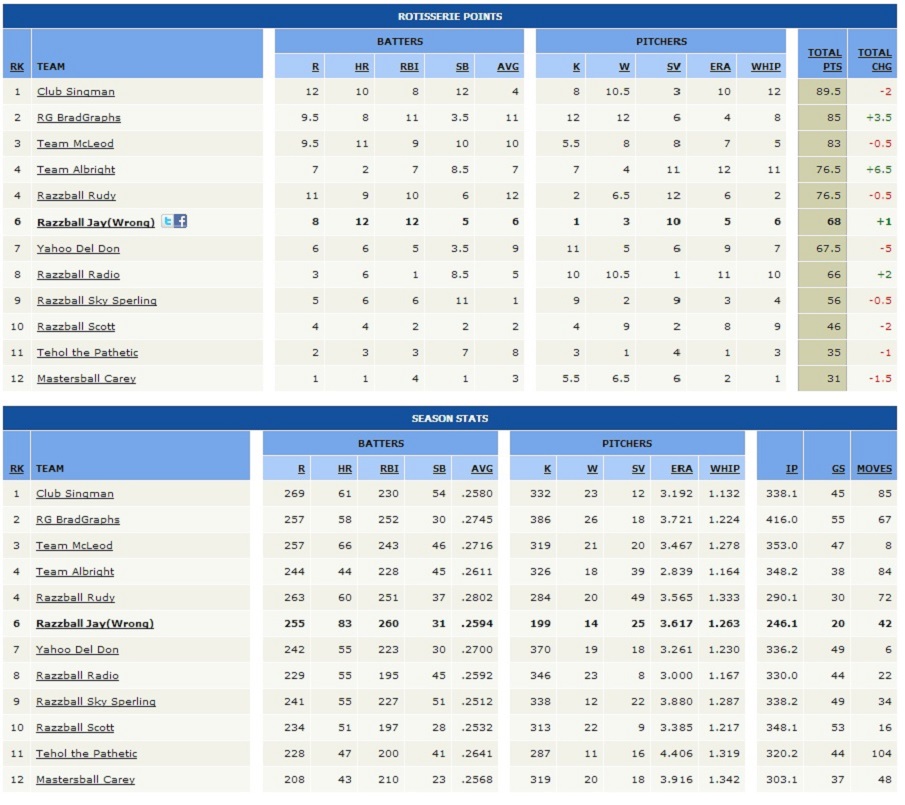 – I am The Jeffersons theme song. Movin' on up baby.
– Grey and Rudy are currently tied. Geez guys, why don't you get a room?
Want more of the Jay? Don't we all folks? Don't. We. All. Well, you, in fact, can have more. AMAZING. I know. You can find Jay enjoying his new dig's running the Football side of Razz.