Looking for the Razzball Podcast? TOO BAD! It's now Razzball Radio, and you can check out the first episode here!
Oh, hello there. I'm not quite sure why I'm greeting you like you're in my room, but whatever. So hey. What's up. Word. Now that the pleasantries are out of the way, you should know we are now a month-and-a-half into the season, and things are looking absolutely fantastic. And by fantastic, I mean a complete injury cluster f*ck. Ain't no joke bro. The injuries are stacking up so much, we had to dedicate an entire series to it here at Razzball. Seth has had so much content to work with, he strained his oblique just typing that thing out. Way to take one for the team! In fact, there is so much egregious DL'ing going around, Lars Ulrich is exploring a lawsuit. Haha, get it? Eh. Anyways, you know what might be an interesting experiment? Creating an all-DL team, that, if you gazed upon the look of all these guys in the pre-season (when budding feelings of hope and joy were just forming) you might faint at the sight of it. Don't believe me? Take a look:
Boom. Look at that team right there. Sure, I'm cheating a little with Troy Tulowitzki, but just be patient and wait for it. So yeah, you show me that team before all this body-part explosioning happened, I'm leaking from multiple orifices. That right there is the state of the league. And that's why seeing all of these injuries has me crying like that time I watched White Fang. And, you know, ahem, Up. Wolves and computer pixels, why do you cause so many allergies!
The RCL Top 10
Why the top-10? Because they're the top-10 teams out of 1,000+? And that's pretty amazing? I'm Ron Burgundy? Simply put, they're the best of the best of the best, and I think they deserve a little bit recognition. BUT NOT TOO MUCH. Just a taste.
– Big League Wood, be sure to tell your league's commish that Smokey doesn't have a humidor. That's 'vaporizer' he's probably confusing it with. Smokey's idea of a cigar is the not the same as the rest of us. Naw' what I'm sayin'?
The RCL Round-Up
So, I'm not really sure what to touch on this week. But, rest assured, all my touching is legal. Maybe. Oooo, I got an idea! Last week we discussed teams that were at their offensive and pitching peaks. Well, for every reaction, there is an equal, and something-something opposite reaction. Some famous guy said that. I think it was Ernest Hemingway. Or Daffy Duck. So let's take a look at a couple teams that, ahem, aren't really running at peak conditions. Slightly less than that, I would say.
– Thus enters the Little Einsteins… (AH, SEE WHAT I DID ABOVE? You didn't because I threw you off the scent with Hemingway! And Daffy Duck! I haz the intelligence.) Part of the Rizzo My Nizzo RCL, the team is tied for dead last in the Razzball universe with only 19 home runs and 92 RBI's. For context, The Dynasty (Flatpoint High) leads the universe in home runs with 74 (My RCL #1 team is tied for 4th with 66), and Krispy Jung (Mr. Grey, Tear Down This Mauer!) leads with 241 RBI's. I actually find it impressive that you have to multiply the Little Einsteins by a factor of like 82 to come close to those numbers. I also find it impressive because, you know, I don't run that team… which consists of…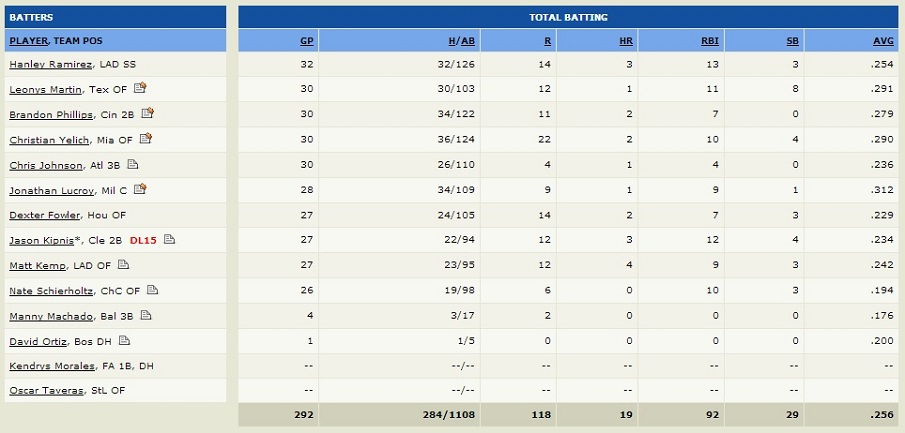 – Yeah, that is a lot of no power… Quick question: Nate Schierholtz… why?
– Now, of course, comes the team with the most pitching woes. And that infamous certificate of accomplishment goes to the Montreal Jabronies of the Robust Herd RCL. His ERA is a universal high (5.226) and his WHIP ranks fourth highest (1.464). I'm sensing some Ernesto Frieri and Sergio Santos here… let's go to the tape: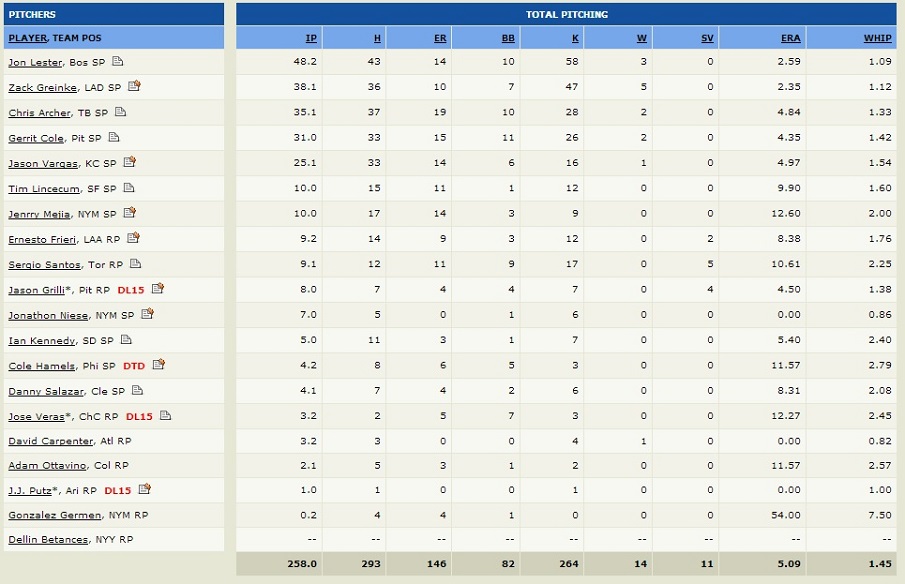 – Yup, just as I suspected. Plus, this team was able to tap into every implosion for each pitcher. I…. would buy a rabbit's foot immediately. Or maybe a tourniquet.
The RCL #1
The RCL #1, which sounds like a RCL made for 2001: Space Odyssey (Grey notified me that RCL #1 isn't related to a space shuttle, but is meant to be said like The Iron Sheik.  RCL #1! RCL #1! RCL #1!), is the Friends & Family league that Grey created so we could all be his fantasy baseball punching bags. Actually, maybe not so much punching bags as mustache combs. Seems more Grey-ish to me.
Regardless, this league stars myself, Rudy, Tehol the Elder God, Prospector Scott, Nick the Podcast Host, and Sky… err, the Blue? We need to find you a better title buddy. But that's us, that's the family. Which, I can assure you, I'm already filing paperwork to gain emancipation. The friends are Dalton Del Don from Yahoo, Brad Johnson from FanGraphs, Ryan Carey of Mastersball, Paul Singman of Baseball Prospectus, and Tim McLeod of RotoRob.
The Standings: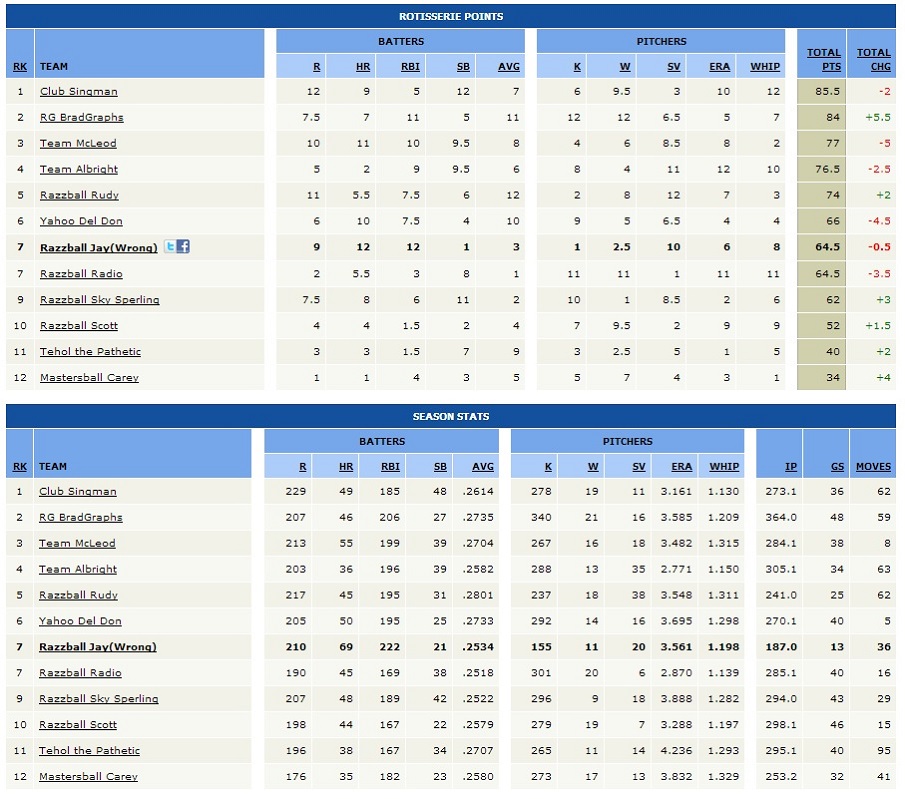 – The gap is closing between Grey and myself. (That's what she said.)
– Nick the Podcast Radio Host offered me Robinson Cano for Anthony Rendon, Matt Kemp, and Marcus Stroman. Much to Grey's chagrin, I actually declined. I'm a big Rendon guy, and seeing as how he's outperforming Cano all by himself, I didn't think I needed to add Matt Kemp to the equation. Maybe a small sacrafice, until you see that my outfield is suffering from the aforementioned DL-vitus going around. I'M STARTING CHRIS DENORFIA FOR GODSAKES. Sure, Cano will regress a bit, but I just don't want to wait around for it while Rendon is lighting everything on fire. And hey, Stroman could be the next Gray. The 'a' Gray, not the 'e' Grey.
Want more of the Jay? Don't we all folks? Don't. We. All. Well, you, in fact, can have more. AMAZING. I know. You can find Jay enjoying his new dig's running the Football side of Razz.