Welcome back to the best coverage of reader-sponsored leagues on the net. Seriously, do any other sites devote this much time and analysis to commenter-sponsored leagues? Do any other sites answer the quantity of questions like we do? Here we are, two weeks in, and we have our first master standings to peep at, gloat about, and use to either hate or love ourselves. Who am I kidding… we play fantasy baseball, we all hate ourselves to some degree. If you don't, then play tougher opponents. I'm known as a hater in here, and this is true, but I'm also good at giving out love when love is due. It's the duality of J-FOH. All I ask is don't mind the hate, just stick it out with me til the end. This week, I get to sprinkle love on or first overall top-10, weekly leaders, and the mustached master of disaster as he takes over first in the RCL 'Perts league. It's Grey Day! As a bonus, Rudy dropped me a cut a paste portion of the update, breaking down the new scoring system for this year. Enough of me yammering, lets get to the meat and potatoes of this…
Category Leaders, Week 2
As I look at this list, I feel like a proud papa because I have not one, but two teams in leagues I host making the list. Nice job kicking a** during Week 2 Sexy Andino and Melvin. Looks like Jay's league mates are doing their best to take down the wrongness of Jay. Is it me or does that sound like a book title? In case any of you missed this last week, I will be posting the weekly leaders to give plenty of credit for great performances.
| | | | |
| --- | --- | --- | --- |
| RUNS | 59 | Mighty Bombers | Take on Jay #7 |
| HR | 21 | Sexy Andino It | JFOH Hearts Tristan |
| RBI | 64 | Sexy Andino It | JFOH Hearts Tristan |
| SB | 14 | Team reason | Blues Odyssey |
| AVG | .346 | Semien Sale | Take on Jay #3 |
| K | 118 | Crimson Fratellis | Take on Jay #5 |
| W | 11 | Rainier Razorbacks | HA! |
| SV | 15 | The Dynasty V | Dropped Third Strike |
| ERA | 0.74 | Melvin's Kids | Skunk Beard |
| WHIP | 0.59 | Kid A | Jawns |
Note: ERA and WHIP are based off 40 innings pitched minimum.
The RCL Top 10, Week 2
This is the best around!… For the season… so far. Do you want to be Daniel Larusso? Then you got to beat all the Cobra Kai's and win the All Valleys RCL Championship. Word around the office is that the grand prize is Sky jumping out of a cake in your living room and doing a strip tease to the the tune of Moment of Truth by Survivor. The table below contains the rank, team name, league name, RCL points, and League Index.

| | | | | |
| --- | --- | --- | --- | --- |
| 1 | Team Montesanto | The Filthy Spawn of Beddict | 107.44 |  104 |
| 2 | St Louis Browns | Don't even remember last year |  105.63 |  99 |
| 3 | Mighty Bombers | Take on Jay #7 |  105.38 |  100 |
| 4 | Team Lehmans | In The Danger Zone |  104.50 |  100 |
| 5 | **** CARNAC | FCL |  104.31 |  109 |
| 6 | Team Hahn | Cougs R Us |  104.31 |  104 |
| 7 | Orange Snacks | Skunk Beard |  103.28 |  100 |
| 8 | I Love Poppin Your Moms Mitt | Northern Exposure |  102.64 |  100 |
| 9 | Team Smith | Spiders and Snakes |  102.11 |  100 |
| 10 | Green Eggs and Hamm | RCL FG Caught Looking |  101.20 |  103 |
Razzball Commenter Leagues 2015 MASTER STANDINGS – CLICK IT ALREADY
Congrats to all of you for making the first list. Its nice to see so many high index leagues represented and even the highest of them all, the FCL! Now you all have targets on your back and only have to hold everyone else off for the next 5 1/2 months. Should be easy.
From the Mind of Rudy Gamble…
We have made a change to the 'RCL PTS' calculation to better reward teams in competitive leagues. Last year, the calculation averaged a team's league points (as seen in their standings) with ranking points (how they performed against all other RCL teams) and then multiplied by a league competitive index. This year, the results are then multiplied by the league competitive index again.
Below is a snapshot of the top 16 teams in the final standings and how their ranks would change with the new methodology. Don Mattingly's Sideburns shoots to #1 after achieving a 109 in a league that was 6% more competitive than average (106 index). Big Magoo – the winner of the RCL Champions League – would go from #11 to #2 thanks to an amazing 109 league index. (FWIW, my team finished 3rd with both methodologies). While Colicky's 117 is an amazing accomplishment (overshadowed by his two top-10 finishes!), I think this new methodology will ensure that amazing results (e.g., 100+ standings points) in extremely competitive leagues will have a much better shot at reaching #1 in the RCL Standings."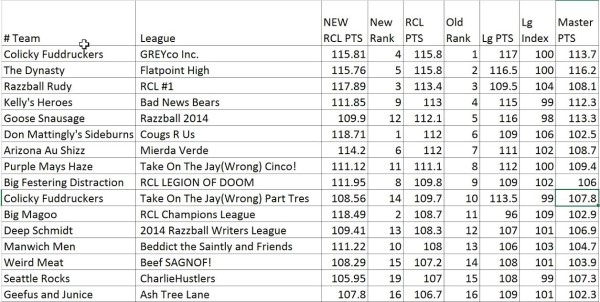 I'm really looking forward to the changes Rudy made. I hope this motivates you all to keep up a high index in your leagues. If you have any questions just address them to Rudy in the comments and he will appear like a genie.
The 'Perts league is Grey and Rudy's annual Friends and Family RCL. I'll be honest, I had to look up what a pert was, because at first I thought it was a perp league, which makes me a perfect candidate since I had a felony arrest and a handful of questionable life decisions before I ended up here. After correcting my error, I looked up Pert and found that it can mean attractively lively or cheeky, jaunty, saucy, impudent, or forward. Cheeky? Saucy? Jaunty? There's got to be a portmanteau in there. Either way it sounds like us. Along with Grey and Rudy, the league consists of Sky, Jay, JB, Mike, Tehol, Dalton Del Don from Yahoo, Tim McLeod from RotoRob, Mike Gianella from Baseball Prospectus, Ryan Carey from Mastersball and your RCL host, myself, Mr. J-FOH. I'll be your man on the street Brian Fantana covering all the comings and goings of this league while I make all the local kitties purr with my sex panther scent.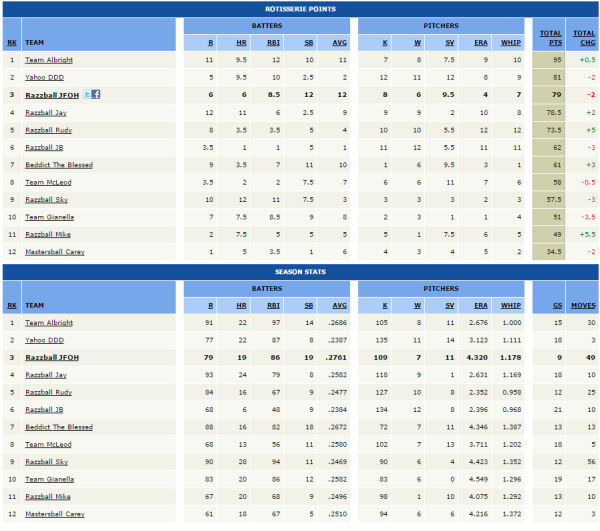 My time at the top was more short lived than LaTroy Hawkins closer gig this season. Owning Cody Allen and Steve Cishek is not helping me. I need a hug from Tristan right about now.
Sky has made two of the greatest adds this past week ever in the history of any week ever. Okay, it's not that big, but it feels that way. I can't believe I missed that Suavecito Steven Souza got dropped in this league. He also grabbed Danny Salazar. Damn you and your condescending unibrow.
I'm contractually obligated to talk about Rudy every week being that he is the chocolate to Grey's vanilla. His four headed K/9 monster of Scherzer, Harvey, Bauer, and McCarthy brings tears to my eyes. Now about that offense?
Jay, still holding the Dickey are we? His K/BB is worst than your pool game. Let it go my man. Streaming is gleaming.
I feel its important to save the best for last. As you can see, the Fantasy Master Lothario is back on top and has a lead bigger than his mustache. I've selected a cut for him to celebrate to and it's also happens to be the song I've heard him sing a few times in my car when it comes on. I need to record him one of these days. If I could see him right now I imagine it would look like this: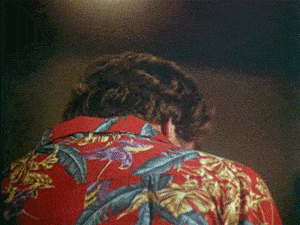 If you need an over the net friend you can follow J-FOH on Twitter.