I'll be honest, I really wanted to do a title about Rudy. After having a top-7 pitching week and moving into the top-10 overall, I wanted to kiss some a*s to the other man in charge. It was supposed to be "Rudy Comfortable", a play on Rudy Huxtable, but then Grey told me to talk about you guys and four girl readers. I obliged and started looking at the top-10 and the player rater to see what they have in common. The top-4 teams, 5 total in top 10, all have Mike Trout and 3 of the top 5 have Jose Abreu. The top two teams have both. Jose Altuve, Todd Frazier, Michael Brantley, and Corey Dickerson are scattered throughout the top ten. In the pitching it's a little all over the place. One trend I found interesting was in the bullpen where Cody Allen is on 4 teams and Wade Davis is on 3. I'm pointing those two out because they were both solid all year and probably owned all year. Allen being a draft day stash for save savy owners and Davis being a K/9 machine that caught our attention back in April. Take note of this next year. Instead of drafting next season's Jose Veras, grab a great handcuff with a high K-rate and some faith. I know that's easier said than done, being that very few MR's repeat from year to year. Unless your name is Tyler Clippard. There are always themes to successful teams, if you got the first or second pick and drafted Trout your chances of winning increase exponentially, share with us in the comments how your team's did where you got that sexy fish or any other studs that put you over the top. For the Trout owners you deserve a hat from the man himself.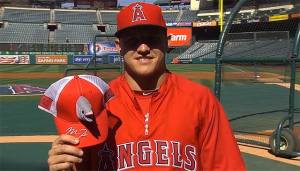 The RCL Top 10
Why the top-10? Because they're the top-10 teams out of 1,000+? And that's pretty amazing? I'm Brian Fantana giving you the news! Simply put, they're the best of the best of the best, and I think they deserve a little bit recognition. BUT NOT TOO MUCH. Just a taste.
I've been trying to cover the tight races and am not sure if anyone enjoys reading up on that. With only a couple more updates left, I want to know what you guys and four girl readers would like to see before the year ends. Post some suggestions in the comments about what analysis or updates you would like to see. I'm here to serve you because the Razzball Commentator Leagues are about everyone who is a part of Razzball. That's why Razzball is in it. Reader, writer, your mom who brings you PB&J with crusts cut off to the basement. Everyone.
The RCL #1
The RCL #1, which sounds like a RCL made for 2001: Space Odyssey (Grey notified me that RCL #1 isn't related to a space shuttle, but is meant to be said like The Iron Sheik. RCL #1! RCL #1! RCL #1!), is the Friends & Family league that Grey created so we could all be his fantasy baseball punching bags. Actually, maybe not so much punching bags as mustache combs. Seems more Grey-ish to Jay. I wasn't invited so I'm not sure if I would be Grey's punching bag. What I do know is I can say whatever I want because I'm not in there. With that being said I say "Why you dodging me Bro?" 
Regardless, this league stars Jay, Rudy, Tehol the Elder God, Prospector Scott, Paul, the Sing(ing)man, Nick the Podcast Host, and Sky… err, the Blue? We need to find you a better title buddy. But that's us, that's the family, except me. Which, I can assure you, I'm already filing paperwork to gain emancipation. The friends are Dalton Del Don from Yahoo, Brad Johnson from FanGraphs, Ryan Carey of Mastersball, and Tim McLeod of RotoRob.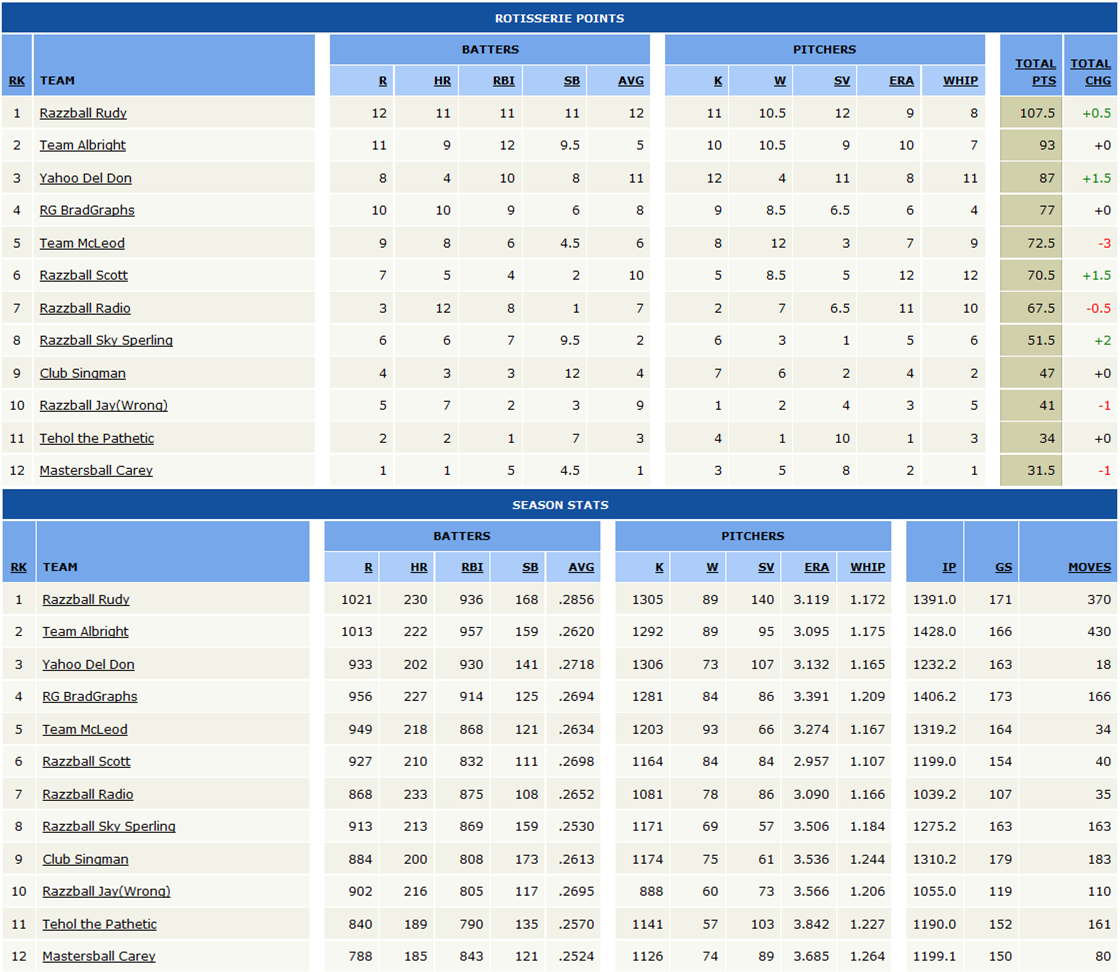 12 points? Really!…12 points? In a week's time Rudy has gone from a 2.5 point lead to a 14.5 point lead. Is it too early to queue the music. I think the mustaches help to soften the blow….too soon? Did I just jinx Rudy and really piss off Grey?
It's good to see Sky climbing out of the cellar and show some pride. See people, this why we play for 6 months and not quit after two bad ones. I'm proud of you Sky. Here is some hometown porn for you. We need to discuss with them a slight name change for the event.