With three full months of baseball left to be played, a third horse may be emerging in the race for the first Razznasty dynasty league crown. R'azbahl Al Ghul has made solid win-now pickups and finds himself gaining some ground on the two frontrunners – Hannibal Montana and J-FOH. This month saw a group of about five or six teams ping-ponging around behind the leaders, but it's been Ghul who has come out of June with sole possession of third place. Here is what else is happening around the league – including full standings, trades, and our league's FAAB report…
2015 Razznasty Standings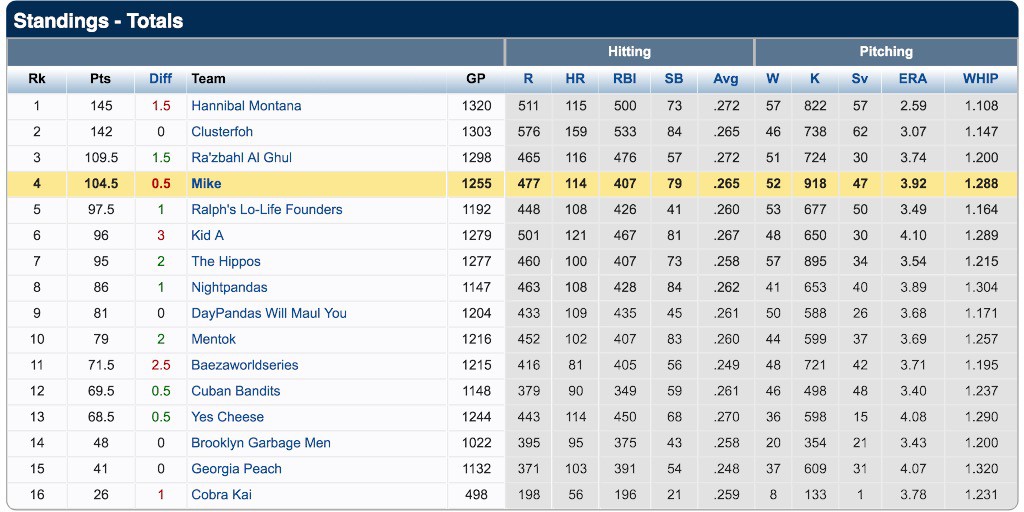 Trades
Mike trades Jose Reyes to J-FOH for Brandon Belt
I have plenty of steals, so moving Reyes for Belt helps me get a little younger, while J-FOH stays in the hunt for a ring.
Ralph trades Jordan Zimmermann to YesCheese for Yasmani Grandal and Jhonny Peralta
Ralph gets two win-now pieces and the Grandal breakout seems legit. Cheese lands another nice young arm.
Mentok trades Pablo Sandoval to YesCheese for Ivan Nova and Brett Lawrie
Cheese cashed in his Nova stash for a proven third baseman. Nice little move for both sides.
FAAB Report
Derek Dietrich ($2), Scooter Gennett ($10), and Franklyn Kilome ($0) – I've had a hole at second base since the draft when I made a blunder taking Arismendy Alcantara too high. Gennett has been a decent patch, though, and DeShields should be back soon.
Danny Santana ($0) and Keury Mella ($0) – First, I was surprised both of these guys were still out there, but good on Baezaworldseries for snagging them.
Joe Ross ($0) and Robbie Ray ($0) – J-FOH has made great use of his claims all season and both Ross and Ray provided value for him immediately.
Cody Anderson ($21) – It'll be worth the large bid if Cody keeps pitching like he did on Monday. Wow! Good pickup by Cobra Kai.
Tony Kemp ($0), Jesse Biddle ($0), and Michael Lorenzen ($1) – Cuban Bandits went after a couple of prospects close to the majors in Kemp and Biddle. Lorenzen is a solid arm that fits their window for competing as well.
Ben Paulsen ($10) – We had a debate in the league chat about his mustache. Is it cop or pedophile? I said it was more muppet-esque. Great pickup by Pandas.
Max Kepler ($2), Mason Williams ($8), and Wei Chih Hu ($0) – Jay's favorite German spec…Max Kepler! Williams played well before he was injured and Hu is a lottery ticket in Triple-A.
Ichiro Suzuki ($1) and Francellis Montas ($0) – Suzuki"s playing time will benefit from the Stanton injury. Montas is a White Sox prospect who is pretty close to the majors and could have value in the rotation or as a setup man/closer.
Will Smith ($6) and Mike Leake ($2) – Kid A won a mini bidding war for Smith, while Leake provides his rotation with some nice depth.
Mike Montgomery ($5) and Bobby Parnell ($1) – Montgomery has been another surprise, while Parnell is a decent saves spec in the Mets bullpen.
Michael Morse ($1), Michael Saunders ($0), Alejandro De Aza ($2), and Marco Estrada ($2) – Solid pickups across the board here for Ghul. Two good DL stashes (Morse should return soon) and both De Aza and Estrada have been pleasant surprises.
Marlon Byrd ($2) and Rafael Soriano ($13) – Byrd is the word for Ralph, and apparently his wrists are made from adamantium. Soriano is a saves spec which is a necessary evil in this league.
Odubel Herrera ($2) and Brandon Barnes ($4) – I have a soft spot for Doobie, and Barnes is a great pickup with Corey Dickerson temporarily out of the picture. Good plays by Hippos, but I wouldn't expect anything different.
Aaron Hicks ($0), Manny Banuelos ($4), and Eugenio Suarez ($2) – Both Hicks and Suarez will see increased value with Buxton and Cozart out, while Banuelos has found success with his new club and should see the majors at some point this year. YesCheese made good use of his FAAB here.