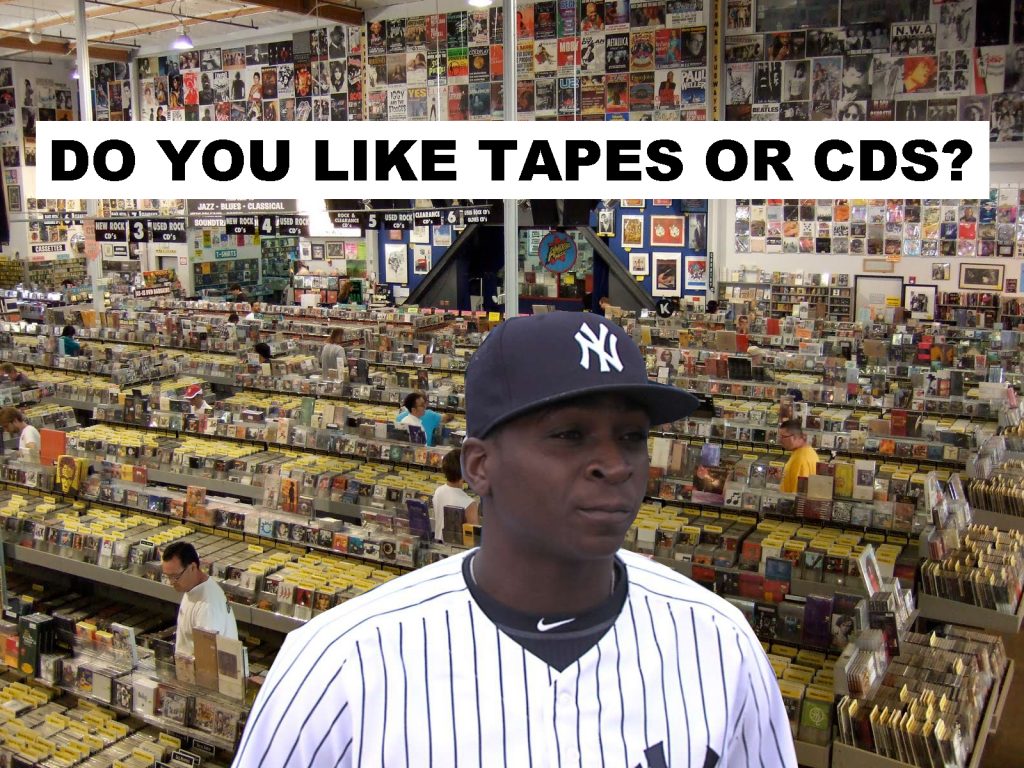 The truth is, I don't give a shit whether you like tapes or CDs. You like what you like and that's what you like. Besides, you probably prefer vinyl, which has seen a resurgence in the past several years. However, according to some sources, cassette tapes are also making a small comeback. In 2016 cassette sales increased by 74 percent, bringing total sales to 129,000 units. If you're thinking "who cares", I'm with you. If I'm being honest, I just needed a few sentences about tapes and CDs to tie the title to the post, and eventually throw Didi Gregorius a mention. No time like the present to get that out of the way…
Take me on in the Razzball Commenter Leagues for a chance at prizes! Free to join, leagues still open!
Mathematically speaking, Didi Gregorius has been more productive in points leagues this season than Manny Machado. While Machado leads all shortstops in points, Gregorius has done more with his plate appearances. Machado owners are just lucky he had SS eligibility this year because as a 3B he ranks eighth. Gregorious has also been better than Corey Seager. He has a 0.651 points per plate appearance. Seager is at 0.620. Had Didi not began the season on the disabled list, he would likely have more points than Seager.
Based on PPPA, Gregorius is also ahead of Francisco Lindor (0.596). However, Lindor has over a hundred additional plate appearances, giving him 327 fantasy points. That puts him in a three-way tie with Andrelton Simmons and Elvis Andrus for second most behind Machado (335). Machado will lose his shortstop eligibility next season. Gregorius's 271 points ranks him tenth. But remember, all but three (Carlos Correa, Zack Cozart and Marwin Gonzalez) of those with more points have had more plate appearances.
Please note that this was written earlier in the week. Exact point totals might differ once this post goes live.
With respect to points per plate appearance, Gregorius is fifth. Only Correa, Cozart, Gonzalez and Trea Turner are ahead of him. So with that said, do you like tapes or Didi's?
If this helps influence your decision, Didi just hit two home runs.
Is it me or does Justin Turner look like Tormund Giantsbane? I'm sure someone else has already made the connection, but when I saw Tormund about to be done in by wights, all I could think of was all of Justin Turner's owners scrambling to the waiver wire to pick up Nicky Delmonico.

How much wood can an Alex Woodchuck chuck if an Alex Woodchuck could chuck wood? About six innings worth of wood. Alex Wood has only pitched more than six innings in five of his twenty starts this season. And now he's hurt. Again!
Since his debut in the Majors I have been pretty vocal about not touching Byron Buxton. I think I said something like "I wouldn't f-ck him with a ten foot pole and Jay Bruce pushing". Well, he has a chance to earn some redemption this week as I broke my rule. I grabbed a tube of KY and I'm giving him a shot. In the last two weeks he has been in the top ten in points amongst hitters. Why not ride the wave when his team has eight games this week. One way or another he's going to be Byron Fuxton after this week.
I'd personally like to thank Tommy Pham for being more concerned with buying snow cones on Sunday than playing baseball. Thanks to him sitting out I lost my head-to-head matchup by one freaking point. He got me one point with a pinch hit walk, but had he played the entire game, my chances of winning would have been considerably better. Nothing like going into Sunday night's game down by two points only to find out the only player you have in that game is not playing. How's that for a snow job! And a crappy ending.
Good to see Noah Syndergaard getting some work in this year. He might not be able to pitch for the Mets these days but at least he got to throw a spear at Daenerys' army and take out a Dothraki. Is there any good reason the Mets aren't just shutting him down for the season?
Can anyone tell me what Brad Peacock, Josh Reddick, Alex Wood and Jim Johnson all have in common? I know it's right on the tip of your tongue!
If you really do like tapes, you might want to check this thing out. As far as baseball is concerned this year, this is it for me. With that, I thought it best to go out on a high note. Literally. So for all of you CD lovers our there, see deez nuts in your [fill in the blank].
It's that time of year when I switch over to the football side of things here at Razzball. Be sure to check it out!
Follow malamoney on Twitter at @malamoney