Michael Wacha holds a special place in my heart. When Albert Pujols left the Cardinals for the west coast during December of 2011, I partially disowned the player I was most fond of in my childhood; the reason I became a Cardinals fan back in 2001. (Hopefully I didn't just lose a lot of readers…)
Having a vague understanding of compensatory draft picks, I paid attention to the 2012 MLB Draft. When the 19th pick came up, and St. Louis selected the tall righty from Texas A&M, I associated some of my fleeting distaste for Pujols with the gift given due to his departure. The logic of disowning a player for nothing more than assuming his blind loyalty, which no player should have, in retrospect, was terrible. But the product of my now-distant bitterness was admiration for Wacha.
That affinity soared when he broke out during the 2013 Postseason, mowing through the Pirates and Dodgers before collapsing in Fenway during the final game of the World Series. Wacha then evolved into the low hanging fruit of regression candidates when 2015 finished, fulling that tag a year later when the product didn't match his peripherals. But an aggregated look at last season stands out for the 26-year-old. A noticeable jump in strikeouts, coupled with usage tinkering, results in an intriguing starting pitcher who lasts into the 20th round of drafts on average.
Rudy has Wacha 175th overall on Razzball's Player Rater for 15-team NFBC leagues, a solid five rounds ahead of his current NFBC price tag.  Grey is even more aggressive on Wacha, ranking him as a viable SP3, inside his top 40 pitchers and inside his top 125 overall. There is love for Wacha on Razzball and I support the aggression.
It's hard to think of Wacha without citing his injury history and his ADP may be a tangible result of his unfortunate doctor visits. I alternate my perception of Wacha's injuries between two categories of thought: development and mechanical.
Development is all eye-test or feel based. I hold a space in my mind, with every young arm, that aging and growth can help mature one's body out of recurring injuries. Others are simply just injury prone. If that doesn't quench your thirst for understanding – it shouldn't – then the folks over on Top Velocity's YouTube channel might help.
I've cited their expertise multiple times with Ralph on the Razzball Prospect Podcast, and do so again here to fulfill the "mechanical" portion of my thoughts on Wacha's injuries. One of the things they point out is the lack of engagement in Wacha's lower half. It might look like he's driving off his back leg after you observe his toe drag away from the rubber, but that's a deceptive trick of the eye when you compare his lower half to a pitcher like Noah Syndergaard.
A lot of the velocity Wacha gets is from how well he separates his hips and shoulders, allowing for a build up and release of energy north of his belt that results in the velocity he reaches. You'll notice in the gif above how vertical, or upright, Wacha's torso is in relation to Syndergaard. This is an old shot of Wacha's mechanics, but the blueprint of his delivery remains the similar. If you're going to focus on one difference between the two, watch each pitcher's front leg towards the end of the gif. Wacha's remains angled, while Syndergaard's straightens out. As the Top Velocity crew mentions, this is a signal for lower-half involvement.
Wacha's hips aren't particularly engaged in his delivery, leaving his front leg less active in his motion and forcing his upper body to act as it does to succeed. One could speculate that a lot of Wacha's shoulder problems stem from dependence on his upper body to generate ball speed. With how well he separates, a lot of that force goes to the muscles supporting his arm movement, as opposed to the elbow itself.
The enigma I couldn't solve is whether Wacha's uptick in velocity by about two mph on his fastball from 2016 to 2017 is a consequence of engaging his lower half more last season. If that is the case, it at least provides a reason for optimism that he can eclipse 140 innings in back-to-back season for the first time in his career. Good, side-angle video of Wacha between a specific time frame is tougher to find than I thought.
My other thought is this velocity uptick could be release-point based. One of the most noticeable changes when you comb through Wacha's Brooks Baseball page is the lowering of his release point on the vertical plane, with change horizontally as well. Fractions of an inch might not seem like a lot, but with how consistent pitchers are, this seems like a deliberate, yet close-to-invisible change Wacha made from 2016.
It wasn't just his fastball that ticked up. Wacha's changeup moved north in tandem, keeping it stable around league average as both a ground ball and whiffs pitch. His curveball and cutter jumped up as well, with his curveball feeling the lightest effects of extra fuel.
On top of variations in velocity, Wacha's pitch usage moved as well. Fangraphs shows us how, with a comparative look between 2016 and 2017 the most revealing.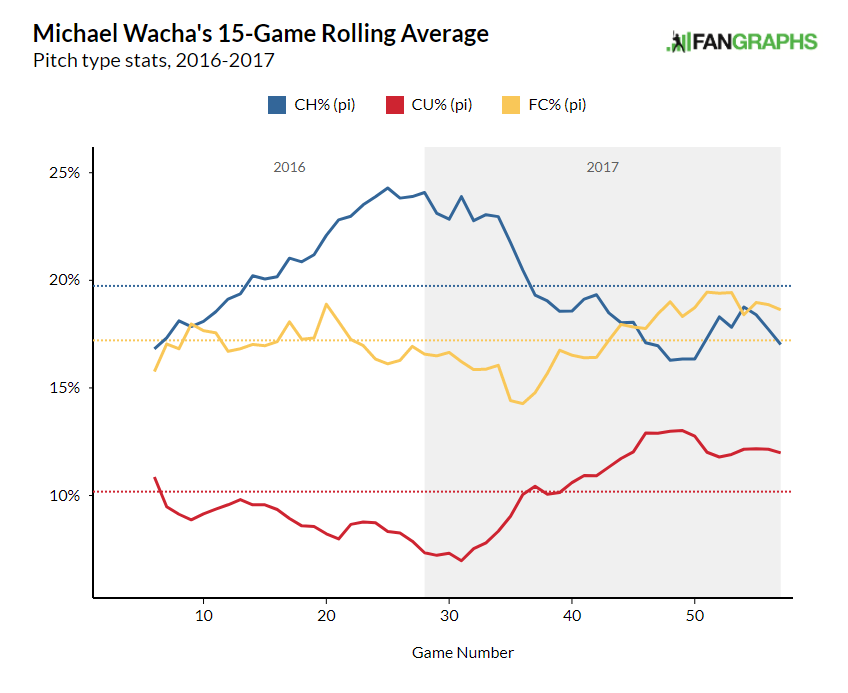 Wacha's changeup, a pitch considered his calling card for the entirety of his career, faded from the highlight of his repertoire it once was. The blue trendline of Wacha's changeup, mirrors his rolling FIP throughout the season, with elevation of cutter and curveball use trending up with improvement of his FIP as well.
While I consider all of the above factors important points to consider with Wacha when valuing him for 2018, they're all retrospective, looking back at what happened to the righty. What about future change?
Mike Maddux is the Cardinals new pitching coach and with some digging, we're getting an idea of what might change with Cardinal pitchers under his tutelage. The St. Louis Post Dispatch reported that Maddux wants the Cardinals to elevate more fastballs, the antithesis of the sinker-ball ways many of their memorable arms adopted in years past.
Rare are times where two posts speak to each other so clearly, but Travis Sawchik read this St. Louis reporter's mind, as he published a piece days later titled: Pitchers Went Up in 2017 and It Didn't Work. Hitters adjusted quickly to the shift pitchers used to counter the fly-ball revolution, tagging fly balls with more success than they had in the past. Rapid adjustment has been as important a component to the surge in home runs as balls and launch angles.
Will Wacha elevating result in anything tangible?
Right now, he sits in the middle of the zone, with a tendency to elevate already to right-handed hitters and less so to left-handed hitters. He isn't Dallas Keuchel, hammering hitter's knees, and he isn't Jake Odorizzi, elevating so much it hurt him last year. But with that said, Wacha does generate a good amount of ground balls, placing him around the 75th percentile last season in ground ball rate. Elevating for Wacha would mean deviating from one of things he has done well, even when he has struggled, and would likely push him away from the resulting effect of this forte of his, limiting home runs better than 75 percent of the league.
I could be misinterpreting what Maddux wants his pitchers to do, but if he is coaxing Wacha to elevate, I would be hesitant to endorse the change. It's futile for me to contest what a major league manager with nearly 1,000 major league innings under his belt thinks is appropriate for a pitcher to do. For all I know, he could like Wacha exactly where he is in terms of location, this could have been tailored to only a few pitchers like Adam Wainwright or Luke Weaver. Or it could simply be a way to make Wacha uncomfortable, helping him to grow further as a pitcher through adaptation. But elevation, more than sparingly, could have unnecessary side effects for a pitcher who found an optimal pitch mix and overall groove that bred prolonged success for the first time in his career.
Rudy's projection: 161 IP, 10 w, 3.99 ERA, 1.31 WHIP, 150 Ks 
Grey's projection: 182 IP, 14 W, 3.61 ERA, 1.24 WHIP, 176 Ks
My Projection: 180 IP, 13 W, 3.7o ERA, 1.25 WHIP, 175 Ks
I'm leaning towards Grey on this one, even if some of my bias is doing the projecting.
Twitter is where I frollic…
GIF is made of two videos: NJ.com and here.