O Captain! My Captain! is a poem by the esteemed poet Walt Whitman. According to my go-to source, Wikipedia, it's a long metaphor about the assassination of President Abraham Lincoln.
This piece of literature in the space of fantasy baseball, can tie, in a very improper sense, to players you'll consider undraftable due to personal vendettas come 2018. Everybody's favorite triple crown winner, Miguel Cabrera, is where my mind wanders when thinking of players that fit this criteria. (Sorry Yastrzemski, I'm a millennial.)
Instead of focusing on my terrible metaphors, let's talk about Cabrera's rough 2017.
If you paid the second-round price tag for Cabrera last March, I am sorry. He barely returned top-500 value, posting career lows in every 5×5 category that actually matters for fantasy baseball. For reference – as if you need it – Noah Syndergaard produced more fantasy value in 30 innings, with 1-2 record than Cabrera did 529 plate appearances. It's rare we see a player actually accrue north of 500 plate appearances and produce substantially below the value of his ADP.
When comparing back to a 38-homer 2016, it's too easy to pick out the issues. The majority of this column could simply be regurgitation of his regression, but for the sake of brevity, I'll take a look at only one issue: Cabrera's inability to hit breaking balls.
Cabrera saw around a six percent uptick in breaking balls while in the box during 2017 and his results against both sliders and curveballs were morbid. For almost the entirety of his career, Cabrera made a living off his breaking-ball recognition ability, sitting well in the positives against each pitch according to Fangraphs pitch values. In 2017, he flipped into the negatives. Cabrera was so poor against curveballs in particular, that he sat dead last out of 144 qualified hitters in his production against the pitch (per Fangraphs' sortable hitter pitch values).
A good visual representation of this struggle can be found by looking at Cabrera's spray chart against the curveballs and sliders from 2016 to 2017.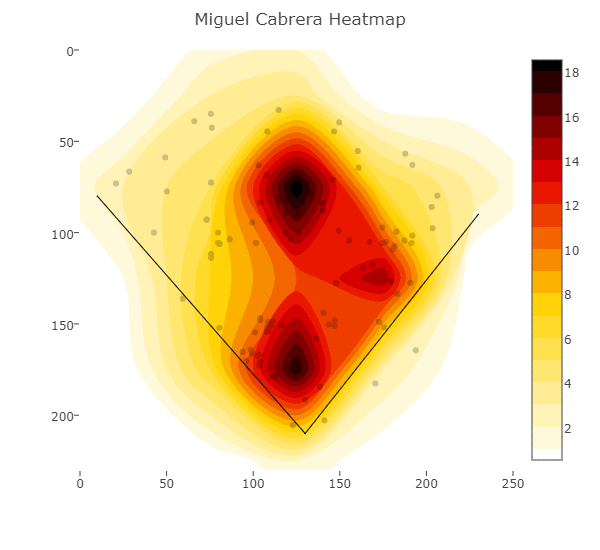 The singular dark red dot around the middle of the infield represents a rough 2017. The pair of dark spots, with a second focus on center field, is Cabrera's success in 2016. Not only did Cabrera have trouble staying inside breaking balls and driving them to center like he masterfully did for the majority of his career, but he also had trouble driving breaking balls to deep to left field on his pull side.
Your eyes may fix on the dark spots in the gif above, but also look at deep left field in both of the pictures. In 2017 – the singular red dot – a large patch of white exists in deep left field, showcasing again Cabrera's lack of success against breaking balls.
Even if there are only a few breaking balls hit to deep left in a given season, because of Cabrera's tendency to channel his power to left-center as opposed to his pull side, those that are poked to deep left are likely home runs. Add 6-8 home runs to Cabrera's 2017 and we may be looking at this past season with a different perspective.
***
So what's the root of this issue and the numerous others Cabrera houses? While it could merely be an age-based argument, revolving around general deterioration, the optimist's mind might find solace for 2018 in citing two non-numerical matters.
The first of which being Cabrera's back issues and ultimate shelving during late September due to multiple herniated discs. Sports Illustrated writer Jon Tayler does a great job of breaking down the progression of this medical matter, which seemed to arise during his time with Venezuela during 2017's World Baseball Classic, persist through the season, and resulted in his shutdown.
Your personal opinion on this matter could trend in one of two directions.
Either you group Cabrera in with players like Don Mattingly and David Wright who experienced career-diminishing back issues, or you place him alongside bounceback stories like Vladimir Guerrero and Ryan Zimmerman. The science behind that crude bucketing is imperfect, so I tend to omit such associations and try to make some sense off of what we know.
In October, Tigers General Manager Al Avila mentioned his expectations for Cabrera's 2018 were extremely positive. That optimism stemmed from a communicated confidence that Cabrera's offseason plan, which started right after the season, were built to strengthen the physical weaknesses tied to age of the former MVP. (I would guess the non-perennial nature of the World Baseball Classic also helps to launch Cabrera on the right track come Opening Day.)
In November, fans received a report from the Detroit Free Press, in which Avila claimed Cabrera would likely be stronger than ever, as his core rehab to strengthen his back was proceeding well. Finally, we have some best-shape-of-his-life news and we're not in Spring Training!
Avila also mentioned in his interview the second factor which I wish to bring up: Miguel Cabrera's personal issues. A divorce, a withdrawn divorce, family distress in Venezuela, and child support debacles, all rose to the surface. Baseball players are human, and I wouldn't be shocked if there was some extra thought regarding all that was occurring in Cabrera's life. It's impossible to quantify the mental distress, and what you choose to do with that information is yet again your own decision, but I consider it at least a marginal factor for some of the extra struggle which seemed to manifest from thin air for the legend.
***
Looking forward to 2018, it's easy to split the difference between 2016 and 2017, which suggests a nice bounceback season for Cabrera. But if we consider some of the psychological factors I mentioned above, a purely statistical look at Cabrera seems less than appropriate.
Let's first look at Fangraphs' Steamer, one of the few projection systems with presently available prediction data.
.289/.372/.504, 29 HRs, 84 R, 94 RBIs
This seems aggressive to me, particularly with the inferred point that Cabrera's back might not be that big of an issue in the aggregate, as the "balance" between Cabrera's 2016 and 2017 is probably an output of less production than Steamer anticipates.
The line looks a lot like Mark Reynolds production from last season with notable average improvements (Reynolds sat .267/.352/.487, 30 HR, 82 R, 97 RBI). Reynold's line was good enough for the 76th most valuable fantasy asset in 2017, according to Razzball's Player Rater.
Coincidentally, 76th is where Cabrera was drafted, on average, in the smattering of drafts arranged by the venerable Justin Mason over on Fangraphs to gather some early, analyst-produced ADP.
I'd put more stock in NFBC's data when they start to pump it out on their website, but for now, our resources are limited. Cabrera seems like a player whose slot could range anywhere from 50 to 90 based on your draft room's feeling on youth, prioritizing power, and a variety of other variables like age and injury.
After Victor Martinez becomes a free agent after 2018, Cabrera's fantasy situation becomes even more intriguing. That's what makes this season such an interesting subplot for Cabrera, it'll likely be the last he remains at first base as a defender before moving to designated hitter full time. Afterwards, he'll retain first-base eligibility for 2019 and then poof, he becomes a David Ortiz-style fantasy asset.
My gut reaction is that Cabrera's 2018 could look strong out of the gate and then hit rough patches as we pass by the All-Star break. This might result in some front loading of Cabrera's production, as I think he can regain a substantial amount of his health early given a mix of his personal injury track record and Avila's thoughts (which should be taken with a grain of salt). I wouldn't be stunned to see something like the following for Cabrera in 2018.
First half – .300/.390/.520, 19 HRs, 46 R, 53 RBI (Think Jonathan Schoop or Travis Shaw in the first half of 2017)
Second half – .270/.360/.460 10 HR, 38 R, 34 RBI (Think some regression, injury)
I already have a feeling if Cabrera starts hot, Grey will endorse a sell in his weekly buy-sell column come midseason. I will own some shares of Cabrera as I think his current 7th-round cost has some room for value to be had. I emphasize "some" shares, as over exposure to Cabrera is taking a risk on factors that are wildly hard predict without irrational confidence.
***
Alas, our time together in this column is over, so I will leave you with a Cabrera-related story.
This past season I went on a little baseball road trip to multiple major league parks, Comerica included. Before one of Miggy's at-bats in the game I attended, I yelled some words of encouragement at him, most of which revolved around my disbelief that Kyle Gibson, the game's starting pitcher, actually strung together some not-terrible starts in the second half. After my pep talk, Cabrera proceeded to scorch a ball to center-field, which was subsequently robbed by the second coming of defensive Andrew Jones, Sir Byron Buxton. This was one of Miggy's hardest hit balls of 2017 and one of the few to not result in a base hit. The next time he came into the on-deck circle, Cabrera turned to me and Walt Whitman, exclaiming the following…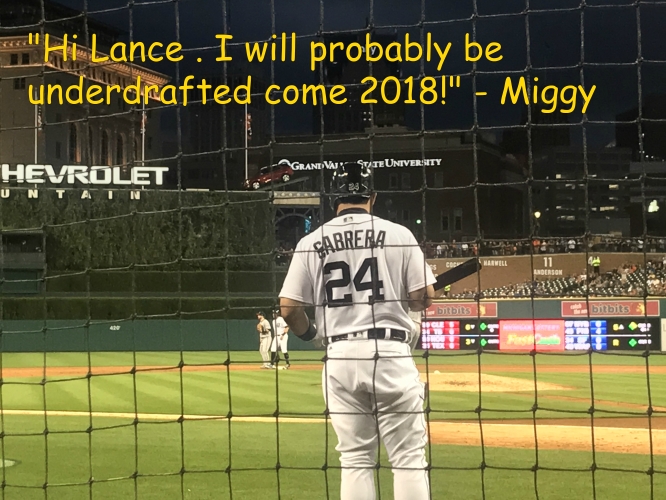 (Some of the facts in the above story are true, others are fabricated. I will let you have fun with the exercise of deciphering the truth.)