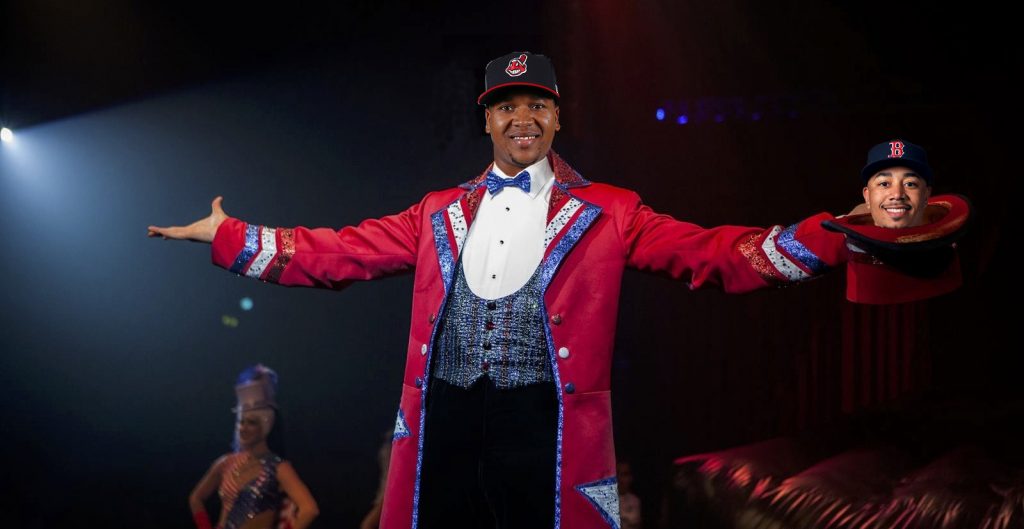 Ladies and gentlemen, boys and girls, children of all ages, say hello to the greatest player on Earth in week 13. Allow me to introduce a player who can juggle three positions at once, boasting eligibility at outfield, second base and third base. Hailing from Baní, the capital town of Peravia Province, Dominican Republic, he was recently voted the starting 3B for the American League All-Star game. The star of today's show, and wrangler of 42 points, is none other than Jose Ramirez. While he might not be able to tame lions, ride a motorcycle in that small circular cage or swallow a flaming sword, Ramirez can certainly play the game of baseball. Truth be told, he might be able to do all of those things I just mentioned, but I couldn't reach him to confirm. It seems my Razzball press credentials only got me a free hot dog. At least it was kosher. Love me some Hebrew Nationals!
Note: Week 15 will only be three games due to the All-Star break. The deadline has been extended until Friday at 1:00 PM EST.
In week 13, en route to 42 points, Ramirez hit three home runs, drove in seven, scored eleven and stole a base. These numbers are pretty indicative of his season. To date Jose has 16 home runs, 45 RBIs, 60 runs scored and 9 stolen bases. More importantly, he has 288 points. To put that into perspective, Bryce Harper has 288 points. As a matter of fact the only hitters with more points are Joey Votto (335), Paul Goldschmidt (307), Aaron Judge (300), Mookie Betts (297) and Daniel Murphy (290). Considering Ramirez's ADP was 89 in head-to-head leagues and approximately 100 in roto leagues, it seems that only Aaron Judge is ahead of him as far as fantasy MVP is concerned.
And now for the smoke and mirrors. Jose Ramirez isn't actually the greatest player in week 13. It was just an illusion. The man behind the curtains is actually Mookie Betts. Betts scored the most points in week 13 with 52 points, but since he is an Unpickable, the spotlight was given to Ramirez.
We've saved the most incredible trick for last. If you think you're seeing double, or having flashbacks, you're not. Please do not try this at home. Several people were injured performing this feat. Mirror, mirror on the wall, who's the winner and best of all? Shot out of a cannon, the winner from week 13 is the contestant that selected Jose Ramirez (of course), Andrew McCutchen and Jackie Bradley Jr. Those three batters combined for 84 points. And the winner is. Wait for it… Foul balls. Wait that was last week's winner. Well, believe it or not, Foul balls has done it again. In the words of Britney Spears, "oops he did it again". When I first ran the numbers I thought I had made a mistake, but after triple checking, there was no mistake. Even David Copperfield cannot figure out Foul's secret!
In second place, with 79 points, was Razzball's own VictoriaB. Her picks were Jose Ramirez, Xander Bogaerts and Chris Owings.
Here are the top 5 from week 13:
Foul balls (84): Jose Ramirez (42), Andrew McCutchen (20) and Jackie Bradley Jr. (22)
VictoriaB (79): Jose Ramirez (42), Xander Bogaerts (6) and Chris Owings (31)
The Great Knoche (78): Adam Duvall (35), Jose Abreu (26) and Ian Happ (17)
Jason Heilskov (76): Jose Ramirez (42), Francisco Lindor (12) and Aaron Judge (22)
Uno Mas Cerveza (71): Jose Ramirez (42), Xander Bogaerts (6) and Edwin Encarnacion (23)
Week 13 Perfect Pick: (119 points) Jose Ramirez, Elvis Andrus and Carlos Correa

Current Standings
| | |
| --- | --- |
| Contestant | Score |
| Manley Ramirez | 710 |
| Thor da Man | 703 |
| You Know Nothing, J.T. Snow | 692 |
| Smallwine | 684 |
| LenFuego | 657 |
| Euroalien | 655 |
| The Great Knoche | 654 |
| Foul balls | 645 |
| Mickey | 626 |
| malamoney | 609 |
| Robert Leiker | 606 |
| B. Rabbit | 605 |
| Icalltails | 596 |
| Fungazi | 594 |
| Trevor | 592 |
| Jason Heilskov | 589 |
| The Padre | 573 |
| Water | 569 |
| Jeff P | 545 |
| MattH | 537 |
The full standings are included in the spreadsheet attached at the bottom of this post.
Weekly Winners YTD
Chris Montgomery (70)
Trevor (80)
Euroalien (90)
Denhusk (138)
Cannot spell wrong without Ron (81)
DonSlaughtOnslaught (57)
Peter guigli (77)
Smallwine (71)
Fungazi (90)
BK BROILER (71)
Mickey (79)
Foul Balls (78)
Foul Balls (84)
Week 14
This week we have our smallest contest to date with only 26 participants. Those 26 entrants selected 47 different batters. The most selected was Adam Duvall with six selections. Next is Ian Desmond with five picks. Duvall currently has 7 points while Desmond has zero.
The current leader for week 14 is MattH with 37 points. His picks are Jose Abreu, Ryan Braun and Scott Schebler. At this point last week MattH was in second place, but things didn't quite pan out. Let's see if he can get the job done this week. In second place is jesusc97 with 35 points thanks to Edwin Encarnacion, Francisco Lindor and Domingo Santana.
For those trying to figure out what this whole contest is all about, please re-read this postcontaining the rules. For those too lazy to do so, here are the basic rules. Each week you pick three batters (no pitchers). A week (scoring period) runs from Monday through Sunday. You must have your picks submitted by 1:00 PM EDT on Monday mornings. You submit your picks by leaving a comment in the comments section of that's week's contest post. Comment timestamps will be used to break any ties. Once you pick a player, you cannot pick that player again in any subsequent week. A card laid is a card played. This means that once you announce your picks in the comments section, you cannot change them. It doesn't matter the reason.
The last thing to mention are the unmentionables. Actually they are called Unpickables. You cannot pick an unpickable. Well you can, but you will get zero points.
The Unpickables – DON'T PICK THESE PLAYERS!!!
Mike Trout
Mookie Betts
Jose Altuve
Nolan Arenado
Paul Goldschmidt
Anthony Rizzo
Bryce Harper
Charlie Blackmon
Kris Bryant
Josh Donaldson
Manny Machado
Joey Votto
Miguel Cabrera

Each week is a new contest, but your weekly points will count towards your total points in the season long standings. The season will run fifteen weeks. At the end of the season there will be a five week playoff competition. In order to qualify for the playoffs you need to either win a weekly contest or finish in the top three overall season standings. That's it. If you win more than one week and/or finish in the top three, you still only get one entry into the playoffs. However the person that finishes the regular season with the most points (first place), will be allowed to pick players from the Unpickables list during the playoffs (one per week). The winner of the playoffs will receive a brand new Razzball tee shirt. And that's me plagiarizing me from last week again. Thank you cut and paste.
The scoring system that will be used for this contest is as follows:
1B(+1), 2B(+2), 3B(+3), HR(+4), RBI(+1), R(+1), SO(-1), BB(+1), SB(+1), CS(-1)
In case you don't remember who you've already picked, you can refer to the attached spreadsheet which shows you everyone's picks.
The contest closes on Monday at 1pm EST!!!
Important Note: Please use the same name you've used in previous weeks with all future submissions. Otherwise your points will not be combined and you will lose ground in the overall standings. If you are unsure of how you previously entered it, find your name in the standings tab of the spreadsheet and cut and paste it. You have been warned :)
Newcomers welcome. Just because you missed any of the previous weeks does not mean you can't join this week. Remember all you have to do is win one week (any week) and you're in the playoffs!