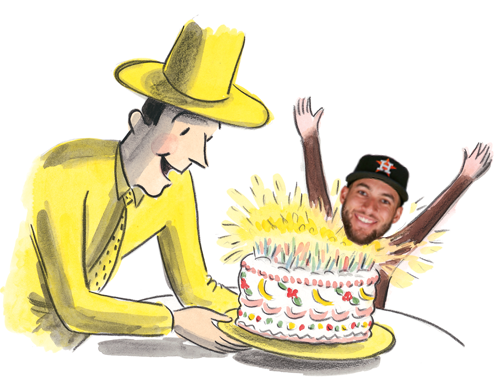 Springer springer hit a dinger. Actually he hit five of them in week 9. Until last week you might say that he was having a rather pedestrian start to the 2017 season. Coming into the week he wasn't even a top 30 outfielder with respect to points. As a matter of fact his starting percentage was slowly taking a dip, and as a result, there were quite a few angry managers staring at 45 points on their bench last week. I have a rule that I nearly always abide by in weekly league: Play your studs. Well if George Springer was curious about what it's like to be in the top 20, he now knows as his week 9 performance has catapulted him in the 17 spot.
Enough about this George dude from Houston, what you all really want to know is who won week 9. Actually there are probably only a small handful that really care. That would be those of you that had at least an outside chance of winning. Well wait no longer. The winner is the contestant that picked George Springer. Since there was only one of you that did so, the mystery winner should be easy to figure out. Ok, fine. I won't make you go back and do the leg work. The winner was Fungazi with 90 points. Fungazi picked George Springer (45), Carlos Correa (40) and Brian Dozier (5). Dozier's five points were meaningless considering Springer and Correa were the top two highest scoring players of the week. Second place was The Padre with 73 points. Like I said, no thanks to Dozier. Congrats Fungazi!
Here are the top 5 from Week 9:
Fungazi (90): George Springer (45), Carlos Correa (40) and Brian Dozier (5)
The Padre (73): Giancarlo Stanton (27), Justin Bour (29) and Michael Conforto (17)
Foul Balls (72): Justin Smoak (31), Devon Travis (12) and Kendrys Morales (29)
jesusc97 (67): Kyle Seager (17), Chris Davis (10) and Carlos Correa (40)
Littlecf24 (67): Danny Valencia (38), Jose Bautista (10) and Steven Souza Jr. (19)
Week 9 Perfect Pick: (124 points) George Springer, Carlos Correa and Elvis Andrus

Current Standings
| | |
| --- | --- |
| Contestant | Score |
| Thor da Man | 577 |
| Manley Ramirez | 518 |
| You Know Nothing, J.T. Snow | 515 |
| Euroalien | 500 |
| Smallwine | 481 |
| Fungazi | 473 |
| Jeff P | 465 |
| LenFuego | 455 |
| Mike_Vee_ | 455 |
| Icalltails | 448 |
| Trevor | 445 |
| The Great Knoche | 433 |
| Robert Leiker | 432 |
| Foul balls | 431 |
| malamoney | 418 |
| Mickey | 410 |
| Jason Heilskov | 395 |
| King Homer | 392 |
| Shivdaddy | 390 |
| TheTheory | 385 |
The full standings are included in the spreadsheet attached at the bottom of this post.
Week 10
Week ten has 36 contestants. Looks like we lost one from last week. Oh well. Those 36 people have chosen 57 different batters. The most selected batter was Matt Kemp with eleven nods. I wonder if his neck hurts. After Kemp is Springer with 6 picks. Kemp has 4 points and Springer has 3. From hero to zero (plus 3).
The current leader is B. Rabbit with 59 points. Eminem, is that you? B. Rabbit's batters are Domingo Santana, Jake Lamb and Matt Adams. In second place is The Great Knoche with 54 points from Jake Lamb, Steven Souza Jr. and Corey Dickerson.
For those trying to figure out what this whole contest is all about, please re-read this post containing the rules. For those too lazy to do so, here are the basic rules. Each week you pick three batters (no pitchers). A week (scoring period) runs from Monday through Sunday. You must have your picks submitted by 1:00 PM EDT on Monday mornings. You submit your picks by leaving a comment in the comments section of that's week's contest post. Comment timestamps will be used to break any ties. Once you pick a player, you cannot pick that player again in any subsequent week. A card laid is a card played. This means that once you announce your picks in the comments section, you cannot change them. It doesn't matter the reason.
The last thing to mention are the unmentionables. Actually they are called Unpickables. You cannot pick an unpickable. Well you can, but you will get zero points.
The Unpickables – DON'T PICK THESE PLAYERS!!!
Mike Trout
Mookie Betts
Jose Altuve
Nolan Arenado
Paul Goldschmidt
Anthony Rizzo
Bryce Harper
Charlie Blackmon
Kris Bryant
Josh Donaldson
Manny Machado
Joey Votto
Miguel Cabrera

Each week is a new contest, but your weekly points will count towards your total points in the season long standings. The season will run fifteen weeks. At the end of the season there will be a five week playoff competition. In order to qualify for the playoffs you need to either win a weekly contest or finish in the top three overall season standings. That's it. If you win more than one week and/or finish in the top three, you still only get one entry into the playoffs. However the person that finishes the regular season with the most points (first place), will be allowed to pick players from the Unpickables list during the playoffs (one per week). The winner of the playoffs will receive a brand new Razzball tee shirt. And that's me plagiarizing me from last week again. Thank you cut and paste.
The scoring system that will be used for this contest is as follows:
1B(+1), 2B(+2), 3B(+3), HR(+4), RBI(+1), R(+1), SO(-1), BB(+1), SB(+1), CS(-1)
In case you don't remember who you've already picked, you can refer to the attached spreadsheet which shows you everyone's picks.
The contest closes on Monday at 1pm EST!!!
Important Note: Please use the same name you've used in previous weeks with all future submissions. Otherwise your points will not be combined and you will lose ground in the overall standings. If you are unsure of how you previously entered it, find your name in the standings tab of the spreadsheet and cut and paste it. You have been warned :)
Newcomers welcome. Just because you missed any of the previous weeks does not mean you can't join this week. Remember all you have to do is win one week (any week) and you're in the playoffs!