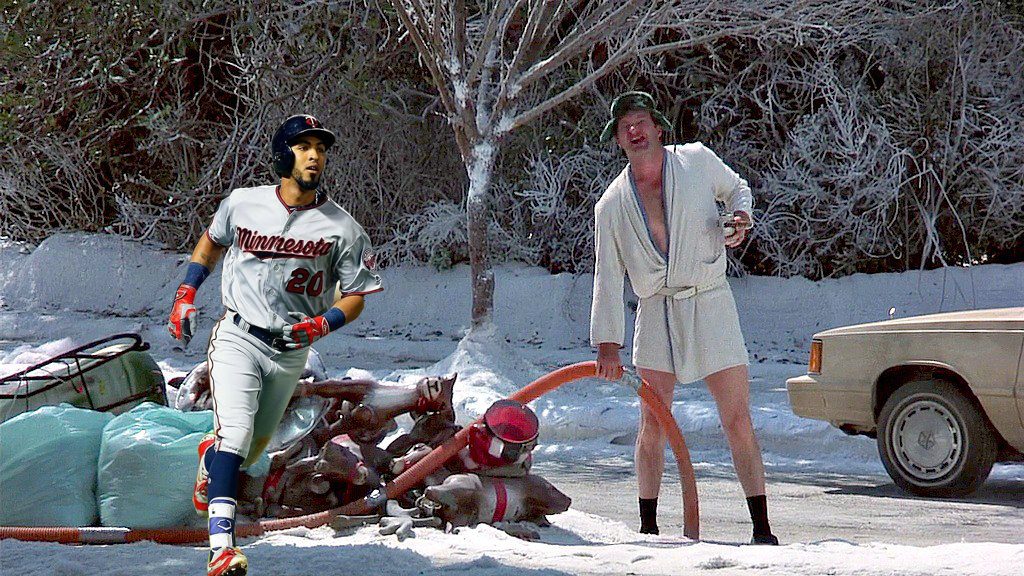 Shitter's full! This would appear true if Eddie Rosario is the lede. Rosario Dawson would have been a much better choice, however, she isn't leading all batters this week in points, cousin Eddie is. No, not the lovable idiot from National Lampoon's Vacation. That's cousin Eddie Johnson. Eddie Rosario has three home runs, seven runs batted in, seven runs scored, two doubles and a stolen base as of Saturday morning. With 35 points he had two more than Joey Votto. Rosario is not owned in many leagues. However, he is outperforming the following players that are largely owned: Kyle Schwarber, Carlos Gonzalez, Gregory Polanco, Matt Kemp and Jackie Bradley Jr.
In week one of the playoffs Gerardo Parra was the most picked batter with six picks. He was followed by Eric Hosmer and Mike Moustakas with four. Parra ended the week with 18 points, while Hosmer and Moustakas had 19 and 14 respectively. The perfect pick for week one was Bregman (45), Willson Contreras (41) and Tim Beckham (36) for a total of 122 points. LenFuego could have topped that by one point by picking Mike Trout (37) instead of Beckham with his Unpickable spot.
jesusc97 led after one week with 68 points, but Denhusk has jumped him in the leaderboard.
Here are the current standings.
If you're name's not in the above scoreboard, that means you're not in the playoffs. Just a reminder for those that are, make sure you don't pick a player you've already picked the playoffs. And unless you're name is LenFuego, don't pick an Unpickable. And if you're name is LenFuego, don't pick more than one Unpickable each week.
The plan is for these posts to go live on Sundays.
The Unpickables – Do not pick these players unless you are LenFuego!!!
Mike Trout
Mookie Betts
Jose Altuve
Nolan Arenado
Paul Goldschmidt
Anthony Rizzo
Bryce Harper
Charlie Blackmon
Kris Bryant
Josh Donaldson
Manny Machado
Joey Votto
Miguel Cabrera
The contest closes on Monday at 1pm EST!!!
If you are not in the playoffs please refrain from picking players in the comments section. This will be greatly appreciated. Thanks.
Follow malamoney on Twitter at @malamoney