The Fantasy Baseball Hall of Fame has spent an unhealthy amount of time identifying the best fantasy seasons, careers, All Stars, and Hall of Famers of the fantasy era. The Fantasy Era began in 1980, and thus many great players of the 1980's fall just short of enshrinement since their careers commenced in 1979 or earlier. This, along with the fact it's just plain fun, has led us down the path of looking back in time, decade by decade, for the best fantasy players in baseballs history. We'll be following reverse chronological order with the 1950s now taking center stage.
Previous Decades: 1970s, 1960s.
Famous for its pitching splendor, the 1960's brought runs scoring back down to levels not seen since the deadball era of the 1910's. Many casual fans do not realize the trend actually began a decade earlier, in 1951, which ushered in a 20-year era that mostly belonged to the starting pitcher.
The image below charts the average runs scored per game in Major League Baseball from 1903 to present. Runs scored declined almost 30% between the high point in 1950 (4.85 r/g) and 1968 (3.42 r/g).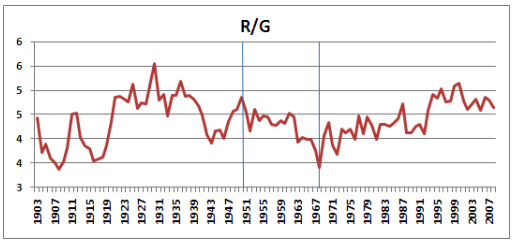 With relief pitchers not yet stereotyped solely into late inning roles, and starting pitchers routinely going the distance, the fantasy game was nothing like we see today. The best batting stats of the decade seem rather typical:
AVG:   .365 – Mickey Mantle (1957)
RS:    132 – Mickey Mantle (1956)
HR:    52 – Mickey Mantle (1956)
RBI:   145 – Al Rosen (1953)
SB:    56 – Luis Aparacio (1959)
However, the effect of the era is apparent once we move to the pitching side of the equation:
W:     28 – Robin Roberts (1952)
ERA:   1.97 – Billy Pierce (1955)
WHIP:  0.95 – Warren Hacker (1952)
SO:    263 – Herb Score (1956)
SV:    27 – Ellis Kinder (1953)
Wins are up significantly and saves are down to the lowest levels we've come across. Not shown here are the incredible innings pitched totals as well. No pitcher since 1980 has reached 300 innings pitched, while the 1950s alone had seven.
(An interesting side note, though not germane to a discussion on the 1950s, is the fact 300 inning occurrences increased through 1969, before declining into non existence about a dozen years later.)
Finally, before getting to the players, below is our customary graph of the basic fantasy batting stats. As expected, batting averages declined throughout the1950s, starting off at around .265 and ending 10 points lower. Stolen bases increased significantly, starting at one stolen base ever 130 at bats, and ending at a stolen base every 92. Home runs were fairly constant, though occurring at a higher rate in the earliest part of the decade.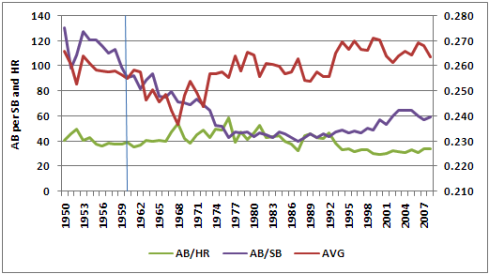 Keep in mind that this decade was the last in which every year featured the 154 game schedule. In 1961 baseball expanded to 162 games, more than a 5% increase, allowing season totals forever after too look a bit better than those that came before.
Top-10 Players of the 1950s
10) Eddie Mathews, 3B
Peak Avg in Decade: 12.1
Overall FBHOF Score: 71.7
Mathews smacked 25 home runs in his 1952 rookie year and 16 "fantasy worthy" seasons later ended his career well past the 500 HR plateau at 512. He reached 40 or more four times in the '50s and is currently ranked as the 3rd best third bagger of all time, behind Mike Schmidt and George Brett
His fantasy finest season came in '59. Batting .306 / .390 / .593, he also added 118 R, 46 HR, and 114 RBI in his stat line, and finished the year as the 5th best batter in baseball. A cross decade star, Mathews has four 11+ FBHOF points seasons to his credit in the 1950s, and two 13 point seasons to start the 1960s.
9) Minnie Minoso, OF
Peak Avg in Decade: 12.4
Overall FBHOF Score: 68.0
A very good major leaguer, Minoso was even better as a fantasy baseball player. The seven time all star had the same number 10+ point seasons in the decade and was a rare 5-tool star. I am reminded of a modern day Bobby Abreu at his peak, only with a longer period of success.
During his career Minoso scored 90+ runs nine times; batted over .300 eight times; stole 17 or more bases seven times; and hit 19+ home runs or drove in 90 or more runners five times. His best season came in 1954:.320 AVG, 119 R, 19 HR, 116 RBI, 18 SB, 13.4 Points.
8. Stan Musial, 1B
Peak Avg in Decade: 13.3
Overall FBHOF Score: 71.9
"Stan The Man" is sold short by when analyzing his tenure within the 1950's only. His career actually spans three decades and a few of his great seasons came in the 1960's. Musial was pure hitter, one of the best baseball has ever seen. Including batters from the 1800s, Musial is among the all time greats in many career statistics:
.331 AVG – 30th
.417 OBP – 23rd
.559 SLG – 21st
.976 OPS – 14th
1949 RS – 9th
1951 RBI – 6th
725 2B – 3rd
6134 TB – 2nd
Fantasy wise, Musial was incredibly consistent in the 1950s, recording five seasons between 12.8 and 13.9 points. His 5 year peak during the decade was .341 AVG, 116 R, 29 HR, 109 RBI.
7) Hank Aaron, OF
Peak Avg in Decade: 13.5
Overall FBHOF Score: 98.8
You may recall Aaron was ranked as the 2nd best player of the 1960s as well, and now that we've completed the review of the 1950's, his career stat line is complete. It's pure gold. Aaron is the second best fantasy baseball player we've ever seen, and he currently owns the all time mark for total career points.
In a span of 11 years, the outfielder has an unheard of ten seasons of 15 or more FBHOF points. I would be surprised if any player, even going back through the 1920s, could duplicate this feat. Six of Aaron's best seven seasons occurred in the 1960s, the one outlier being 1959: .355 AVG, 39 HR, 116 R, 123 RBI, and 8 SB.
Aaron became fantasy eligible in 1954. One year later he reached 11 FBHOF Points and only dipped below 10 points eighteen years later in 1972.
6) Ernie Banks, 1B
Peak Avg in Decade: 13.6
Overall FBHOF Score: 77.4
"Mr. Cub's" three best seasons came while he manned shortstop, but for his career he played more games at first base (1534 vs. 1050) than short and thus is considered a corner infielder for our purposes. I fibbed a bit as well; in fact, he was eligible at shortstop over the course of his six best season, a consecutive year stretch from 1955 through 1960.
During this time he averaged 41 HR, 101 R, 116 RBI, 5 SB, and batted .294. He was also a top-5 batter four times.
5) Warren Spahn, SP
Peak Avg in Decade: 13.7
Overall FBHOF Score: 74.7
The first pitcher on our top-10 list, Span was inducted into the Baseball Hall of Fame in 1973, alongside Roberto Clemente, the only two voted in by the BBWA this year. Like Musial, Spahn's career covered three decades but he Spahn at lease, was at his best in the 1950's. His best season came in 1953: 23 W, 1.06 WHIP, 2.10 ERA, and 148 K in 266 IP. As with most of his peers, he didn't maintain a high (by today's standards) strikeout rate.
Interestingly, and perhaps unfortunately, Spahn also saved three games. In 1953, only four major league pitchers recorded 15 or more saves, and Spahn therefore gets an inordinate amount of credit for his three. This nuance will be typical with many of the pitchers of his era and earlier. No doubt, had fantasy baseball been invented in 1950, Saves would not have been a core scoring statistic. We're stuck with it though, and Spahn's 29 career saves make positively impact his overall score.
4) Mickey Mantle, OF
Peak Avg in Decade: 14.7
Overall FBHOF Score: 90.8
Moving from 5th place into 4th marks the beginning of a new tier of 1950s greats. The 8th through 5th slots are differentiated by just 0.4 FBHOF points. The jump into 4th is a full 1.0 FHBOF points. Deservedly so – Mantle was a hitting machine, and as we saw in the introduction, owns the best single season results in the decade in 3 of the 5 offensive fantasy stats.
Mantle was still great heading into the early 1960's, but few in the history of the sport match his 19.0 point season in 1956.
His peak 5-year average during the decade: .322 AVG, 121 R, 39 HR, 99 RBI, 15 SB. His scores by year:
1951- 3.8
1952 – 10.8
1953 – 9.1
1954 – 10.9
1955 – 12.1
1956 – 19.0
1957 – 15.6
1958 – 15.8
1959 – 11.1
3) Duke Snider, OF
Peak Avg in Decade: 14.8
Overall FBHOF Score: 80.0
Snider typically falls short in his inevitable comparison to Mantle and Willie Mays. All three were of course New York centerfielders during the 1950's and all three were no brainer Hall of Fame selections, but at least in terms of fantasy baseball, Snider can run with Mantle – during the 1950's at least.
When lining their best years up side by side, in order of greatness as opposed to chronological, the similarities are striking:
Snider        Mantle
17.67          18.98
15.11           15.80
14.68          15.58
14.65          12.06
11.98          11.14
10.80         10.94
10.16          10.83
9.64            9.07
5.98            3.84
3.70
In one of the most underrated seasons of all time, Snider in 1954 batted .336 with 132 R, 42 HR, 126 RBI, and 16 SB. He was the best fantasy batter of the season, for the second consecutive year. Mantle and (mostly) Mays would take honors in five of the next six seasons.
2) Robin Roberts, SP
Peak Avg in Decade: 16.7
Overall FBHOF Score: 92.0
Really. In his New Historical Abstract, Bill James ranks Roberts as the 16th best pitcher of all time. He's a Hall of Famer and a six time 20 game winner. He led his league 27 times in various important statistical categories. Yes, to this day, he gets little credit as one of the all time great pitchers.
Perhaps it was the era in which he pitched. Following Roberts good fortunes in the 1950's came the greatest pitching era of all time. With this of course, came some of the greatest pitching names of all time – Koufax and Gibson plus significant single season performances of historical importance – Denny McLain's 31 wins in 1968 and superb seasons out of Juan Marichal and Don Drysdale. Roberts never struck out 200 batters, never had an ERA under 2.50, nor a WHIP below 1.00.
What he did do was finish 6 of the 10 seasons in the Top-3, and four consecutive as the best overall pitcher in the game. From 1952-1955 he averaged 24 W, 1.07 WHIP, 2.90 ERA, 172 K's, and 4 saves per season.
He's on his own plane when looking at 4-year peak scores among starting pitchers of the 1950s:
17.4 – Robin Roberts
14.1 – Warren Spahn
11.8 – Early Wynn
11.7 – Billy Pierce
11.2 – Mike Garcia
1) Willie Mays, OF
Peak Avg in Decade: 17.5
Overall FBHOF Score: 102.3
Through the 1950's, Willie Mays is the greatest fantasy player of all time. His stats speak for themselves. Please pay particular attention to the sheer number of double digit FBHOF Point seasons, identified in the "score" column.