The Fantasy Baseball Hall of Fame has spent an unhealthy amount of time identifying the best fantasy seasons, careers, statistics, All Stars, and Hall of Famers of the fantasy era. As mentioned ad nauseam, the fantasy era began in 1980, and thus many great players of the 1980's fall just short of enshrinement since their careers commenced in 1979 or earlier. This, along with the fact it's just plain fun, has led us down the path of looking back in time, decade by decade, for the best fantasy players. We'll be following a logical, reverse chronological order, starting with the 1970s.
"Stars of the 1970's Who Missed FBHOF Enshrinement Due to 1979 Cutoff"
The 1970s provided fans a different brand of baseball than we're accustomed too today. In the early part of the decade, the frequency of the stolen base was below what we even see today, but by the latter portion of the decade, stealing increased dramatically and kicked off the a mini-era where were the steal valued highly. This eventually led to the famous 1980's St. Louis Cardinal teams that stole seemingly at will. In 1985 Willie McGee, Terry Pendleton, Ozzie Smith, Andy Van Slyke each stole at least 30 and Vince Coleman reached 110.
On the other hand, there were relatively more home runs hit in the 1970s than the 1980s. As an example, players hit 40 or more home runs 20 times in the 1970s vs. just 13 in the 1980's (the 1990s had 72, but that is beside the point). Contrarily, batting averages have risen steadily each decade, after the league average bottomed out at .244 in 1972.
This chart depicts what was just mentioned – the Major League Batting average year by year, as well as the frequency in HR's and SB's in the form of "per at bat' stats: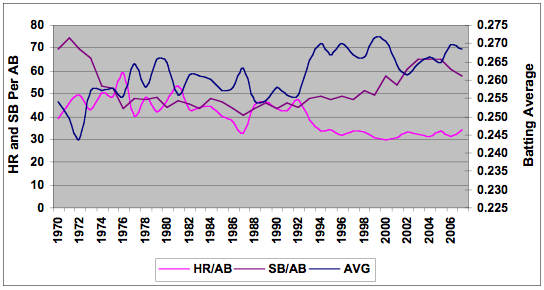 Let's take a moment to ground us on the scoring tiers we saw during the Fantasy Era.
• 90+ Points: Only two players have ever amassed 90 or more FBHOF points: Randy Johnson and Barry Bonds
• 80-89 Points: 7 Players are in this grouping, think Roger Clemens
• 70-79 Points: 15 players score in this bucket, the most common. Think of them as the average FBHOF'er – Ryne Sandberg, Jeff Bagwell, and Curt Schilling types.
• 65-69 Points: 12 Players. The low-enders such as Don Mattingly and Jose Canseco
• 52-64 Points: Only pitchers can score as low as 52 and get elected, David Cone is a great example
70 Pointers
78.8 – Jim Rice, OF
73.7 – George Brett, 3B
70.8 – George Foster, OF
Rice is close to being an inner circle, elite FBHOF'er. He finished first among batters in 1978 and 1979, and finished in the Top-5 in 1977 and 1983. He was a monster at the plate reaching 39 or more home runs 4 times and 125+ RBI three times. He also hit for average, topping out at .325 in 1979. His 1978 season is the 3rd best we've seen tod date, a wonderful 18.5 point juggernaut campaign. He batted .315 with 121 R, 46 HR, 139 RBI, and 7 SB. He also has a total of seven 11+ FBHOF point seasons, which is tied for 10th all time.
With an excellent 3-year peak of 14 FBHOF points, Brett was an easy choice for 'induction'. His average line during these three years was .347, 105 R, 26 HR, 112 RBI, 14 SB – great numbers for a third basemen of the late 1970's and early 1980's. He is however, not nearly as good as Rice was at his peak. Brett does have an incredible twenty fantasy worthy seasons in is career, 4th best from 1970 or later.
Best known for his 1977 season of 52 HR and 149 RBI, Foster also put up great numbers in 1976, 1978, and 1981 giving him a 4 year peak score of 14.7. His 5th year is lacking considerably though, and greatly diminishes his overall FBHOF score. Foster was great three times and better than average three more times.
60 Pointers
69.5 – Nolan Ryan
69.2 – Dave Winfield
68.4 – Cecil Cooper
67.8 – Dwight Evans
67.7 – Reggie Jackson
The Ryan Express ranks as the 8th best starting pitcher in the last 40-odd years. This is likely better than most would rate him for non-fantasy purposes, but Ryan had ten 8+ FBHOF point seasons – 10th best among all players, and 4th best among pitchers. Year in and year out his strike out totals were off the charts, which off-set some of the seasons his WHIP or Win totals were only ordinary. He never had a monster fantasy season, his value was in consistency: 20 seasons of double digit wins; 8 seasons of 15+ wins; 12 seasons with WHP's better than 1.25; 8 seasons with sub-3.00 ERA's; and 6 seasons of 300+ strikeouts. He finished as a Top-10 pitcher ten times, but never rated best in any single season
Winfield is much like Evans, but with a longer peak as evidenced by putting their career scores side by side – Winfield kept it up a while longer.
Reggie Jackson is someone we need to spend some time on. Jackson was one of baseball's premier sluggers, belting 25 or more thirteen times. He was also a solid RBI man, averaging 103 per season during his 5 year peak. What too many people forget was his speed. Mr. October averaged 20 steals a season for the first 8 years of his career, topping out at 28 in 1976. Because of this, his best two fantasy seasons came prior to his famous 41 HR year of 1980:
1973: .293 with 99 R, 32 HR, 117 RBI, 22 SB
1974: .289 with 90 R, 29 HR, 93 RBI, 24
While never the best fantasy player in a given year, he does have four Top-10 finishes among batters, and five Top-5 appearances among outfielders.
Cooper has already gotten quite a bit of press for a non-Hall of Famer, and deservedly so.
50 Pointers
57.8 – Bert Blyleven
56.2 – Ron Guidry
56.1 – Don Sutton
Each were very good though none reached the dominance of Nolan Ryan. Blyleven has five Top-10 finishes to his credit; Guidry four; and Sutton six. Only Guidry reached #1 pitcher status after winning 25 with a 0.95 WHIP, 1.74 ERA, and 248 K's in 1978. His 18.0 FBHOF Points ranks 6th best to date.
"Other FBHOF Worthy Players"
Fourteen other players would be in the FBHOF had the 1970's counted. This group wasn't at the top of their games during any extended portion of the 1980s, and it's easier to justify their exclusion. However, there are some truly great ones from the 1970s, beginning with Joe Morgan.
Morgan's 88.1 FBHOF Score is 4th best all time, and his peak score of 80.1 is 3rd best. He was an incredible second basemen hit for average, power, and had great speed. He nabbed the Top-2B award every year from 1971 to 1977, also finished 1st among all batters three times in 1972, and 1975-1976. His peak year was 1976 where he amassed 18.4 FBHOF points, 4th best we've seen. He batted .320 with 113 R, 27 HR, 111 RBI, and 60 SB. His 5-year peak average is wonderful: .303, 113 R, 22 HR, 85 RBI, and 62 SB, all from a second basemen.
To put his greatness into perspective, here are his scores during his 7-year run as the best second basemen in comparison to the next best. Not only was Morgan great, he was in a class all to himself.: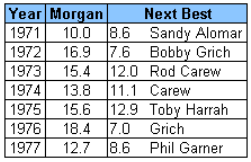 Tom Seaver rates as the 6th best fantasy pitcher ever. He was the #1 starter three times and in the Top-10 nine times. Seaver never reached 300 strikeouts as some of his predecessors (such as Steve Carlton and Sandy Koufax) but he was remarkably consistent and first-rate in his rate stats: a sub-3.00 ERA nine times and a sub-1.15 WHIP eight times. And it's not as if he couldn't strike people out – he struck out more than 7 _ batters per inning nine times and averaged 252 per season during his 5-year peak.
Here are the rest of the 1970's players who racked up enough points to be FBHOF worthy: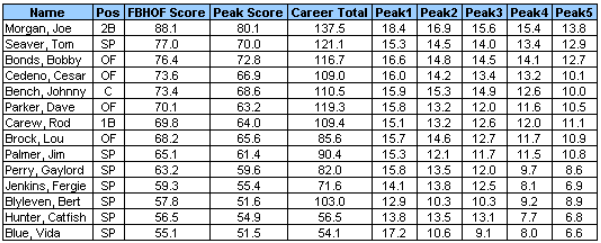 Lastly, there are two other current FBHOF'ers that saw their final scores rocket into elite stratosphere once the 1970's counted. Mike Schmidt ended his career with an official tally of 70.5 FBHOF points, good, but nowhere need great. Three monster seasons were omitted from his record though:

These three seasons raised his final FBHOF score from 70.5 to 83.8.
Steve Carlton is in a similar situation. At the tail end of his career, the left-hander pieced together a few good seasons to sneak is as a FBHOF'er. Taking his career in total though, he's a shoe-in, and one of just four pitchers to record two seasons of 17+ FBHOF points. The season left off his Fantasy record? His best ever, in 1972: 27 W, 0.99 WHIP, 1.97 ERA, 310 K.
The FBHOF will have more on the 1970s in coming weeks.