The Fantasy Baseball Hall of Fame has spent an unhealthy amount of time identifying the best fantasy seasons, careers, statistics, Fantasy All Stars, and Hall of Famers of the fantasy era. As mentioned ad nauseam, the fantasy era began in 1980, and thus many great players of the 1980's fall just short of enshrinement since their careers commenced in 1979 or earlier. This, along with the fact it's just plain fun, has led us down the path of looking back in time, decade by decade, for the best fantasy players in baseballs history. We'll be following reverse chronological order with the 1960s taking center stage today. As you may recall, earlier in October. Joe Morgan was crowned best fantasy player of 1970s.
The tail end of the 1960s is famous for its strong favoritism towards the pitcher. In 1968 the average NL batter had a slash line of .243 / .300 / .341. The AL batters were worse off still – .230 / .297 / .339 and the league's runs scoring was at its lowest point in the 20th century. Throughout the decade, as one moves closer to the 1970s, stolen bases and batting average were on the decline, though home runs were on the rise: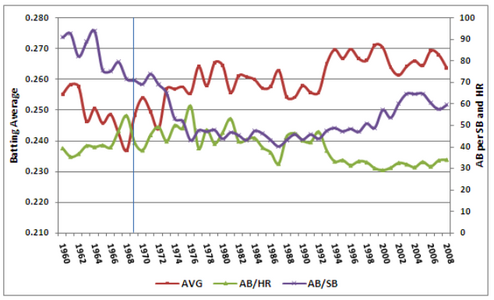 This created an environment where the fantasy standouts were relatively low average power hitters with a good deal of speed. The word relative is key however, as a .300 batting average in 1968 is more like a .335 average in today's batting environment. As we did with the 1970s, here are a few examples of Fantasy Era players and their FBHOF scores:
• 90+ Points: Only two players have ever amassed 90 or more FBHOF points: Randy Johnson and Barry Bonds
• 80-89 Points: 7 Players are in this grouping, think Roger Clemens
• 70-79 Points: 15 players score in this bucket, the most common. Think of them as the average FBHOF'er – Ryne Sandberg, Jeff Bagwell, and Curt Schilling types.
• 65-69 Points: 12 Players. The low-enders such as Don Mattingly and Jose Canseco
• 52-64 Points: Only pitchers can score as low as 52 and get elected, David Cone is a great example
The ten best players of the 60's were all Outfielders, Starting Pitchers, and First Basemen. Before admiring this group, a few words on the best of the rest at each position.
Catcher – Johnny Bench had the highest average peak score of the 1960s, but only played in 1968 and 1969 and two years a dynasty does not make. When looking at the 1970s, his FBHOF score was a fine 68.61 and adding these two new seasons in jumps his score up to 76.7, 24th best all time regardless of position.
The best fantasy catcher of the decade was Joe Torre. His 68.6 FBHOF points is well within the range of Hall of Fame criteria and he was at his best in 1964 with 13.1 FBHOF points. He batted .321 with 20 HR, 87 R, and 109 RBI. Torre also has two other 10 point seasons and currently sits second all time at the position. This is a bit unfair though, since his best season was as a third baseman in 1971.
Second Base – There are no offensive stars here as only two times did a second bagger record 10-points in the entire decade. In 1961 as a rookie, Jake Wood stole 30 bases and scored 96 runs amassing 12.0 FBHOF points in the process. Two years later, Tony Taylor batted .281 with 102 runs scored for exactly 10.0 FBHOF points. Neither had noteworthy fantasy careers however, and the prize for best of the decade falls to Don Buford. While never a star, he did have four seasons of 7.7 or more points and his peak 5-year average of 7.5 points is easily best in the decade.
Third Base – No player at the hot corner meets FBHOF requirements but Ron Santo comes awfully close. The life long Chicagoan scored between 10.9 and 12.5 FBHOF points each year between 1963 and 1968, with an overall score of 63.6, 5th best all time from what we've investigated. He was routinely capable of 30 HR, 100 RBI, and 90 Runs Scored.
Shortstop – While not as weak of a position as their middle infield counterparts, the shortstops of the 1960's weren't very good either. The best of them was Maury Wills, he of the best fantasy stolen base seasons ever.
Closer – 32 saves was the highest recorded in a single season, and Hoyt Wilhem reached 152 on the decade.
Top-10 Players of the 1960s
10. Bob Gibson, SP
Peak Avg in Decade: 12.9
Overall FBHOF Points: 71.6
Though still great at the start of the 1970s, Gibson turned in his finest work between 1966 and 1969. In total, the pitcher had seven 10+ FBHOF points seasons, tied for 5th best we've seen. He recorded the 6th best pitching season of the decade in 1968 – 22 W, 0.85 WHIP, 1.12 ERA, 268 K.
9. Jim Bunning, SP
Peak Avg in Decade: 13.0
Overall FBHOF Points: 68.5
Bunning won at least 17 games six times between 1961 and 1967 and was incredible during the last two in which he averaged 18 W, 1.02 WHIP, 2.35 ERA, and 252 K's
8. Orlando Cepeda, 1B
Peak Avg in Decade: 13.6
Overall FBHOF Points: 72.2
Went .311 with 46 HR, 105 R, 146 RBI, and 12 SB in 1961. Averaged a very good 31 HR, 93 R, 105 RBI, and .315 Average in his next best four years.
7. Don Drysdale, SP
Peak Avg in Decade: 13.8
Overall FBHOF Points: 71.7
Had three 14+ FBHOF seasons between 1960 and 1964. During these three years he averaged 19 W, 1.05 WHIP, 2.62 ERA, 238 K's. During the decade Drysdale won 18 or more games four times; had an ERA under 3.00 seven times, and a WHIP better 1.20 eight times.
6. Lou Brock, OF
Peak Avg in Decade: 3.9
Overall FBHOF Points: 83.1
His career spanned 18 years and was very good in both the 1960's and 1970s. In the earlier part of his baseball life from 1962 to 1969 he totaled 89.2 FBHOF points, and ended his career in 1979 with an additional 85.6 FBHOF points. Between 1964 and 1974 he recorded at least 10 FBHOF points per season for 11 straight seasons. 1967 was his finest – .299 AVG, 113 R, 21 HR, 76 RBI, 52 SB.
5. Juan Marichal, SP
Peak Avg in Decade: 14.8
Overall FBHOF Points: 79.4
A devastating pitcher in both 1963 and 1965, but was only an elite fantasy pitcher for a total of 5 seasons. His 5 year peak ranks 6th all time among starters, during this stretch he averaged 23 W, 1.00 WHIP, 2.29 ERA, and 225 K's.
4. Frank Robinson
Peak Avg in Decade: 15.5
Overall FBHOF Points: 80.1
Played from 1956 through 1976 but his greatest seasons came in the 1960s. They are prolific enough to admire individually:
1962 – 17.8 Pts, .342 AVG, 134 R, 39 HR, 136 RBI, 18 SB
1966 – 16.4 Pts, .316 AVG, 122 R, 49 HR, 122 RBI, 8 SB
1961 – 15.9 Pts, .323 AVG, 117 R, 37 HR, 124 RBI, 22 SB
1965 – 13.6 Pts, .296 AVG, 109 R, 33 HR, 113 RBI, 13 SB
1964 – 13.6 Pts, .306 AVG, 103 R, 29 HR, 96 RBI, 23 SB
3. Willie Mays
Peak Avg in Decade: 16.4
Overall FBHOF Points: 88.5
Only two batters since the 1960s have recorded 5 seasons of 15.5 FBHOF points. Given that Mays' career started in 1951 and has five Top-5 MVP seasons during the decade, it is safe to assume he'll end up with more. His power was awesome, reaching 40+ home runs four times in the 1960s. Two others matched this accomplishment, but Harmon Killebrew batted .267 and Hank Aaron is next up on this list.
2. Hank Aaron
Peak Avg in Decade: 16.8
Overall FBHOF Points: 92.9
Aaron is the new single season record holder for most FBHOF Points in a season for a batter. In 1963 he went .319 with 121 R, 44 HR, 130 RBI, and 31 SB for 19.7 FBHOF points. He had eight additional seasons of 14 or more FBHOF points, reaching the 30-HR plateau an incredible eleven times. Like Mays, Aaron too had his share of great seasons in the unexplored 1950s and both have a great chance at being named the greatest fantasy player that ever lived when all is said and done.
1. Sandy Koufax
Peak Avg in Decade: 17.5
Overall FBHOF Points: 89.1
In 1994 Greg Maddux was masterful, and few pitchers have dominated batters as often and as easily as he did. In 202 innings batters were held to a .502 OPS (.207 / .243 / .259) and routinely looked silly getting bad wood on the ball. His ERA was 1.56 and his WHIP 0.90, only Doc Gooden had a better ERA during the fantasy era and nobody topped his WHIP until Pedro Martinez in 2000. The Mad Dog, in a strike shortened season, gave up 3 runs or less in 24 of his 25 starts (13 of which were 1 run or less).
He was unhittable. From a fantasy standpoint, the only knock on his season was a relatively low 156 strikeouts. This mattered little in real-life, but this K/9 rate of "just" 6.95 did hold back his fantasy scoring.
Keep this season in the back of your mind. Now picture the same thing only with the pitcher punching out 382 batters, almost two and half times as many, then picture that same pitcher doing it three times in four years.
Sandy Koufax's FBHOF score surpassed 20 points, a new record in and of itself, three times – in 1963, 1965, and 1966. His fantasy lines:

No player in fantasy history (that we've seen) has been remotely as good as Koufax during their three year peaks. The Top-10 three year peak scores:
20.8 – Sandy Koufax
17.9 – Randy Johnson
17.5 – Hank Aaron
17.3 – Pedro Martinez
17.1 – Alex Rodriguez
17.0 – Joe Morgan
16.8 – Greg Maddux
16.7 – Frank Robinson
16.7 – Willie Mays
16.6 – Steve Carlton