This sounds crazy to say but we're approaching the end of the fantasy baseball season. It literally feels like it just started but here we are with just three weeks remaining. I don't even know how to comprehend that and it just absolutely blows my mind. Anyway, last week's article was up for debate whether it was successful or not. We had some hits and some misses but I'm feeling strong about these streamers this week and am ready for some action! 
If you have any comments or questions, write me here or reach me on Twitter @Bartilottajoel 
Two-Start Streamers
Michael Pineda, MIN (vs. DET, vs. CLE)
Oh man, here we are again with pine tar Pineda. That means it's time to bust out one of my favorite pictures that I've made!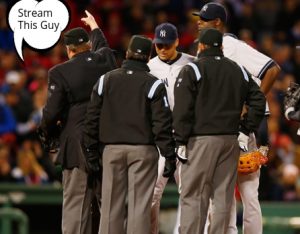 The good news is that Pineda is back to his pine tar ways and continuing his dominance on the mound. Despite facing the hottest offense in the league, Pineda recorded a quality start against the White Sox in his debut on Tuesday. That's no surprise when you see that he has a 3.97 ERA and 1.16 WHIP since joining the Twins last season. I mean, how often do you see a guy with a 4,03 ERA and 1.18 WHIP for his career widely available in fantasy leagues? 
Anyway, these happen to be some great matchups too. We'll start with the Detroit one, with the Tigers ranked 23rd in OBP and dead-last in K rate. That's sadly better than what they did last year and it's simply one of the best matchups in baseball. Boston has developed into a bad offense themselves, ranked 19th in OBP, 23rd in K rate and 24th in wOBA. That means a good pitcher is facing two bad offenses which is something we can't pass up from one of our favorite streamers out there. The Streamonator likes him too, projecting him to provide $11.2 worth of value.  
Zach Eflin, PHI (vs. BOS, at MIA)
This is a guy who's been hard to figure out throughout his career but he's shown flashes of brilliance at times. What we like about Eflin this year is that he's limited his shellings, allowing four runs or fewer in all six of his starts this season. That equates to a 2.89 ERA, 3.16 FIP and 31 percent K rate which are easily the best peripherals of his career. That makes him one of our favorite streamers of the week but wait until you hear about these matchups! 
We already discussed how the Red Sox offense has turned into a dumpster fire and that makes this two-start week far less scary. That good matchup pairs beautifully with a downright fantastic matchup. That happens to be the Marlins, who ranked bottom-three in runs scored, OBP, OPS and wOBA last season. They currently sit 24th in OBP, 27th in OPS and 22nd in wOBA this year.  
One-Start Streamers
Dane Dunning, CWS (vs DET)
It appears as though people are sleeping on young pitchers and this is the first of many young streamers that we're about to recommend. In three starts this season, Dunning is pitching to a 3.86 ERA, 1.14 WHIP and 11.6 K/9 rate. Those are pretty good numbers but his 2.74 ERA, 1.13 WHIP and 26 percent K rate in his minor league career is simply elite. Those special averages make him very attractive against the Motor City Kitties which was a matchup explained in the Pineda section. The Streamonator loves this stream, projecting Dunning to drop $15 worth of value.  
Triston McKenzie, CLE (vs. KC)
It's strange that McKenzie remains below 80 percent ownership on all the major sites. This skinny dude has been crushing it so far this season which is no surprise when you see his minor league numbers. In fact, McKenzie posted a 2.68 ERA, 1.00 WHIP and 28 percent K rate in four years at the minors. That looks even better when you consider his 1.69 ERA, 0.75 WHIP and 10.7 K.9 rate in three starts this year at the Majors. All of that makes him hard to fade against a Royals offense who sits 27th in runs scored, 28th in OBP and 23rd in OPS. If you don't believe how dangerous this skinny dude can be, check out this picture of him.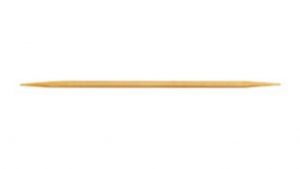 Spencer Howard, PHI (at MIA)
This young righty is one of the most talented arms in the game and it's just a matter of time before he gets rolling. We're talking about a guy who posted a 1.70 ERA, 0.80 WHIP and 30 percent K rate at the minors last season. That's obviously ridiculous and it makes him a great option against a lackluster Marlins lineup, that we already talked about in the Eflin write-up.  
Dylan Cease, CWS (at PIT)
Cease has been in this article a lot this season and this might be his best matchup so far. The simple fact is, the Pirates are throwing a Double-A lineup out there. They currently sit 28th in runs scored, 26th in K rate and dead-last in OBP, OPS and xwOBA. That puts any pitcher in play against them and a guy like Cease has the capability to roll right through them. The right-hander has a 3,28 ERA so far this season and posted a 3.02 ERA, 1.23 WHIP and 30 percent K rate in his minor league career. Cease the day!
Garrett Richards, SD (vs. SF)
A lot of people dropped Richards after a really bad two-start stretch but this guy is one of the best streamers of the week. If you take out his one terrible start against Seattle, Richards has a 3.15 ERA and 1.25 WHIP. That even includes two starts in Coors Field and two starts against the Dodgers and Astros. That's the stud we saw between 2014-18, amassing a 3.15 ERA and 1.17 WHIP in that span. While San Fran has been a much better offense this season, it's still an ugly lineup and Richards will likely enter this game as a –200 favorite with this potent Padres lineup behind him. The Streamonator agrees, projecting him to provide $8.3 worth of value.