Man, I knew this season would be crazy but goodness gracious. Trying to figure out who the streamers are in the past was usually a tough task but this wild 60-game schedule and COVID craziness has made it even tougher. That has me working harder than ever to spot the right guys for you and I feel confident about this group that we have here. With that in mind, let's get into it.
If you have any comments or questions, comment me here or reach me on Twitter @Bartilottajoel 
Two-Start Streamers
Zach 
Plesac
 (at CIN, at CWS)
It's rather surprising to see how low owned Plesac is across leagues but he falls into the threshold that makes him a worthy pick-up. If no one has swooped him up yet, go do that now! We're talking about a kid who had a 1.70 ERA and 0.80 WHIP at the minors last season and then went on to post a 3.81 ERA and 1.23 WHIP with the Indians.  
That's a solid rookie season and he was absolutely absurd in his debut this season. In fact, Plesac went eight scoreless innings against a talented White Sox lineup, striking out 11 batters and allowing just three hits and no walks. Obviously, that's spectacular and it makes him one of the most targeted players on the waiver wire. While these matchups aren't necessarily easy, both of these lineups have their flaws. I mean, Chicago ranks 25th in K rate this season and Cincy was just 23rd in scoring last year. Don't miss out on this opportunity before it's too late!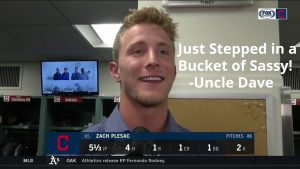 Alec Mills (vs. KC, at STL)
The two-start streamers are a bit scary this week but Mills has some intriguing matchups and has shown some major flashes. We'll kick things off by talking about his matchups. The first home start against Kansas City is the cream, as he and the Cubs should enter that matchup as a –175 favorite. That's really no surprise when you see that the Royals rank 22nd in K rate and 23rd in OPS this season. That's on par with what they did last year and they'll likely be one of the worst offenses around. These aren't your father's Cardinals either. These are the 2020 Cardinals and that means they have an average offense at best. In fact, they currently sit 23rd in OPS and 26th in scoring.  
Those great matchups look very enticing but Mills is no gas can either. The righty allowed just four baserunners across six innings of action in his debut against a talented Reds lineup. While that's a small sample size, a 3.15 ERA and 1.07 WHIP since 2018 certainly is not. Not to mention, Mills has 68 Ks across 60 innings in that span and it's a wonder why more people aren't talking about this guy.  
One-Start Streamers
Michael 
Wacha
/David Peterson (vs. MIA)
I hate to be that guy but we need to abuse this Marlins situation. Not only were they a great team to stack against before they all caught COVID, it appears they'll have a completely dismantled lineup this week. That means a team that finished either 29th or 30th in runs scored, OBP and OPS last season is getting even crappier bats in there. It sounds terrible to abuse this COVID situation but sometimes you just have to capitalize on unfortunate circumstances like this for the sake of fantasy baseball. The Streamonator completely agrees with this assessment, giving Wacha $3.8 worth of value and Peterson a $11.8 price tag. 
As for Wacha and Peterson, who knows? Wacha has shown flashes of brilliance throughout his career and a 1.80 ERA and 1.20 WHIP in his first start is certainly an encouraging sign. Doing it at Boston makes it even more impressive and getting a home start against this lineup should help him to continue that success. Peterson's 3.38 ERA and 1.21 WHIP in the minors is good enough for us to trust him too, as Citi Field has played as the most pitcher-friendly ballpark in baseball for a decade. Both of these guys are likely going to be –160 favorites or higher as well and we're going to stream against Miami pretty much every week from here on out.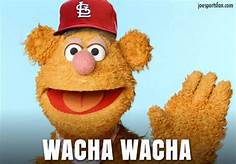 Daniel Ponce de Leon (vs. DET)
We love riding streamers against the Motor City Kitties. These guys have lost a lot of roar since the Prince Fielder-Miguel Cabrera days, with Cabrera over the hill and the team in complete ruins. Harold Castro, Niko Goodrum, C.J. Cron and Christian Stewart make up the heart of this order and it's sad that this is the team Detroit fans have to cheer for. That led to them ranking 29th in OPS and 30th in runs scored last year while also sitting 29th in K rate this season.
That's good news for anyone and we'll go ahead and ride Ponce de Leon in this circumstance. The righty has a 3.31 ERA and 1.21 WHIP for his MLB career while collecting a 2.70 ERA and 1.19 WHIP in the minors. That's plenty good numbers against a lineup like this and we'll just look for a quality start in a tough streamer week.  
Cristian Javier (at AZ)
How impressive was this kid in his debut? In that game, Javier went 5.2 innings against the Dodgers, allowing just three baserunners and one run while striking out eight batters. That's a potent lineup to dominate and he very well may have locked up a spot in this rotation with that gem. It's really no surprise when you dive deeper into his numbers though. The righty has been pitching in the minors since 2016, generating a 2.23 ERA and 1.04 WHIP. He also struck out 462 batters across 334.2 innings in that span which makes it shocking that we haven't heard more about this kid. He gets to face one of the worst offenses in baseball right now too, with the D'Backs ranked 28th in scoring and 30th in OPS.