Almost every article I've written at Razzball has had positive feedback from you guys. Last week's Fantasy Baseball Busts article was not one of those. Part of that was my fault by screwing up the Rangers ballpark situation and I want to begin this article by apologizing for that egregious dismissal. Missing something like that was a silly mistake on my part and I want to apologize for forgetting that. Everything else stands in that article though. I still don't trust Kluber, Anderson or Giolito to provide at their respective price tags and Victor Robles' horrid hitting profile scares me to death too. Even though I got some poor feedback in the last article, I still love to hear from you guys to know what everyone is thinking. With that in mind, let's get into my busts with an ADP between 100-200.
So, if you have anything you want to say about this article too, feel free to hit me up here or on Twitter @Bartilottajoel.  
Amed
 Rosario (NYM)
This is one of those cases where people seem to be drafting Rosario on pedigree rather than results. I get it, this is one of the most talented youngsters in the Mets organization but I don't care. He's simply been too unproductive in his Major League career for me to trust. Over the last two seasons, Rosario is averaging 75.5 runs scored, 61.5 RBI, 12 homers and 21.5 steals on a .273 AVG. Those numbers are perfectly fine but is it really worth it for the 133rd player off the board? He's going rounds ahead of guys like Jean Segura, Jorge Polanco, Corey Seager and Paul DeJong. I'd rather wait on any of those and let someone else bite on the hype. 
The advanced statistics back up my case even more, with Rosario posting some ugly numbers. In fact, the shortstop had a 4.7 percent BB rate, .323 OBP and .320 xwOBA last season. The power numbers are even more gross, posting a .144 ISO, .432 SLG, 33 percent hard-hit rate and 3.1 percent barrel rate. What makes all of this even more scary is the fact that Citi Field ranks 26th or worse in park factor in every year since 2017. The only thing that could save his value for me would be capturing that leadoff spot but most people I've talked to have him projected to bat eighth yet again. If that's the case, Rosario is surely one of the biggest bust candidates this season.   
German Marquez (COL)
Marquez was in my bust article last year and we're going right back to the well here. Why are we doing this Rockies pitcher crap again? As someone who lives in Denver and loves the Rockies, it scares me to watch any of these guys taking the mound. I actually have one friend from high school who is religious about the Rockies and we still talk regularly to this day. One time someone asked him if he likes watching the Rockies and he responded, "I like watching them when they bat. The other half of the game makes me wanna turn off the TV"
That quote is something that I still think about to this day and the simple fact is, you should never draft any pitcher who starts half of his games in Coors Field. Not only was that the highest-scoring ballpark in the Majors last year, it's actually ranked Top-5 every year since its emergence in the early '90s.

 
That horrific ballpark has proven to be a nightmare for Marquez, with the right-hander generating a 6.26 ERA and 1.55 WHIP at Coors Field last season. Those are unacceptable averages and Rockies fans are terrified whenever he takes the mound at home, despite his nasty stuff. That means you have to bench him whenever he pitches at home and it's certainly not worth drafting a guy in the Top-200 with that sort of handicap. While I do expect him to throw some gems on the road, it's just not worth the headache and it always makes him a prime bust candidate. Just live by this simple rule: NEVER DRAFT A ROCKIES PITCHER, PERIOD!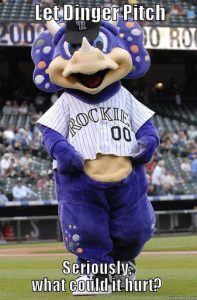 Max Fried (ATL)
It's always eye-opening when a guy finishes a season with a 17-6 record but it's not 1992 anymore. There are much better ways to tell how good a pitcher is and it's clear that the ridiculous record boosted his fantasy value to an outlandish number. Fried is currently the 142nd player off the board, being taken ahead of guys like Matt Boyd and Robbie Ray. That really blows my mind, especially when you look at Fried's peripherals.  
The young southpaw finished last season with a 4.02 ERA and 1.33 WHIP. That WHIP is what really scares me, allowing hitters to post a .268 AVG against him last season. He's also allowing a hard-hit rate just shy of 40 percent since the beginning of last year and an 89.1 MPH exit velocity which is simply not good enough from a guy being drafted this high, making him a prime candidate to post a similar ERA and WHIP. If that's the case, this has bust written all over it with some regression due in his wins. 
Lorenzo Cain (MIL)
Do we need to do this again with Cain? This guy is simply undraftable at this point and he continues to get taken way too early. While he did fall a ton since last season, he's still not worth it as a Top-50 outfielder. Players like Edwin Encarnacion, Khris Davis, Justin Upton and Andrew McCutchen are going after him and I'd rather have any of those. We're talking about a speed-reliant dude who just stole 18 bases last season. That's his second-lowest total since 2014 and it's hard to see that getting any better with the 33-year-old knocking on 34 come April.  
The speed factor is obviously worrisome but it's not like this guy provides power either. Cain had just 11 homers and 48 RBI last season and his career-highs in those statistics are 16 dingers and 72 RBI. Even those career-high numbers aren't good enough in today's landscape and it's truly frightening that we're five years removed from that. I mean look, he finished with a .260 AVG, .325 OBP, .372 SLG and .697 OPS last season. While I don't expect him to be that bad, those are waiver wire averages.
The .112 ISO, .311wOBA and 3.1 percent barrel rate doesn't make it look any better and it wouldn't be surprising to see him moved down to the bottom half of the order as well. Even if he has a career year at the age of 34 (HA!), we're still not even talking about a Top-100 player. I hate to write a guy as a bust in back-to-back years but here we are!