Don't think I or anyone else has ever written an Andrew Heaney sleeper post. Pretty sure I'm the first one ever to consider Andrew Heaney great value late in fantasy baseball drafts. *explodes in laughter* I'm just messin'. So, obviously, I write an Andrew Heaney sleeper post every year, and everyone likely does too. Just today, fantasy-baseball-were-geniuses-how-do-you-put-an-apostrophe-in-a-URL dot com posted their Andrew Heaney sleeper post, and tomorrow another three Andrew Heaney sleeper posts will drop, including one at fantasy-baseball-we-are-geniuses dot com and fantasy-baseball-wow-we're-so-good-at-this dot com. It's well-worn ground, which means we're all crumby in the head with crackers or we might be onto something. Like a teamster having a cigarette, I'm leaning on the latter. Last year, Heaney went 4-6/4.91/1.29/118 in 95 1/3 IP because my man can never stay healthy. He was promoted in 2014 and has had exactly zero years of 200 IP. Therefore, ergo, vis-a-vie, he has to stay healthy for value, right? No, if that was all there was to say, I wouldn't be here. Anyway, what can we expect from Andrew Heaney for 2020 fantasy baseball and what makes him a sleeper?
Andrew Heaney has a 14.1% swinging strike rate. *pulls on collar, getting hot* Froggy voice singing, "You Are So Beautiful." That's the 13th best in the major leagues when sorting by 90 IP. Here's the 13: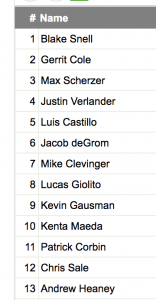 Will you look at Kenta Maeda popping twerks on another list of sexy pitchers like in my Ryan Yarbrough sleeper. Kevin Gausman is interesting there too, but he had only 82 IP as a starter and another twenty as a reliever, where he had a 12 K/9, so it's inflating him a little bit. Otherwise, Kenta Maeda is the only other one not a top 15 starter. Do I keep mentioning Kenta Maeda more in all my other sleepers than anyone? I think so. It's pretty rudimentary, no relation to Rudy Gamble, if you're getting guys to swing and miss, then good things will happen. I could've grabbed the top 30 swinging strike guys and there wouldn't have been a dud in there. Andrew Heaney is also the 11th best when it comes to contact made inside the strike zone. To give you an idea of how sexy that is, Verlander is only 16th. Yes, Heaney has swing and miss stuff and solid command. To recap for emphasis, Andrew Heaney is getting people to swing and miss and has the 11th best ability to avoid contact in the strike zone. Did he do anything dramatically different in this partial season that he hadn't done in any other partial season? Meh, not exceptionally. He threw his sinker, curve and change a tad faster. His sinker and curve spin rates were over 2500 RPMs, but even their pitchiness (totally a word!) is iffiness. His sinker and curve don't really break. In fact (Grey's got more!), his curve actually got 'flatter' this past year, and his sinker has rise, so even its classification is a little weird. Okay, time to get out of the weeds. *taking a machete to overgrown grass* It's not important for us whether or not his sinker is a sinker or a fastball or if its spin is elite. What matters is how elite he is, and his swinging strike rate coupled with that zone contact has me all in again on Andrew Heaney. The only thing that is stopping him from being a top 15 starter is his health, and there's no accounting for that, and it's built into his price. For 2020, I'll give Andrew Heaney projections 8-9/3.88/1.22/183 in 156 IP with a chance for much more.