At some point in the summer of nineteen after twenty, a young boy by the name of Grey Albright who often went by Fantasy Master Lothario and screamed at people to stop abbreviating it, came upon another boy by the name of Ryan Yarbrough. Monsieur Albright the Third didn't know much about The One Who Went By Yarbrough. He just grabbed him in a deep league and decided to make like a raft and ride him on a stream. Expecting a Level 5 rapids, Jeff Bezos, the name Grey Albright uses when he checks into hotels, clutched the straps and held on for dear life. How'sever, unbeknownst to Señor Albrighto, he was about to go for the ride of his life and like he told the concierge at the hotel where he was staying under the name Jeff Bezos, "This is prime, baby!" In May, Yarbrough had a 1.64 ERA, and we were riding high over those rapids! Then, in June, he had a 3.86 ERA and we were riding 'just okay' but not bad considering everyone else was a Cleveland Streamer. Then, in July, a 2.52 ERA and we started to soar again, but could it continue? Yes, rhetorical question, he could! In August, his ERA fell to 1.50 in 30 IP and we were floating off into the afterlife. Then he had a 7.52 ERA in September and we were in hell, but never the hoo! It was a great run, but who is Ryan Yarbrough really? So caught up in the four-month stream, I never even looked at this man who made me a raft of expectations and wonder. *opens player page* He throws 88 MPH?! Oh, Hayzeus Cristo, goodbye. Or…is it hello?! So, what can we expect from Ryan Yarbrough for 2020 fantasy baseball and what makes him a sleeper?
As I prophesied early last summer, if everyone's throwing hard, the pitchers who don't throw hard might have an advantage, and here we are leaning into my theory. Ryan Yarbrough throws four pitches (cutter 36.7%; change 25.6%; sinker 24.1%; curve 13.5%), and all of them are slow eh-eff. But, incredibly, he had the best average exit velocity of any starter in the majors at 84.1 MPH. That is seriously remarkable, and you know it because I'm saying it. This goes back to my theory about pitchers who throw slow. It's on the hitters to generate all the velocity when a guy is throwing underhanded softballs. Here's the top 11 for slowest exit velocity: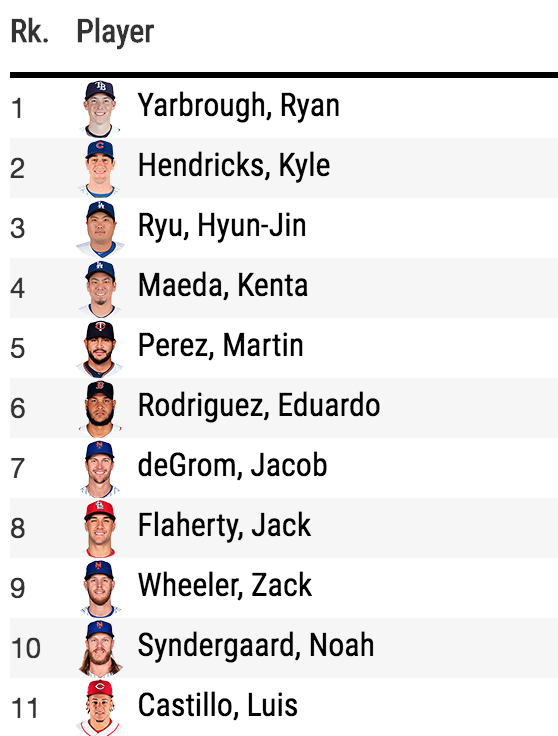 Look at Kenta Maeda popping twerks all over my screenshot of sexy pitchers. It would be hard to go too wrong with any of these guys, if the price is right (which is to say zero dollars for Martin Perez, but still). So, hitters making weak contact is great, obvi, and if that was all there was, I'd still be in on Ryan Yarbrough. It's not. His command is sick as in healthy. He had the third best walk rate for starters with 140 IP, and a 1.3 BB/9. If it came with a 6 or lower K/9, I'd be like, "Okay, Mike Leake, ya cool, but ya know I need a little sexier in my sexy." Yarbrough's K/9 last year was 7.4 and 7.8 K/9 the year before for the Rays in 147 1/3 IP. Yes, that's right, Yarbrough has almost 300 IP of major league pitching, and is about to enter his third season as a starter, when everything begins to click. If Yarbrough "clicks" more than he did last year, he's going to be a top five Cy Young guy in 2020. Think Hyun-Jin Ryu in Tampa. Call him Hyun-Jin Ray. There's surprisingly very little heat on him right now and his Steamer projections are terrible (4.54 ERA, 1.32 WHIP — up from 1.00 WHIP last year, which has me completely puzzled). Yes, Cash will employ an Opener in front of him on occasion, but so what? Let him throw six innings of one-run ball starting in the 2nd inning. Yarbrough is falling through the cracks because he has no velocity, but I'm drafting him with the quickness. For 2020, I'll give Ryan Yarbrough projections of 13-7/3.42/1.03/129 in 154 IP with a chance for more.