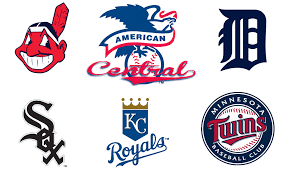 For the upcoming season, Fangraphs has four teams projected for a run differential greater than 100. Three of those teams reside in the AL Central. Ha! For shits and giggles, the fourth team is the Miami Jeters. No wonder Chief Wahoo's smile is so big. The division is straight forward so my only question regarding the AL Central is: why is the logo for the White Sox black? Wouldn't white with black trim make more sense?
CLEVELAND INDIANS: 102-60 record in 2017
I've been a Dodgers fan since I was a little kid, but one of my favorite hats growing up was the Cleveland Indians one a buddy gave to me. See, I used to have a big ass Kool-Aid smile in high school and when I'd drink alchohol, I'd turn red like the Chief. Always stuck with me. Anyways, the Indians look to be set in the infield. Jose Ramirez will man the hot corner, Francisco Lindor is at shortstop, Jason Kipnis is the second baseman, and Yonder Alonso will be at first base.
Catcher – Roberto Perez and Yan Gomes will split duties. Gomes batted .232 with 14 home runs last season in 383 plate appearances. Perez hit only .207 with 8 home runs in 248 plate appearances. Neither is much of an offensive presence, but both are very good defensively, which is important considering that the pitching staff is one of the strengths of the team. Francisco Mejia is the possible future at the position. He's the number one prospect in the system and the switch-hitter could provide an immense boost in offensive production at the position. With that said, it's highly unlikely the Indians carry three catchers and the emphasis right now is to value defense over offense. Things could change later in the year, but Perez and Gomes should be the guys. As for the split, it should be pretty close to 50/50. During the season, Gomes caught more innings, but in the playoffs Perez logged more innings. Steamer has Gomes down for 248 plate appearances, with Perez at 221.
Outfield – There are no battles here, as Bradley Zimmer is the guy in center, Lonnie Chisenhall is in right, and Michael Brantley is in left. But, but, but….Brantley is recovering from ankle surgery and hasn't played more than 100 games since 2015. In addition, Chisenhall could cede plate appearances to Brandon Guyer and possibly Jason Kipnis and Jose Ramirez. If Brantley can't go for whatever reason, Chisenhall would likely shift over the left with Guyer getting most of the playing time in right.
MINNESOTA TWINS: 85-77 record in 2017
The Twins were seventh in runs scored and ninth in OPS for all of baseball last season. The same group returns for 2018: Brian Dozier at 2B, Joe Mauer at 1B, Jorge Polanco at SS, Jason Castro at C, Byron Buxton in CF, Max Kepler in RF, and Eddie Rosario in LF. The one addition made over the offseason was Logan Morrison, the left-handed power bat that will slide into the DH role. As Michael Rand and Chris Hine of the Star Tribune wrote, the DH for the Twins last season hit 17 home runs with a .711 OPS. Only two other AL team were more inept. In addition, the cleanup hitter for the Twins ranked 23rd in all of baseball, which is where Morrison could possibily slide in.
Third base – Miguel Sano is the starter….for now. Back in December, he was accused of assaulting a photographer. He is also recovering from shin surgery and the Twins general manager said that he showed up to spring training with a "generous carriage." If Sano cannot go for whatever reason, Eduardo Escobar would likely take his place at the hot corner. In 499 plate appearances last season, Escobar hit .254 with 21 home runs and 5 stolen bases. The switch-hitter only struck out 19.6% of the time
KANSAS CITY ROYALS: 80-82 record in 2017
It's kind of crazy to think that it's only been three years since the Royals won the World Series. Anyways, most of the infield is set. Zippa-d-Lucas Duda is at first, Alcides I ain't Pablo Escobar mans short, Mike I am stronger than a Moustakas is at third, and Salvador Rosy Perez is behind the plate. Cheslor Cuthbert was slated to be the starter at third base, but the Moustakas signing nuked that. Ned Yost does want to find ways to get him around 400 at-bats, so Cuthbert could DH and/or be used as a utility player.
Second base – Most sites have 2 Legit to Whit Merrifield as the starter, but I've seen Raul Adalberto Mondesi's name thrown around. Some sites have him down in Triple-A, while others think he could start at second base. Ned Yost loves Merrifield's versatility so he may deploy him as a super utility player. In that scenario, the number of at-bats could decrease slightly, but he would gain some value due to the multi-position eligibility.
Outfield – There are five guys for three spots: Alex Gordon, Jon Jay, Jorge Soler, Billy Burns, and Paulo Orlando. I think Gordon is the guy in left field with Jay in right field. Jay looks to be the Opening Day leadoff hitter for the Royals. Soler would seem to be the likely candidate to DH. Centerfield is where things get a little interesting. Orlando seems to have the upper hand currently, but his plate discipline is atrocious. Last season, in 90 plate appearances he walked 1.1% of the time. In 484 plate appearances in 2016, Orlando walked 2.7%. The strikeout rate is around 20%, so that's not too bad. If given a full load of at-bats, Orlando could go 10/10. Burns has 20-25 stolen base potential. His plate discipline is slightly better than Orlando's, but he offers no power whatsoever.
CHICAGO WHITE SOX: 67-95 record in 2017
Welington Castillo (C), Jose Abreu (1B), Yoan Moncada (2B), Tim Anderson (SS), and Avisail Garcia (RF) are the players that look to be entrenched at their respective positions.
Third base – White/black. Sweet/sour. Good/evil. Matt Davidson/Yolmer Sanchez. The world is filled with dichotomous relationships. The White Sox third base situation is yet another one. Davidson is the physical beast (6′ 3″ 230 lbs) with power (26 home runs) and swing and miss (37.2% K rate) to his game. Sanchez, on the other hand, is 5′ 11″ 185 lbs, struck out 20.8%, and stole 8 bases with 12 home runs last season. Both players will probably get starts at 3B this season, but that's ok, as Davidson will get plenty of at-bats at DH, while Sanchez can play all over the infield.
Center field – Adam Engel played 97 games for the White Sox last season and hit .166 with 6 home runs and 8 stolen bases. 34.8% strikeout rate. Yuck. Enter Ryan Cordell, who was acquired last year. General manager Rick Hahn loves him, the defense has never been in question, and he's tearing it up in spring training. With that said, he has no major league experience and can play all three outfield positions, so he could be the utility outfielder. Definitely someone to monitor. Let's not forget about Leury Garcia, who hit .270 with 9 home runs and 8 stolen bases in 326 plate appearances last season. The switch hitter doesn't walk much (4%), but doesn't strike out much either (21.2%). He has big league experience, speed, hits from both sides of the plate, and is also versatile defensively.
Left field – Nick Delmonico was looking like he was the guy in left field, but then he partially dislocated his left shoulder after colliding with Tyler Saladino a few days ago. It sounds like he could be out for a while. If so, Engel, Cordell, and Garcia could all fill in here.
DETROIT TIGERS: 64-98 record in 2017
The Tigers still have six years and $180 million left on the Miguel Cabrera contract. Good times. Well, at least everyone knows he will be the starting first baseman. As for the other locks, James McCann is the catcher, Dixon Machado is at second, Jose Iglesias at short, Jeimer Candelario mans the hot corner, Nicholoas Castellanos will be in right, and Mike Mahtook will be in left.
Center field – This is the most contentious positional battle in the division. Let's get ready to rumble!!! Cage match? Pay per view? Currently, Leonys Martin seems to be the front runner. Signed to a one-year, $1.75 million deal, Martin still plays good defense and hit .306 with 11 home runs and stole 25 bases last season. Unfortunately, that was in Triple-A. He last played in the majors back in 2016 with the Mariners, where he hit .247 with 15 home runs and stole 24 bases. It seems everyone in Detroit wants the athletic JaCoby Jones to be the guy. Two things working against him, though. The 42.2% strikeout rate in 154 plate appearances last season with the big club and the fact that he still has minor league options left. On a positive note, though, there has been talk that the team is looking for creative ways to get his bat into the lineup, with filling in at third base a possibility. We shall see. The third guy is Victor Reyes, the 2017 Rule 5 pick from Arizona. His defense is excellent and the Tigers would need to compensate Arizona if they send him down to the minors. Reyes has displayed stolen base prowess and excellent plate discipline, striking out around 15% and walking 5% of the time. He's never played above Double-A, though. Me thinks it will be Martin and Reyes with the big club.