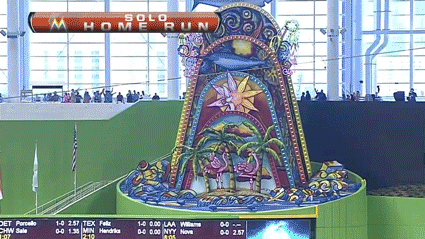 Welcome to the 2016 Razzball Team Previews! You'll find everything you need to know about each team to get yourself ready for the upcoming fantasy baseball season. And I mean everything, folks. We've got line-ups, charts, Slurpees, lube, a guide for beginner electricians, and even a cactus! Well, that's a lie. That's what Jay had last year sitting in front of him. This year? Um…a little less lube? Take that as you will. But hey, we've got teams to preview and questions to ask, so let's hop to it. We a very special guest for this post…Scott Gelman, to provide his take on what the team has in store this season. Now enough rambling, let's see what 2016 holds for the Miami Marlins!
2016 Miami Marlins Depth Chart & Projections
Starting Lineup
Bench
Starting Rotation
Bullpen
Note: Projections provided by Steamer.
And now we specifically want to get to the specifics. So, let's bring in Scott Gelman from Fish Stripes to give us the low down on the Marlins in 2016.
Giancarlo Stanton is the Steph Curry of baseball. After watching all of Curry's highlights this year it's purely laughable the things he does in the NBA, just like what happens when Stanton steps up to the plate. Mighty Casey at bat. I mean, c'mon…this shouldn't be real life. And yet we continue to be astounded by what he does at the plate. If only he could come up to it more often. In the past 5 seasons Stanton has played over 150 games once, with three of those campaigns ending with less than 125. He simply needs more plate appearances to continue massing his other-worldly power stats. Is he just an injury-prone player who will never reach the full ceiling of his projections? Or are they simply fluke injuries, and this season Stanton will play 155+ games and approach 50 HR? (I know, pulled a Giancarlo and swung for the fences there…)
Scott Gelman: When evaluating Giancarlo Stanton's past, you have to keep everything in context. He has been plagued by injuries over the last few years, some more serious than others. But the last few have come at times when the Marlins are not in a position to compete. As a result, the organization did not feel it was necessary to have Stanton attempt a comeback when the team seemingly does not have much to play for. Stanton has been injury prone and that will be something to monitor moving forward. He was out the first week of spring training with a knee injury in the same knee he had bone chips removed from in 2012. When he is healthy, Stanton should bat close to .300 while hitting 40 home runs and driving in 100. However, he has yet to be healthy consistently to this point in his career.
One of the biggest surprises of 2015 was Dee Gordon. Sure, we all knew he inherited the genes of his father's nickname ('Flash'); dude's a blur on the basepaths. But in previous years his legs were mitigated by his limited ability to get on base. I was in an NL-Only league three years ago where someone threw him out for $25. Zero bids followed. A lot of laughs did, though! Haha, yet now Gordon will easily command that after his excellent 2015. He's figured something out from those porous Dodger days. However, Gordon seems like a regression candidate after an inflated BABIP last year. Was 2015 the ceiling for Gordon (.333/88/4/46/58)?
Scott Gelman: 2015 might have been the ceiling for Gordon, but I do think he will continue to have success. He should be able to bat close to .270 every season while stealing 40 bases and playing solid defense at second base. I also believe Gordon will become a bit more of a power hitter as his career progresses. The Marlins signed Gordon to a five-year, $50 million deal earlier this off-season. I personally believe he will prove to be worth more than that. Gordon was one of several talented players in Los Angeles. The Marlins have confidence in him and he is responding.
It just didn't quite come together last season for Miami. There were spurts of solid baseball, but Christian Yelich was hurt, then took a while to recover, Stanton was hurt again, Jose Fernandez wasn't around until the summer, and then there was Marcell Ozuna. WTF alert! A) I'm still not sure how Miami actually sent him down to AAA instead of letting him work out his struggles in the majors, and B) where'd the power go?!? I was expecting 25 HR as a floor for Ozuna, yet he only reached 10 through 123 games. He hit 23 bombs in 2014, after displaying an ISO north of .200 consistently through the minors. If Gordon's a regression candidate, Ozuna has to be in line for a bounceback campaign. Right? Please tell me that's right.
Scott Gelman:  It is probably fair to say Marcell Ozuna is in a good position to bounce back. He spent a significant amount of time in Triple-A last season—depending on who you ask, some would say more than necessary. Regardless, Ozuna showed up to Jupiter in better shape, which is significant because it was the opposite extreme last off-season. I personally felt the Marlins would add an outfielder and move Ozuna for starting pitching this winter, but that never happened. Instead, the club signed Wei-Yin Chen. Ozuna should be able to hit 20 home runs and drive in 80 this season. If he struggles early, look for the Marlins to consider other alternatives quickly.
There are plenty of names that will be taken from the Marlins lineup in fantasy leagues this year, but one I'll target late in nearly every draft is a lesser known name: J.T. Realmuto. The catcher position is a huge crapshoot after Buster Posey and Kyle Schwarber; you could argue 3-15 are essentially the same value. Yet, Realmuto is the one I want. Everything from his track record in the minors, and what he produced in 2015, screams that he's the next coming of Russell Martin at the plate. He has a decent hit tool (.259 in 467 PA last season), average pop (10 HR) and can actually…run! He stole 55 bases in the minors, and if you compare the stats, it's just like Martin early in his career when he was a danger for 15/15. Would you agree with the comparison? And if Realmuto, only 24 years old, takes a step forward this year, what's a generous prediction for his AVG, HR and SB?
Scott Gelman: J.T. Realmuto played so well he cost Jarrod Saltalamacchia his job. I agree with the comparison mainly because of the tools Realmuto has. He is still working on his defense but has done a great job handling a young pitching staff. I expect he will take another step forward in 2016. I would guess he will hit .265/.270 to complement 15-18 home runs and steal 25 bases. It could be more depending on where Manager Don Mattingly places him in the lineup. He is versatile and can hit second or anywhere from fifth to eighth.
This will be the first preview that I don't focus at least one question on the starting rotation, where we know Jose Fernandez is still on his leash (crazy after bringing him up so early) and Wei-Yen Chen becomes the only other viable fantasy option in Miami. Nope, we'll move to the back end of the staff: the closer role. Last season A.J. Ramos became a saving grace after the Steve Cishek debacle to start the year. He performed admirably in limited save chances, but now in his wake a more formidable option is approaching quickly: Carter Capps. (Now let me take a little sidestep…) I was planning on continuing to focus on Capps, but just saw he's due for an MRI on his pitching elbow. Freaking wonderful, right? Nothing doomed yet, but it has to be troubling. So let's ask the question this way: is there any reason to draft Carter Capps over A.J. Ramos?
Scott Gelman:  Jose Fernandez is the most electric pitcher in baseball and every time he takes the mound we see why. He brings a notable amount of energy and is able to remain composed in challenging situations. The Marlins do plan to limit his innings with the help of Scott Boras and Fernandez himself. Obviously, this is situational. If the Marlins are close to making the playoffs, Fernandez might top the projected innings limit. I personally don't believe the innings limit diminishes his value and think he can reach 15 wins and 200 strikeouts even with the limit. The Marlins appear to be moving forward with the expectation Fernandez will not re-sign. Time will tell if that will actually be the case.
Awesome! I appreciate the insight, and thanks for the conversation about the Miami Marlins in 2016! Make sure to catch more of Scott's writings at Fish Stripes and keep checking back! More 2016 Team Previews to come!