Greetings! I missed you like Jean-Claude Van Damme, Steven Seagal, Bruce Willis, John Cusack, and Christian Slater miss making films that actually hit theaters. HOWEVER, during our lengthy and sometimes painful separation, I was able to meditate a great deal on which direction my writing career should go. Okay, so I mostly just thought about whether or not I should shave my chest or not this summer, but I did spend a few seconds wondering how far we can take, Disgrace/Delight. Movies? Television? Books? Video Games? Porn? Music? Say one thing for Tehol Beddict, say he's a lover of the arts… But you didn't come here to discuss whether or not I should wax my chest (or are you?). You have come here, to Razzball.com, the greatest website ever created, to discuss the SP position for 2015, and I, Tehol Beddict, am here to force feed you a few of my thoughts on the subject. I must warn ye, the writing below is explosive, provocative and not for the closed minded. If this is you in a nutshell, I am going to request that you light some scented candles, run a hot bath, and hold downward dog for a good 25 minutes while only breathing through your nose. Ready? Good, good. Let's hit it.
I am Tehol Beddict and this is, Disgrace/Delight! Take heed!
Pitchers that will Delight
Taijuan Walker – I haven't witnessed someone this young and hungry for greatness since Kim Kardashian was gobbling tubesteak, served by none other than the legendary Chef Ray J. Walker bummed us all out by only making it to the mound for five starts last season, but look for him to make it up to us in spades in 2015, as I haven't seen this kind of promise in a young man since the Elder God blessed River Phoenix graced the silver screen. RIP. "Sky" Walker is only 22 years old, meaning that until recently he was unable to purchase his own half gallon Carlo Rossi jugs at the corner store. His measurables; 6'4" and 230 pounds, get my G-string sopping wet! What's he done this spring though? Oh, you know, only 18 innings pitched, with a 0.00 ERA, 18 k's, and 0.56 WHIP. Laaaaaawd!!!! If Walker is not rewarded a spot in the rotation it will be the most ghastly event to occur to Seattle sports fans since the Sonics were stolen.
Walker is going EXTREMELY late in drafts at this point in time. Strike hard and strike true, my friends.
Gerrit Cole –  This former number one overall pick checks in at the ripe age of 24. The K's per nine jumped from 7.7 to 9 last season, so I'm not really worried about the ERA spiking a tad. Even Ray Charles can see that Cole is all about that hog life, as this prize pig has a legitimate shot at the Cy Young this season. Get on board or watch your title hopes disappear like a fart in the wind. Cole's talent is thicker than a bowl of oatmeal (FOLLOW THAT LINK. TRUST ME), so eat you some!
Michael Wacha-Ya'll recall when Wacha Flocka Flame was mowing down the Dodgers in the 2013 playoffs? Only once have I witnessed something that impressive, something that spectacular.  I was hanging with Stephen Dorff at Chateau Marmont in the Summer of 2002 and a squadron of French MILFS entered the premises. The man honestly railed his entire name, written on the table in Columbian snow, then proceeded to give each and every one of these women the rodgering of their lives (I received sloppy seconds), sending them home with signed copies of the criminally underrated Deuces Wild. So yes, other than Eiffel Towering multiple French babes with Dorff, witnessing Wacha single hand-idly carry the Cardinals to the World Series was the coolest thing I've ever been a part of. Wacha looks good to go after starting three games this spring, treating the opposition like peasants with a 1.76 ERA and an extremely solid K's-per-nine. After his historic run in the playoffs of 2013, I viewed Wacha as a future top-10 fantasy pitcher, and though the injury scares me a tad, like Tom Sizemore refusing to admit he has a drug problem, I'm holding strong.
Tim Lincecum – Just Kidding!
Beddict on Television……
The Last Man On Earth – The homey from MacGruber is worth watching in anything as far as I'm concerned. Speaking of MacGruber, is there a more criminally underrated film in our nation's history? [Jay's Note: Val Kilmer is AMAZING in it.] I challenge you to sit down this weekend and watch both, Malibu's Most Wanted and MacGruber, back-to-back if possible. You shan't regret it.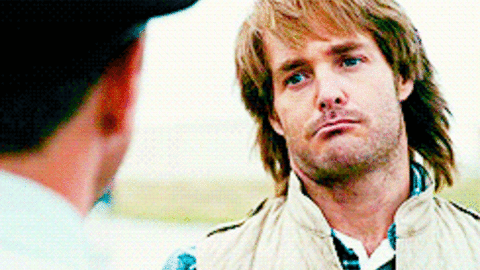 I don't normally do network television, but each episode of TLMOE has kept me thoroughly entertained. His female counterpart is a bit annoying, but the scintillatingly stunning January Jones joins the cast in the 3rd or 4th episode. The previews for the show were misleading, as they didn't show much of anything other than a hobo looking like Will Forte do just about everything we'd ever imagine doing if there were no other humans to share the earth with. That's simply not the case, but it doesn't make the show any less awesome so I suppose the marketers succeeded in their job.  This show is definitely worth your time and is Beddict approved. Check it.
Pitchers that will Disgrace
Yovani Gallardo – Good luck in the AL where Y.G. is gonna get beaten like a piñata. Coming off the lowest K=rate of his career, I fully expect a declining Gallardo to fall apart in 2015.  I'm willing to bet Ralph Lipshitz's left testicle the ERA is well over four this season. For a dude who threw four straight 200-K seasons, the 146 he threw last year is looking extremely peasant-like. To be frank, Gallardo was just plain lucky last season. Expect the worst. You've got to be realistic about these things.
Kevin Gausman – Though this young man was the 4th overall pick of the 2012 draft, I don't view him as more than a number three starter on his own team, and certainly not your three on your fantasy roster. Gausman simply doesn't pass the eyeball test if my opinion. Then again, I need lasik, so I could be completely off base here. One of my fantasy clients, who happens to be a rockstar, insists upon holding Gausman in his keeper league instead of guys like Baez or Danny Santana. I've tried to talk him out of it to no avail, so hopefully, for his sake, I'm incorrect. Gausman is nothing but a late round flyer and should NOT be going ahead of players like the aforementioned Taijuan Walker or Seattle's other young stallion, James Paxton.
Michael Pineda – Why is Pineda the 68th ranked pitcher on ESPN?!?!?!? Taijuan Walker and James Paxton are both ranked far below a dude who's about as durable as two-ply toilet paper. You'll find no bigger fan of Pineda than myself, but his career is eerily similar to that of Tara Reid. His rookie season with the Mariners was American Pie. The rest of his career is a bunch of botched plastic surgeries and Sharknado. I don't see how Pineda is anything but a late round flyer to fill your roster. Say one thing for Tehol Beddict, say he worships Stifler.
Thank you for joining me for what I hope was another enthralling edition of Disgrace/Delight. It's an absolute pleasure to write for Razzball and converse with you all in the comment section. Speaking of the comment section, feel free to drop your questions and general ratings of my column in the space provided below and let us speak of sports, love, and entertainment. I hope you've had a glorious week thus far and look forward to continue serving you.
Yours Forever,
TB
Want more Beddict? Follow him on Twitter at @Tehol143.