So we had our first draft.  Rudy and I.  We drafted a pretty badass team if this were 2004.  Maybe they can show this draft on ESPN Classic.  If I can somehow bait my leaguemates into my DeLorean, I could win this league.  Rudy's a bit of a fantasy baseball cougar, so let's blame him.  No, Rudy, we can't draft Brian Giles!  Maybe I'm just sore because I missed out on Shaun Marcum, Ian Desmond and all the Pirate hitters I'm crazy about — black and yellow, black and yellow, black and yellow!  We did grab Brandon Allen and Yo-lease.  I'd like to mortgage Jhoulys's future!  You know what I'm saying?!  Yeah, I'm not entirely sure either.  When Rudy put our team through his magic calculator, we came in 3rd place overall.  Frankly — no relation to Cliff — I like our team the best.  We have some holes, but if you don't have holes in this deep of a league, you're playing with a bunch of autodrafters from ESPN.  "So, what kind of things do you like to do on the weekend?"  "I am a computer, I do not understand your small, during-draft talk."  Anyway, here's my 2011 fantasy baseball team with thoughts on different draft trends I noticed:
12 teams, Roto, 5 x 5 — C, C, 1B, 2B, 3B, SS, CI, MI, OF, OF, OF, OF, OF, Util, BN, BN, BN — P, P, P, P, P, P, P, P, P, BN, BN, BN, BN, DL, DL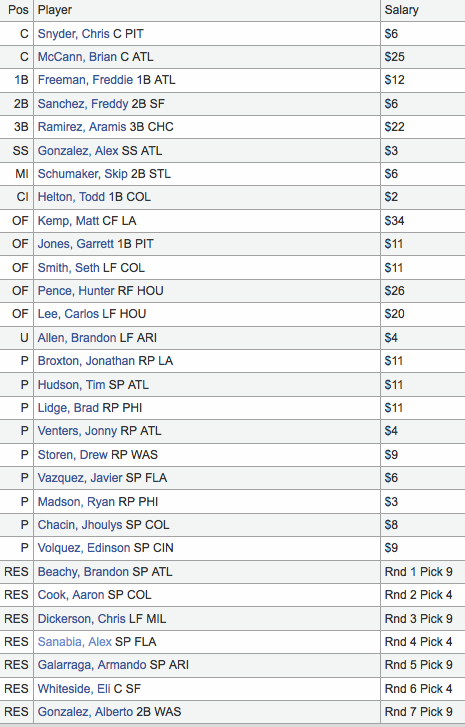 'PERTS TEND TO GO FOR THE STARS AND SCRUBS DRAFT STRATEGY
If you're looking for that draft strategy, you're at the wrong site.  I don't buy that it's a good idea to have Ryan Braun, Albert Pujols and Matt Holliday on the same team if it means you have Paul Janish, Xavier Nady, Melvin Mora, Wilson Ramos, Ronny Paulino, Jon Jay, Jarrod Parker, Jordan Lyles, Yonder Alonso and Julio Teheran all in your starting lineup.  A lot of them aren't even starters in the major leagues.  And the ones that are are (stutterer!) W to the onky.  You should spread your risk around.  If the aforementioned team loses one of their top three players, they have as much chance as I have with Megan Fox.  David Silver, really?  Even if they don't lose one of their guys, I still don't like their chances.  I usually don't even like to spend more than $30 on any one player.  In this draft, we exceeded that only once and you see that even if we lose Kemp, we have depth all over the place.  Which brings us to the next point.
ELI WHITESIDE SELLS LOX, WHY IS HE ON YOUR TEAM?
Yes, Eli Whiteside might be the most unsexy name ever — even more unsexy than Alan Greenspan — but if Posey plays first, someone has to catch.  In a league this deep, it's just about getting stats at every position.  If a player goes down, we have replacements.  If you don't have replacements in this deep of a league, you end up with Gregg Zaun at UTIL and hoping Geoff Blum gets 2nd base eligibility.
"GREY, YOUR TEAM IS KINDA AWESOME, BUT AREN'T YOU WEAK IN STEALS?"
Yes, but they're all over the place, A.J. Mass.  I don't recommend you punt anything, but in the twenty-elevens speed is cheap and power's hard to come by.  We're good in Runs, RBIs and HRs.  Some teams don't have any closers.  We have three.  If we can trade a closer for some speed, our team loses nothing because we have too many saves as it is and we gain everything because we need steals.  This has been said ad nauseam on this site, but here's it one more time.  (If you're reading this on a roller coaster, you may barf.)  You can always trade closers.  There's only so many of them in the league at any given time and people need at least one.  On the other hand, speedsters are like new cars.  They're pricey and lose their value the minute you drive them off the lot, i.e., draft them.