Back on the 6th of February, I was invited to a 15-Team Expert's Mock meant to emulate something akin to what the NFBC does. Whoa, Rudy has a Razzy sign-up on-going for this type of format?… Coincidence? NOTHING IS COINCIDENCE. Anyhizzle, I'd like to thank Paul Sporer of Baseball Prospectus and our mighty mustache'd overlord Grey for being invited to such a festive affair. I even wore my Christmas sweater. At home. In front of the computer. With no socks. Or pants. Lo-and-behold, the draft was held on a Thursday, which, if you don't know, is a night reserved for drinking and debauchery in the Longfellow household. Then again, so is Friday. And Saturday. And, um, well, Sunday too. And Monday. Well, you get the point. ALL THE NIGHTS. I could quite possibly be an alcoholic. But I like the taste, so that means I'm not. Wait, what? Anyhow, the best part about drinking during a draft, even a mock one, is you get plausible deniability for everything. Did I need some here? That's for you to decide…
Here's the lowdown, because nobody calls it the updown… (Recap and complete Chart.)
Style: 5×5 Roto, Size: 15-team, 23-man rosters (not 50, which can be the maximum for NFBC, since, you know, we wanted to finish the draft in less than three months), Positions: 2 C, 1B, 2B, 3B, SS, CI, MI, 5 OF, U / 9 P. Strategy: Grey's PEDS mixed with my own tier-targets and favorites. All slathered in Markers Mark.
Draft Roster and Order:
1 – Brent Hershey, Baseball HQ
2 – Paul Sporer, Baseball Prospectus
3 – Jason Longfellow, Razzball
4 – Nick Raducanu, FantasyTrade411
5 – Ryan Carey, Mastersball
6 – Cory Schwartz, MLB.com
7 – David Gonos, Sports Illustrated
8 – D.J. Short, Rotoworld
9 – Alex Kantecki, Baseball Prospectus
10 – Jake Ciely, RotoExperts
11 – Tim Heaney, KFFL
12 – Derek Carty, DFSEdge
13 – Zach Steinhorn, MLB.com
14 – Jeff Zimmerman, FanGraphs
15 – Nick Shlain, Rotowire
Just like my last mock, which was a ridiculously early one (Part 1, Part 2, Part 3), our draft was hosted by Couch Managers. An easy drafting site to use, with so many-many colors. Like, lots. And unlike my last mock, I picked early in the 3-spot, and Grey would have been proud. LOOK WHAT YOU HAVE CREATED. Here's the first round:
So, seems like any other first round you'll see out there, nothing out of the ordinary… wait a second. Is that Clayton Kershaw? At 1.5!?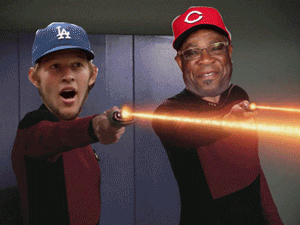 Hanley Ramirez before Adam Jones? Prince Fielder? Jason Kipnis? WHERE IS E5? Okay, so you get the point. This is probably one of the most amazing first rounds of all time. Of all time! So, obviously you see now why drinking happened. I mean, it was going to happen regardless, but this opening salvo was a great starting point. And that's not to say you can't justify each pick. I guess you could make an argument for every single one. It's not like Bruce Chen was selected in the first round, though even that could be defended… as being awesome. At the very least, all of the names taken can be considered top-tier talent… but the sequencing is something if not curious. I mean, it may just be me, but I have no idea how Edwin Encarnacion can fall all the way to 2.21, behind David Wright and Adrian Beltre. I think this is the long way of saying– maybe my evaluations of players are really-really off? That, and I'm pretty sure I'm in love with Encarnacion.
Anyhow, here's how my team turned out, which I guess can be described as young. Very-very young.
So there it is. I don't even think I can take the median-age drinking with me. Having sex with my team might even be illegal in the United States. I don't know, because the less math, the better. While my overall strategy might seem to have been 'go young or go home', which we'll call the Woody Allen, I actually tried to attack this draft with a combo-punch strategy. And as stated above, that punch would be one-part Grey's mustache on PEDS, one-part Jay's Wrongness, all topped off with copious amounts of alcohol. Bold strategy Cotton, let's see if it pays off for him…
Mustache Says…
"Never draft a pitcher with your first two picks."
Yeah, I seemed to follow this one okay. Stephen Strasburg cut things close, but with Clayton Kershaw coming off the board 2 Fast, 2 Furious, you really can't complain. I mean, you can complain, but why?
"Never take a top-tier closer."
Well, this one I followed probably too much. I selected no closers, as there weren't any left when I started thinking about it. Just the nature of a 15-team draft, I suppose. If you're curious, the closer rush happened towards the end of round 6, and left me with a resounding 'meh'. LaTroy Hawkins, Brad Zeigler, and Koji Uehara all got saves last year, and weren't draft day targets, just to name a few. There's no reason why you can't grab a 2014 version of Danny Farquhar off the wire. Now, obviously, if this is NFBC rules, there are no waivers, so what you get is what you got. In that case, what I did is probably the next best thing, and that's getting lock-down setup guys that could get a shot at the role.
"Have your offense squared away before the final rounds"
Nailed it.
"When deep into a position, take a flyer on upside."
That's what she said. But yeah, the whole team is an experiment in upside, so that's all I'll say about that.
"When in doubt, draft your fourth and fifth starters from NL teams."
Well, this is the one I whiffed on. Not that I don't agree with the strategy, I'm all about the hodge-Padres as the next Razzian, but I loved my Porcello pick. And I think the league that Gray and Walker pitch in is offset from their friendly pitching environments. I didn't technically follow the rule, but the spirit is there, after a fashion.
"Draft at least one Padres player and R.A. Dickey. Extra credit for Chase Headley."
Haha, just kidding. That's actually a Jay Wrongism. Not to be confused with a Jay Wrongasm, which are prettier. And have a touch of lilac and ginger.
What say you Razzballers? Things you like? Things you dislike? TELL ME EVERYTHING.
Want more of the Jay? Don't we all folks? Don't. We. All. Well, you, in fact, can have more. AMAZING. I know. You can find Jay enjoying his new dig's over at the Football side of Razz.