No Doubt
In the last 15 months, Justin Verlander has married Kate Upton, had a baby girl, and is leading the player rater among pitchers. It's been a good stretch for Verly. While he likely doesn't maintain the current sub 2.50 ERA and sub 0.75 WHIP with a .171 BABIP and 92.1% LOB rate, I doubt anyone will complain about a high 2s to low 3s ERA with a 30% K rate for one of the best teams in the league. I don't really know what else to tell you about this group, so, here's a Kate Upton gif.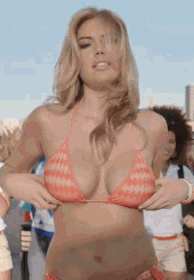 Pretty…Pretty Good
Luis Castillo and Mike Soroka should really be in their own tier and I considered putting them in the No Doubt tier, but Castillo wtih 2 bad match-ups and Soroka going to Washington keeps them down one tier. After getting touched up by the Pirates, Brandon Woodruff has back to back quality starts with a combined 16 Ks. Woodruff's velocity is up each month of the season and it's good to see he's not tiring yet as we get ready for summer ball. Flaherty and Corbin get one more shot before being demoted to a lower tier, but I have to believe the talent will win out.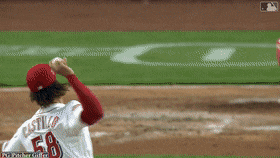 Start Em If You Got Em
Mike Clevinger may welcome a return to the mound with the off the field issues around him. He gets 2 plus match-ups in his return from the IL. It's always a little risky starting a pitcher coming back from injury, but rehab news was positive with 5.1 IP of shutout ball in his last outing hitting mid 90s with the fastball. A good showing this week will continue Clevinger's rise to become a legitimate ace.
Serviceable
Zach Plesac got touched up for the first time, but I'm still bullish on the young righty. Plesac mixes a mid 90s fastball with a nice change up. The slider and curve are decent pitches, but still works in progress. However, he has a calm demeanor on the mound and consistently gets ahead of batters with a 61.3% first strike rate, which would be top 40 if he qualified.
Do You Feel Lucky Punk? 
We've been waiting for Tyler Skaggs to put it together, and it feels like we'll always be waiting. This season is a microcosm of his whole career with glimpses of greatness followed by the fantasy baseball equivalent of being kicked in the nuts. St. Louis and Toronto are both bottom 6 offenses so far in June and bottom third against lefties for the season. I'm feeling lucky and willing to give him a chance.
Brown Paper Bag
Mitch Keller is seemingly a polarizing prospect despite having strong rankings across the board. Nobody will be surprised if he doesn't get both starts as the Pirates continue to play with his service time and try to keep him rookie eligible through 2029. His first 2 looks at the majors this season have no been strong, but I do believe he will be a solid pitcher for years to come. He just may take more of the Jose Berrios learning curve than the Walker Buehler dominance out of the gate.
Free Streamonator Pick of the Week: Yusei Kikuchi. He got it together and put an acceptable outing together against the Twins and gets two bottom 7 offenses.
Eyes Wide Shut
The case could be made for Bretty Anderson to move up one grouping as he's performed admirably this year, but a lack of Ks (12.6%) only has minimal fantasy impact outside of deeper leagues. He does have 5 straight starts without giving up more than 3 earned runs at least if you're digging deep.
I Immediately Regret This Decision
Notes
Projected 2 Start Pitcher Days
AL EAST
BAL
Monday, Tuesday
BOS
Monday
NYY
Monday, Tuesday
TB
Monday, Tuesday
TOR
Monday, Tuesday
AL CENTRAL
CWS
X
CLE
Monday, Tuesday
DET
X
KC
Monday, Tuesday
MIN
Monday, Tuesday
AL WEST
HOU
Monday, Tuesday
LAA
Monday, Tuesday
OAK
Monday, Tuesday
SEA
Monday, Tuesday
TEX
Monday, Tuesday
NL EAST
ATL
Monday
MIA
Monday, Tuesday
NYM
Monday, Tuesday
PHI
Monday, Tuesday
WSH
Monday, Tuesday
NL CENTRAL
CHC
Tuesday
CIN
Monday, Tuesday
MIL
Monday, Tuesday
PIT
X
STL
Monday, Tuesday
NL WEST
ARZ
Tuesday
COL
Tuesday
LAD
Monday, Tuesday
SD
Monday
SF
Monday, Tuesday