Sorry for the delay between installments, but it's been crazy here at the homestead! And speaking of which, The 18th Out, Part 1 can be read here.  I recently had a neck surgery in late January, and we had a newborn baby boy (John Robert! What's up Bubba!) in October. Who would've thought the combination of the two would put some kind of restraint on free time (and ability to keep my arm extended on the keyboard)?  I'm not exactly 100% and practicing fully in pads, but I'm off the DL (renamed the IL since I started) and I'm ready to score some goals…
The time has come for the second installment of my exploration into the red headed stepchild of fantasy stat-lines; the Quality Start. In this edition, we'll put the final touches on the efficacy of seeking out Quality Starts in the roto game and hopefully draw a cohesive conclusion before moving onto the fun part of QS talk; WEEKLY POINT LEAGUE DO-OR-DIE MAYHEM!!! However, before we can put the Brooklyn Brawler beat-down on that freckled miscreant under the stairs, I must unfortunately apologize for a specific inaccuracy in Part 1.  As someone who is very particular when it comes to precision I got caught with my rosy red assumption out, pants down around my ankles. (Sorry, I didn't hear you coming ESPN, I would've freshened up…) I copied a 2018 Team Pitching Totals Chart from ESPN, sorted for Quality Starts (Provided below). I didn't even think to double check the once great sports network, turned annoying social justice warrior.  Apparently Quality Starts are so overlooked that mega fantasy sites don't even know how to calculate them anymore.  This being the glorious age of trolling on an internet that never forgets, I feel compelled to post their erroneous numbers below… (The cause for this detour, that better not turn this into a Deliverance situation. If you hear banjos in the background, start running and don't look back.)
It turns out that ESPN is stupid. There, I said it. I can only assume the Leading Beta in Sports must be using an overly simplified formula like Games Played with 3 ER through 6 IP, but not necessarily from the starter. So here's to you ESPN; Go tell that 20 year old know-nothing, sipping eight bucks worth of decaffeinated froth that handles your stats to put down the Fortnite and go study the FanGraphs glossary. But… at the end of the day when the Septon's final decision (before the old gods and the new) has been cast, the naked walk of shame is bestowed upon me for not combing through the numbers for red flags. Below is the info I posted incorrectly. "SHAME! SHAME! SHAME!"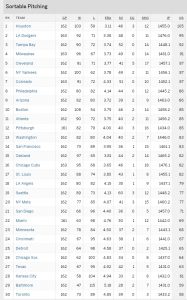 Luckily, we only applied those fugazzi ESPN stats very briefly, and left off right after.  Let's revisit our assertion with the proper information and then get back on our way.  I'll post the corrected Team Stat Totals, along with Team Quality Start % directly below. To be crystal clear going forward, the roto results being referenced are from a 2018 Fantrax 500 5×5 standard roto format.
In this part of the series, we'll use our league wide QS stats to more closely examine its rate of frequency at the individual level. This info may draw us towards a conclusion as to whether or not the roto community's hatred for Quality Starts is warranted, or just petulant sour grapes (My gut as well as our previous work thus far says that it is indeed warranted).  As earlier hypothesized, we will most certainly find a correlation between the number of Quality Starts and the roto finish by position rank at the elite levels.  My inference is that this correlation is not a case of causation, and as we get outside the top consensus aces there will be a undeniable variance between Quality Starts and 5×5 Roto Category finish. So for now the assertion remains that the QS can be utterly ignored on the way to roto glory. During this seeming decimation of the importance of a Quality Start, I hope this doesn't dissuade my fellow head to headers from its importance in the point game. In the third installment, we'll get into some detailed custom Quality Start stats and see if we can determine an edge when drafting point league pitchers. For the time being, lets see if we can put a bow on the admittedly more boring and less substantial Roto side of this experiment.
TEAM QS STATS ORIGINALLY USED AND INCORRECT : 30 teams start 162 games (4,860 starts). There were 2361 Quality Starts (2361 / 4860) or 48.6% of all GS were QS in 2018.
TEAM QS STATS UNORIGINALLY USED AND NOW CORRECT : 30 teams start 162 (4,860 starts). Two teams had one extra (4,862 starts). There were not 2361 Quality Starts, there were 2,011 Quality Starts so (2,011 / 4862) or 41.4% of all GS  were QS in 2018.

This 7.2% change could be a big deal, and every correction is an important catch for our research (All props in the world given to the dedicated and informed Razzball readers that not only pointed it out, but have been so helpful and supportive; Even as I fell victim to the seductive siren song of the sons of the Harpy at ESPN.)
Even having seen our perception for the league average in Quality Starts just drop 7% to its actual 41%, my initial feeling here is that our Quality Start Percentage Comps will still be underwhelming at best. Fantasy guys love numbers, so let's toss some around. Of 147 Starting Pitchers in 2018, (5 QS minimum to Qualify) 52 players, or 35.4% threw a QS 50% of the time.  When we hone in on the newly established league average of 41.4%, it turns out that 92 players, or 62.6% of the qualifying field achieves this more seemingly average accomplishment an above average amount of the time.  The names surrounding the Quality Start Percentage (David Hess, Edwin Jackson, Nick Kingham) are no more impressive than the names that found themselves on the outskirts of QS "excellence" in the 4.50 earned run average department.  There may be a few interesting names here,  (Jon Gray, Rich Hill and Jose Quintana) but to say there are warts is putting it nicely. A more accurate way to describe this group is in terms usually reserved for an emergency visit to the free clinic (it burns!).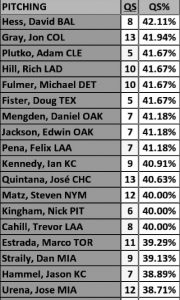 Just over 4 out of every 10 starts are ending in a Quality Start league wide, whose H2H importance cannot be understated on a per game/week basis.  But the more we peel away at the varying aspects of the Quality Start, the more we see the extreme, yet deserved dichotomy in format-based desire.  Throughout the entirety of this research, (short of establishing that the elite Starters pitch deep into games) there has yet to be a quantifiable and valid reason for roto players to even recognize the Quality Start. It has not shown itself to be a measure of excellence in any regard. Its split personality, the H2H Eighteenth Out; The one that we pace the room over, is as meaningless as a single grain of sand on an endless beach to the veteran roto crowd.  For all of you dedicated weekly points players out there though, we are discovering one thing for certain; At least we're explaining the difficulty in harvesting customized QS stats (This may even put a premium on some of the QS stuff I'll be providing in the future, who knows.)
Here's the graphical representation of our hypothesis concerning the elite Starters' Total QS & 2018 Finish by Position (Confirming the obvious, but it's always good to see the actual numbers.) SPOILER ALERT: Guys that threw 21+ Quality Starts are all really, really good.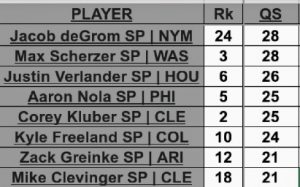 Now here's the graph of individual Quality Start leaders for 2018 and Finish by Position. As we get beyond the elite level of 21 Quality Starts, correlation to finishing roto rank begins to go out the window.  This is not a total shock coming from our initial premise, understanding the roto game doesn't disproportionately reward the QS. However, the conclusion of how that 41.4% QS rate fits into our comparisons for the Quality Start as a measure for excellence across roto formats seems to be revealing itself.  The short answer? It doesn't. Game, set, match. Now get out of here, have a nice weekend and don't forget to tip the waitress (Grey didn't bring me here for short answers, luckily).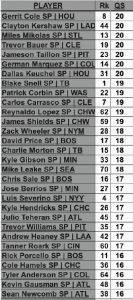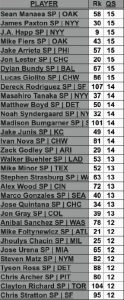 At this point, I'm going to oversimplify a bit BUT any list that has James Shields at the top and Lucas Giolito + Dylan Bundy over anyone with a pulse is to be crumbled up, thrown away immediately and forgotten over some small batch bourbon.  The correlations of Quality Starts to finish roto rank simply isn't there. I am a lifetime New Yorker; I am a fat, stubborn mule; I have been arguing my entire life and am a heavyweight champion in the art of bullsh*tting; But even to an ardent H2H defender, it seems only reasonable to concede the irrelevance of Quality Starts in the Roto game.
This being my first taste of baseball writing, I actually did a little bit of shoe leather reporting and got a quote from noted high stakes Fantasy Baseball player, podcast host & all around great guy Matt Modica who did not mince words saying, "I hate Quality Starts. I understand wins are devalued and not the measure of SPs in today's game.. but Quality Starts are a garbage stat in my opinion." Well, Mr. Modica you have thoroughly nailed the mark in under 20 words what took me nearly 2000.  You are a gentleman, and a scholar.
The meds are wearing off and John Jr. is starting to scream bloody murder so it's probably time for me to close the curtain on this leg of our investigation into the pertinence of the Roto QS. It's been a bit of a journey to put some statistical merit behind our initial assumptions, and I know sometimes the juice does not always seem worth the squeeze. We didn't disprove our assumptions or reinvent the wheel, but I'm glad we did the legwork as I now feel confident as a full-on detractor of the Quality Start in Roto leagues, and true pitcher evaluation in general.
Next time we gather, we get into the fun stuff; Leagues that actually are centered around the Quality Start. I have a plethora of custom QS work to share, percentages, relations to point finishes, and a home road split QS database for late round value additions. Please don't forget to follow me on Twitter @MLBMovingAvg so I don't always feel like I'm shouting at the passing wind…
 To my swathe of adoring fans who cannot get enough of me, I also provide lots of custom stats, projections, graphs, charts, comps and correlations on Twitter @MLBMovingAvg. Please follow, share and feel free to interact…