Like many of you, I cut my fantasy baseball teeth on snake-drafting 10-12 team mixed leagues.*  But I've found that, to paraphrase Spinal Tap, the looser the league's Free Agent waistband, the deeper the quicksand I get into.  I'd lose a closer to injury only to find that some joker on the West Coast picked up the replacement while I was sleeping.  I'd stubbornly stick with a lemon of a player through end of May while other teams spackled their roster holes with the breakout stars of the year (e.g, Quentin and Ludwick in 2008, Zobrist in 2009)
*Actually, Grey and I started duking it out in ESPN auto-drafting leagues and waking up the next morning to find 4 shortstops or 3 catchers on our squads.

Anyway, I've found myself venturing more into AL/NL-only leagues because of the frustrations mentioned above and because it is required curriculum to get a MFB (Masters in Fantasy Baseball) degree.  Last year, my first try at NL-only went splendidly as I took home the FantasyPros911 NL-only Blogger League pennant aided by a draft where I didn't end up paying more than $21 for any player.  For every disappointment like Russ Martin ($21), I had a crazy bargain like Ryan Franklin ($4) or Mark Reynolds ($14).
The victory earned me entry into FP911's 'Expert' League, which is AL-only and has more seasoned competitors like Tout War vets (Jason Collette of DockoftheRays.com and FanBall.com's OwnersEdge; Perry Van Hook of FantasyBaseball.com) and writers from well-known sites like FoxSports (John Halpin), Baseball Prospectus (Marc Normandin), and Hardball Times (Rob McQuown).
Below is my team with my post-draft thoughts.  Here's a draft review on FP911.  Here's the league page.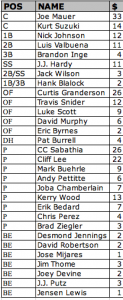 A 12-team AL-only league with 2 C + CI/MI/5 OF is about as masochistic as you can get in fantasy baseball.  The two less teams in the AL (14) vs. NL (16) plays a big role.  In a number of cases, just getting a crappy starter like Jack Wilson is huge because the alternative is some schmohawk with 150 ABs all year.  Getting 40 Runs / 40 RBIs is awful unless the alternative is 10 and 10.  And forget about the free agent wire – it's a barren wasteland.  Drafting prospects is a great idea – so great that everyone does it.  So the only impact players that will be found in free agency are guys coming from the NL in trades or deep sleepers.
This lack of depth affects draft strategy as you can't afford to be too generous or stingy with your early-round bidding.  The player pool dries up quick and you don't want to be left with a bunch of $1 bench-warmers or a team full of 3rd-tier players with money to spare.
My biggest bet was on Joe Mauer whom I had as the most valuable player in AL 12-Team Point Shares and got for a relative bargain at $33 (Crawford went for $35, Youk went for $31).  I overbid my Point Share value of Granderson ($26 vs. $20) in the belief that CHONE/ZiPS underestimated the impact of Yankee Stadium for lefty pull hitters.  The rest of the offense is a spotty mix of guys that skew towards HR/RBI vs. SB/AVG.  Hoping my Valbuena/Hardy middle infield tandem turns into a nice value play.   The only above-average guy in the lot is Kurt Suzuki who, combined with Mauer, will hopefully give me a monster advantage at the catcher position vs. other teams and mitigate some losses I'll have at other spots like 1B.
I liked Sabathia at $26 and a pre-suspension/pre-injury Cliff Lee at $22 to anchor the staff.  Buerhle ($9) and Pettitte ($6) are safe types that hopefully will net some Wins without hurting my ratios too much and $7 on Bedard felt cheap enough to gamble he can throw a quality half-season.
Closers were going at high prices (e.g., Papelbon at $25, Jenks at $17) and I got the cheapest RP option available in a $13 Kerry Wood.  He came cheap for a reason and, lucky for me, that I spent $4 for his handcuff (Chris Perez).  I think Mijares ($1) will get a couple of saves this year and took fliers on Ziegler/Devine and Putz in case Bailey or Jenks get hurt or falter.
End result:  I ran my projections against everyone's drafted team (swapping the occasional bench guy for a 'starter' like one team that has Beckham on the bench as he awaits MI eligiblity) and my team did as well as I could've hoped.  I came in at 77 points which would net me 2nd place.  My team proved strong in R/HR/RBI (32 out of 36 points) and absolutely dreadful in AVG and SB (1 point in each).  My pitching ratios are great (23 out of 24 points) with average performance at W/SV/K.  Luckily, if there's one thing available in free agency, it's marginal SPs that can help me boost Wins and Ks.  Desmond Jennings would be a lifesaver for SBs if called up but it'll likely take an OF injury in Tampa for that to happen.  Most likely, I'll trade some power for speed at some point, tapping into my treasure trove of DHs (the league mistakenly was set up with DH vs. UTIL – so a player has to be DH-eligible to be placed there.  Crazy, right?  Makes my bench pick of Jim Thome – done on autodraft while I went to see Ray Davies play @ SXSW – look brilliant.)
Next post, I'll cover my NL team in a league run by KFFL.com…