We're in the final days of fantasy baseball draft season and I'm taking a breather this weekend to survey my squads. This season's drafts have been a lot more fun than last year's as I've left the comfortable womb of undergrad 10-12 MLB drafts to graduate school formats like 12-team single league and 16-team mixed leagues. Going that deep in drafts makes you contemplate such unsavory questions as "Should I draft a Nationals pitcher?" and "Who will be Larussa's go-to utility guy?"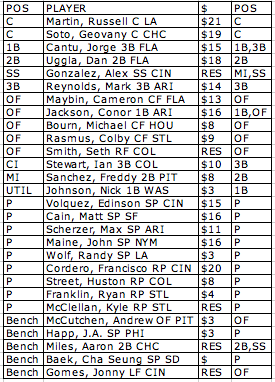 I'll cover the FantasyPros911 12-Team NL Blogger League in this post and cover the Yahoo! Roto Arcade 16-team mixed league in a separate one.
For those unfamiliar with FantasyPros911, they are running two expert leagues but relegated us to the '2nd division' as revenge for being good friends with Chuck D who has been (unfairly) critical of their site.  Anyway, we were delighted to have the opportunity to test our fantasy baseballin' skillz  with the other fine fantasy bloggers in this league.  (Complete draft results here)
It was the traditional auction style draft where you have $260 for your roster and 7 reserve picks (we're still trying to finish up the last 2 rounds).  While I think my player values were right on (especially after comparing against the NL LABR Draft), I had a few missteps on draft strategy and execution.  I went in with a strategy of getting players at or below my estimated value and avoid big buck players in favor of a balanced squad.  My fellow bloggers helped me avoid any temptations to draft a top player by overbidding just about every top player.  Hanley went for a ridunkulous $54 (my valuation $39).  Albert Pujols for $49 (my valuation $36).  David Wright went for $48 (my valuation $41).  Jose Reyes for $45 (my valuation $38).  You get the idea.  This left me on the sidelines in the beginning except when it came to drafting catchers.  I don't particularly like investing $ or high draft choices on catchers because they get more time off, have greater injury risk, and tend to slow down in the 2nd half.  But you have to mix things up a bit when 24 catchers are slotted to be drafted and I only had 13 at 300+ ABs.  After I got outbid for Brian McCann ($27), I snagged Russ Martin and Geovanny Soto for a combined $40 (I valued them at a combined $60).
After the first wave of great players, the bidding got more tentative and I started spending my dollars pretty quickly.  My biggest mistake was failing to realize you can't move players down to your Reserve.  I survived clogging my 1B slot with a $3 Nick Johnson by snagging Cantu for my 1B/3B slot.  I lucked out after stupidly clogging my SS spot with Aaron Miles (I started and ended the bidding at $1) by snagging Alex Gonzalez in the reserve draft.  My early giddiness at getting Maybin for $13 might have led to risky OF bids on Colby Rasmus ($8) and Andrew McCutchen ($3).  Of course these guys could earn their value (they got drafted at the same $ in NL LABR) but I exposed myself to too much risk and could've used a safer, higher AVG guy to balance off Uggla and Reynolds.  I minimized some of that risk by snagging Seth Smith in COL with the first reserve pick but if these guys end up spending the 1st half either in the minors or on the bench, I'm in trouble.
As for pitching, I'm very happy with my starting staff.  I would've loved to anchor the staff with a Santana, Peavy, or Webb but I got two potential aces in Volquez and Cain for the price of one of those guys.  I'll be lucky to get 150 IP out of Scherzer ($11) but I like him better than Cueto and Parra (both who went for $9).  I overpaid for Maine as it was later in the draft but had the money at the time.  Liking my depth at SP with Randy Wolf, Phillie prospect J.A. Happ and a Petco Park pitcher in Baek.  Not psyched about my relief crew of Francisco Cordero, Huston Street, and the two ugly options in STL (Franklin, McClellan) but hopefully I can get a couple points out of them.
I'll write a couple posts throughout the year with updates from this league.  If I win, I get to move up to the 'pert division in 2010.  I'm all a-tingle!