Oh, oh, oh, oh, oh
Oh, oh, oh, oh, oh
Everybody's always talkin'
'Bout who's on top
Don't cross our path 'cause
You're gonna get stomped
We ain't gonna give anybody any slack
And if you try to keep us down
We're gonna come right back
And you know we're
Hangin' tough, hangin' tough
Hangin' tough, are you tough enough?
Hangin' tough, hangin' tough
Hangin' tough, we're rough
Who's your favorite New Kid? Please don't answer that. I just needed an eye catcher today as I take the reins over from Jay "don't call him Ray" Wrong. The Korish keeper of the all mighty sacred RCL leagues. As they say in Lord of the Rings, There can be only one…until football, then we need two. (Why is it Lord of the Rings if there is only one ring?) Anydahoo, I'm Sam to his Frodo, Jake to his Elwood, Donnie to his Joey? Ok this is getting weird and I hope he doesn't photoshop our faces onto a New Kids pic. Who am I kidding, I totally want to see that. Now that I have a public picture personally doctored by the Guru, I can move on without feeling like I'm hiding. Hello Razzballers! Now the New Kids are actually relevant because now is the time to be hangin' tough and not keeping yourself down. You may think you are out of it but you aren't and even if you are have some pride and play til the end. Don't give anyone an easy win by quitting, play on or play football with Razzball! (insert shameless plug in 5,4,3 2, 1) Have you signed up for our RCL Fantasy Football yet, well here is your chance to kick our arses all over the place and win the respect and adulation of us and maybe some Arby's coupons or one of Jay's Makers Mark bird feeders. Great reclaimed products buddy!

The RCL Top 10

Why the top-10? Because Jay says so and they're the top-10 teams out of 1,000+? And that's pretty amazing? I'm Brian Fantana filling in for Ron Burgandy? Simply put, they're the best of the best of the best, and I think they deserve a little bit recognition. BUT NOT TOO MUCH. Just a taste.
Here is the place to find yourself. OK, maybe not like that Wake Up, but here is where you can see how good you are and most importantly see how good your league is. The league index gives us a nice gauge for how difficult a league is. Enjoy!
The RCL Round-Up
Here is the thing, I have to write about one league each week and I have been getting beat up pretty good at work all day so for today I will write about a league I am in to make it easier on me and I promise to do some random league next week. (Note: These opinions I will be expressing are solely mine and do not reflect Razzball and any of their entities and/or affiliates) Over the last month it has been a real dogfight in the top 5 of Jack's Late to the Party RCL with 1st place changing hands on the regular and injuries crippling the free agent pool. Barking Hound Dogs and the Hurt Birdmann have been the top two in the battle but I, Pain in the Asche, lay in wait for my time to strike them down like a serpent waiting on something with feathers. Julio Tehran has been my only starting pitcher for the last three months and have streamed all the rest of my game starts. Hey, it's a strategy you can use in the loophole filled world of the ESPN format. Rosterbaters Delight as I like to call it. Seriously, ESPN is like the Porn Hub for fantasy baseballers who like to touch their team every day. Oh god, Ken Giles, Josh Fields and Brad Boxberger are on the wire, I need to be alone with my laptop. Mom, shut my door this is going to be a while and if anyone calls I'm not here. 
The RCL #1
The RCL #1, which sounds like a RCL made for 2001: Space Odyssey (Grey notified me that RCL #1 isn't related to a space shuttle, but is meant to be said like The Iron Sheik. RCL #1! RCL #1! RCL #1!), is the Friends & Family league that Grey created so we could all be his fantasy baseball punching bags. Actually, maybe not so much punching bags as mustache combs. Seems more Grey-ish to me.
Regardless, this league stars Jay, Rudy, Tehol the Elder God, Prospector Scott, Paul, the Sing(ing)man, Nick the Podcast Host, and Sky… err, the Blue? We need to find you a better title buddy. But that's us, that's the family. Which, I can assure you, I'm already filing paperwork to gain emancipation. The friends are Dalton Del Don from Yahoo, Brad Johnson from FanGraphs, Ryan Carey of Mastersball, and Tim McLeod of RotoRob.
The Standings: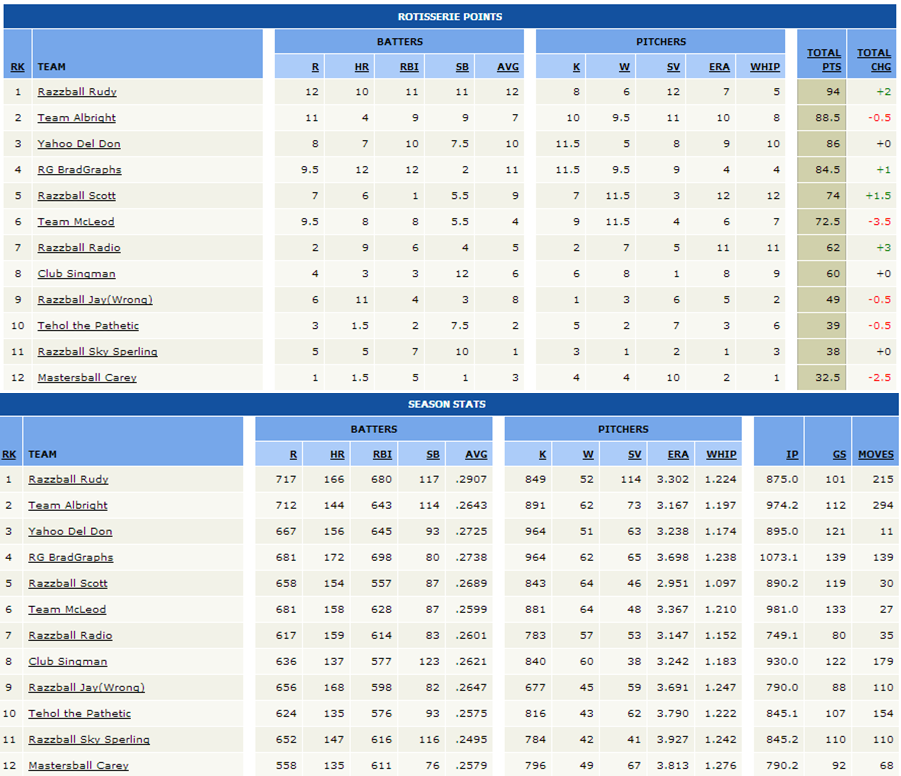 – the Grey and Rudy cannonball run style finish has another lead change. This week it's Rudy on top. I get that Grey is Burt Reynolds in this race but which Cannonball Run character is Rudy?
– Sky is out of last with that commanding 5.5 point lead to lock down 11th. The rest of the Razzball writers and our one and only Razzball talker Nick are all in a cluster of shame. At least I know now that if I was playing in this league, I would be ahead of this group because I'm ahead of them all in the other leagues we play in. Except Tehol, who's tied with me in the Champions League. Ever since I got an "A" in his summer camp course on confidence I now feel confident to say I'd beat him. Thanks coach! No really why wasn't I in here? I still haven't got a chance to play Grey and Rudy. That's a challenge for you two next year.
I just want to say that this is your post. You are the readers of Razzball and you get a chance to see your RCL teams and leagues. Please use this to sound-off about your own leagues. Talk about trades and home stretch strategies or what happened on TV last night, I like that too. Master Chef was lame yesterday!