The calendar has flipped to June and the Razzball Commenter Leagues are in full swing.  This is also the time of year where I like to take a look at which RCL teams are killing us in win-rate and which teams have just had some crap luck in the win column.  Now, Rudy will tell you that Wins are actually predictable as shown by his Ombotsman.  While the data and the bots may tell you this, as a human, it still seems like they are luck-based, do they not?  Today we're going to take a look at "win luck". There's no doubt it takes some luck to win a fantasy baseball league.  Injury luck is probably the biggest factor in winning a league. As good a manager as we think we are, if your number one pick goes down for the year, you're going to be at a disadvantage.  That's just common sense. "Win luck" is another area that is seemingly out of our control. Let's face it, wins are brutal. I'm a big proponent of the mantra, "Make your own luck" and I certainly think that can be applied to "win luck".  "Win luck" is a term often tossed around to describe a team that is raking in the wins and/or a team that can't seem to buy a win. Can you make your own luck in regards to wins? Of course you can. You can stream those valuable middle relievers, especially the ones that frequently work multiple innings in the middle of games (Jeremy Jeffress perhaps).  When a lead change occurs, these relievers are typically the benefactors. It's no guarantee of course, but it can't hurt your luck any. There are other ways to increase your win luck too. Let's take a look at another big one as well as who is getting lucky and who got luck this week in the week that was, week 9:
Another nice way to increase your win luck is to borrow a tip from the DFS side of the fantasy baseball landscape and utilize the Vegas odds.  I know not everyone dabbles in DFS waters, but Vegas is a good companion there and in your season long leagues. Here's how to use it. First, find yourself a website that lists all the Vegas consensus odds for the day.  There are several out there, but I typically run with THIS ONE.  Go ahead and bookmark that for future reference.  If you aren't familiar with Vegas terminology, you want to look at the "Money Line" which is the number greater than 100 with either a "+" or a "-" in front of it.  This shows you how much you would have to bet on a team to win $100 (in the case of the negative amount) or how much you would win if you bet $100 on a team (in the case of the positive amount).  The negative value indicates the favorite. So, if a team is a -140 favorite, you would need to bet $140 on them to win $100. If a team is +140, if you bet $100 on them, you would win $140. You can start to see where this might come in handy.  Anything over about -140 is pretty good. Take a look at those odds, check to make sure the over/under (run total) for the game isn't too huge, use some common sense, or at least some risk/reward management, and stream away. If you're a really savvy roto player, you've purchased access to the Streamonator where you can filter by day and sort by wins.  There you would see that Fernando Romero is the player with the best shot at a win today that is available in most RCLs.  Chasing wins may seem to some like a fool's errand, but you can take a couple steps to make your own luck.
Here are the best ("luckiest") and worst ("unluckiest") teams in the RCL universe in terms of win % (Wins/IP * 100):
| | | | | |
| --- | --- | --- | --- | --- |
| TEAM | LEAGUE | W | IP | W/IP |
| | RCL 2018 (#6) | 48 | 536 | 8.9552 |
| Stick Figure | RCL 2018 (#12) | 38 | 436 | 8.7156 |
| Crunchrules | RCL 2018 (#53) | 40 | 463 | 8.6393 |
| | Crab Army | 44 | 514 | 8.5603 |
| Im in a Ditch | RCL 2018 (#44) | 38 | 444 | 8.5586 |
| | DFSers Anonymous | 52 | 623 | 8.3467 |
| | RCL 2018 (#66) | 40 | 480 | 8.3333 |
| | RCL 2018 (#17) | 45 | 541 | 8.3179 |
| | RCL 2018 (#71) | 43 | 517 | 8.3172 |
| | RCL 2018 (#25) | 41 | 498 | 8.2329 |
The Road Warrior is parlaying that nice win luck into a 4th overall position in the RCL Master Standings right now, not too shabby.  Frequent Razzballers might remember TeddyHeater from the comments and from his time writing DFS content for us. He autodrafted his team…like a boss and held a few of those FanTrax highly ranked pitchers for a bit, raking up some wins and Ks.
| | | | | |
| --- | --- | --- | --- | --- |
| TEAM | LEAGUE | W | IP | W/IP |
| Victoria's Siegrist | DFSers Anonymous | 13 | 381 | 3.4121 |
| | RCL 2018 (#5) | 15 | 424 | 3.5377 |
| The Padre's Pumpernickels | RCL 2018 (#42) | 20 | 545 | 3.6697 |
| Team zbacon7 | RCL 2018 (#60) | 19 | 509 | 3.7328 |
| Johnny Utahs | RCL 2018 (#50) | 18 | 454 | 3.9648 |
| Diamond Dogs | RCL 2018 (#2) | 23 | 573 | 4.0140 |
| PhilB | Razzball Writers League | 20 | 497 | 4.0241 |
| malamoney | 'Perty Perts | 19 | 461 | 4.1215 |
| | RCL 2018 (#39) | 20 | 482 | 4.1494 |
| | RCL 2018 (#6) | 21 | 505 | 4.1584 |
On the unlucky side, you'll see my lovely DFS co-editor, VictoriaB has the fewest wins per IP of any team in the RCLs.  Actually, maybe this is a writer thing as PhilB and Malamoney also appear on this list. Interesting coincidence.
Each week we'll peek in at our resident 'perts to see who is laying claim to best "expert" RCLer in the land.  We'll take notes, check the standings and generally stalk them.  The heading is also hyperlink, so feel free to follow along as we go.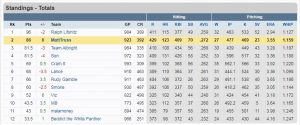 Ralph maintained his league lead, but things got a little closer.  Little being a relative term as Ralph remains 10 points up on the closest competitor (me).  Ralph dropped 3.5 points this week while I gained 2.5. Son lost 6 points this week (the most by anyone in the league this week) to drop from 2nd place to a tie for 3rd with Grey, who remained idle at 81.5 points.  Viz was the biggest gainer this week, adding 12 points thanks to leading the league in HRs, Wins, ERA and WHIP. That was good for a two place jump in the standings, to 9th. Cram It added 5 points this week and made the biggest jump in the standings, moving up three spots to 5th.  Cram could finally be on the move here. Rudy lost 5 points this week and dropped two places in the standings to 7th.
TOP 10
For those too lazy to check the MASTER STANDINGS, I present to you, the current top 10
We've got a new overall leader this week as Some Salvy For My Knee is running away with Cougs R Us.  Cougs always boasts a high LCI and right now, they have the highest. That high LCI is enough to boost Salvy way up the rankings.  Nice work Cougs & Salvy!
The Squat Cobblers and myself both fall a spot this week to make room for Salvy at the top of the heap.
The Road Warrior remains in fourth this week while LauraHolt moves up two spots to fifth.
Los Beisbolcats remains in sixth while Capital Offense debuts in the top 10 in seventh, up from 15th last week.
Templeton Shoots The Bird and M is for Mookie sneak back into the top 10 this week after a week or so out of the group in eighth and ninth respectively.
Finally, OldNavy 3 slips from eighth to tenth this week and rounds out the top 10.
TRADES
All the trades that have gone down in the past week.  Public ridicule is not only allowed, but encouraged.
First off we have Vin trading an almost droppable Chris Archer and Grey's bae, David Peralta for some save action in Shane Greene and Dustin Fowler.  Not bad.
Musgrove for Moreland isn't terribly exciting, but Castellanos for Gleyber should get the juices flowing.  Look at Gleyber go!
Vottoman Empire is at it again, this time swapping Freddie Freeman and a now injured David Dahl for Manny Machado.  This trade is terribly unlucky for the Spiders, who I believe accepted the deal before the injury news came out. Bummer.
Finally we have Joey Votto swapped for some save help in Edwin Diaz and C.J. Cron.  The trade analyzer has this as a about a $7 advantage in favor of Votto.  However, the analyzer doesn't think much of C.J. Cron (-$2.90).  So, there's that.
WEEKLY LEADERS
The best of the best from the week that was.
R – 55 – The Iron Horse (Crab Army #2)
HR –24 – The Schmohawks (Original Recipe 2018)
RBIs – 64 – The Schmohawks (Original Recipe 2018)
SB – 13 – Team tyedyedrebels (RCL 2018 (#8))
AVG – .340 – Ghost Riders in the Sky (RCL 2018 (#21))
K – 120 – Vin (DFSers Anonymous)
W – 14 – Vin (DFSers Anonymous)
SV –  10 – 3 Teams Tied
ERA (Min. 40 IP) – 0.933 – What's Up Doc? (RCL 2018 (#1)) (in 48.2 IP)
WHIP (Min. 40 IP) – 0.658 – What's Up Doc? (RCL 2018 (#1))
Two new records were set this week.  Vin, who is currently streaming his rear end off in DFSers Anonymous came away with 14 wins this week and actually didn't kill his ratios (3.35 ERA & 1.153 WHIP in 137 IP).  Nice work Vin!
What's Up Doc? had a heck of a pitching week as well, cleaning up in the ratios and setting a new WHIP mark in the process.
TEAM OF THE WEEK
Our weekly shout out to the team that killed it the previous week.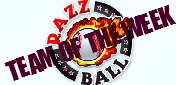 Team: The Schmohawks
League: Original Recipe 2018
Stats:   AVG: .307, R: 50, HR: 24, RBI: 64, SB: 5
IP: 52.2, ERA: 1.54, WHIP: 0.854, K: 71, W: 4, SV: 2
Summary: The Schmohawks are living proof that if you listen to Grey, you'll win your league.  There's really no disputing this fact. Grey hinted at this the other day, but the Schmohawks have on their roster: Eddie Rosario, Jose Ramirez, Trevor Bauer, Michael Wacha and Blake Snell.  Pair those gems with George Springer and some guy named Mike Trout who appears to be having a good season and you've got yourself a winner. No Schmohawks required. Well played Schmohawks, well played.  The rest of Original Recipe has their work cut out for them.
Want to be Matt's Twitter pal?  That's kinda creepy, but you can follow him here: @MattTruss