The rookies are coming, the rookies are coming!  That's Ralph Lifshitz aka Prospect Jesus on his way to the waiver wire to hog all the Juan Soto goodness for himself.  Also making an appearance this past week was Austin Meadows. Nick the Dick seemed to grab him in just about every league I'm in with him.  I think I might play with the same managers in too many leagues. Hopefully, you don't have the same problem and you were able to grab some sweet rookie nookie in an Razzball Commenter League or two.  It's pretty exciting when a fresh rookie makes the jump. Meadows has gotten out to a hot start, it will be fun to see what Soto can do at 19. Now, if only Vladito would get the call. Vlad Jr. is being stashed in most leagues, but if he hasn't been scooped up yet, now would be the time.  Grey already told you to hit the add button and he's a man of his word, currently stashing him in the 'Perts League.  Could Vladito be the key to Grey overtaking Ralph for the top spot in the league? Wouldn't that be ironic?  Prospector Ralph done in by his own true love. Let's see how far Grey has to go to catch Ralph and all the other goodness from week 7 in the RCLs:
Each week we'll peek in at our resident 'perts to see who is laying claim to best "expert" RCLer in the land.  We'll take notes, check the standings and generally stalk them.  The heading is also hyperlink, so feel free to follow along as we go.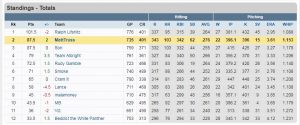 Ralph held onto his lead and even worked to increase it this week.  Ralph gained 3 points this week while I lost 3.5 and Grey lost 4. Ralph is some kind of force right now, leading the 'Perts league in Runs, HRs, Wins and Saves this week.  That sure will help matters. Ralph now has a 14 point lead over myself and Son, who are tied for second.
Smokey had the best week of the bunch, gaining 7 points this week and moving into 6th place.  Rudy gained 4 points this week and combined with Grey losing 4 points, now only sits 6.5 points behind Grey in 5th place.  The worst performance this week belongs to Lance, who dropped 6.5 points and fell two places, down to 8th.
TOP 10
For those too lazy to check the MASTER STANDINGS, I present to you, the current top 10
We have a new team in the top spot this week as DHARMA Initiative, who had been as high as 2nd previously jumped from 9th to 1st thanks in part to leading the RCLs in HRs this week.  Your humble RCL update host falls to 2nd this week with DHARMA's jump.
Look at Laura Holt go!  Not only is she one of the best in the biz at deep leagues, she's got shallow mixed league chops as well!  I knew She was going to be trouble when I invited her to the Writer's League and she actually posted questions about the rules.  That means she read the rules! People that read the rules are always trouble in any league. That attention to detail goes a long way.  See: Tehol in the 'Perts League for further proof of this theory. (Tehol didn't know the rules until 2 weeks ago and I still don't think he knows there's a move limit this year).
Los Beisbolcats makes a return to the top 10 this week, coming in at 3rd overall.  The Beisbolcats fell to 12th last week.  The rest of the top 10 teams are all holdovers from last week with Some Salvy For My Knee dropping out this week (10th last week) to 12th.  Things appear to be starting to level off a bit.
TRADES
All the trades that have gone down in the past week.  Public ridicule is not only allowed, but encouraged.
No trades to report this week.  Is it just me, or are trades down this year?  Get out there and wheel and deal RCLers!
WEEKLY LEADERS
The best of the best from the week that was.
R – 58 – Weird Balls (RCL 2018 (#4))
HR –23 – DHARMA Initiative (RCL 2018 (#20))
RBIs – 58 – Vin The Old (Frequent Commenters League)
SB – 14 – I am the Walrus (RCL 2018 (#50))
AVG – .330 – Team rfenner (Night of the Living Zombinos)
K – 105 – Vin (DFSers Anonymous)
W – 8 – The Cardinals (RCL 2018 (#19)) & Jensen Beach Gators (RCL 2018 (#33))
SV –  12 – Prospect Jesus (Crab Army)
ERA (Min. 40 IP) – 1.18 – Los Beisbolcats (RCL 2018 (#37)) (in 53.1 IP)
WHIP (Min. 40 IP) – 0.72 – Prague Defenestrators (RCL 2018 (#40)) (in 50 IP)
The rich got richer this week as a couple of top performing RCL teams made the Weekly Leaderboard.  
Former RCL Update legend, VinWins, made the leaderboard with two different teams.  Vin did me a solid and took over a dead team in my legacy RCL, DFSers Anonymous. That team is way under the IP limits, so expect a lot of streaming and Ks from Vin the next few weeks as he plays catch-up.  We won't talk about the ratios of said from this past week.
Ralph stole the title of weekly saves leader for the year from another member of the Crab Army RCL, Nick the Dick.  Nick's 11 couldn't hold up to Ralph's big 12" record.
TEAM OF THE WEEK
Our weekly shout out to the team that killed it the previous week.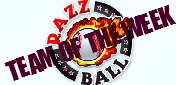 Team: Weird Balls
League: RCL 2018 (#4)
Stats:   AVG: .256, R: 58, HR: 22, RBI: 46, SB: 7
IP: 53.2, ERA: 2.68, WHIP: 0.839, K: 60, W: 7, SV: 7
Summary: This is one of the best looking weeks from a TOW yet this season.  Usually a team runs wild in one stat or another (HRs or Ks) and it boosts them up, but this right here is all around gold.  Weird Balls led the RCLs in Runs and was one off the HR lead. Sevens were wild for the Balls as well, logging 7 SBs, 7 Wins and 7 Saves.  Tossing in the micro ratios and this is just dominance. Weird Balls didn't quite crack the top 10 this week, but another week like this and they will.  This week alone had them jump up 64 spots in the overall standings from 85th last week to 21st this week. Well done, Weird Balls, well done.
Want to be Matt's Twitter pal?  That's kinda creepy, but you can follow him here: @MattTruss