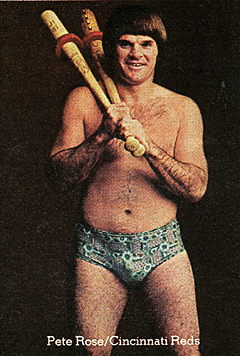 Note: Besides providing advice and news on fantasy baseball, we at Razzball created and now sponsor a game where the goal is to manage a team and compile the worst stats. These Historical Spotlights honor those players who would've excelled in such a format. See here for more info. See here for the summary of the inaugural 2008 season.
Pete Rose. He's like an Energizer Bunny wrapped in a bad haircut inside a moral vacuum.
On one hand, Charlie Hustle.
On the other hand, Degenerate Hustler.
On one hand, All-Time Hit Leader.
On the other hand, All-Time Full of Shit Leader.
On one hand, he ran over Ray Fosse in an All-Star Game.
On the other hand, he ran over a drifter on his way to an Illegal Card Game (pure speculation).
If there was one place, though, that you wouldn't expect to see Pete Rose – besides an event giving away free autographs – it would be in a series that celebrates historically awful fantasy baseball seasons. Click one more on the "Pete Rose Didn't Live Up To My Expectations" counter…
Let's divide up Pete Rose's career into three segments:
1) 1963-1982 (20 seasons) – Pete Rose was like the Derek Jeter of his time except less fancy (see video below). 16 All-Star appearances, beloved in real baseball circles, just good to very good in fantasy baseball terms. Why? He couldn't hit for power (high was 16) and he wasn't an SB threat (high of 20 ). His two best fantasy baseball assets were average (13 times in NL top 10) and Runs (15 times in the NL top 10). While his OBP stats were also well above average, his OTB stats were consistently disappointing. He bounced around between 1B, 2B, 3B, and OF during these years with most of his time in the OF. Averaged 600+ AB despite walking at a good clip.
2) 1983 (1 season) – Razzball Historical Spotlight Year!
3) 1984-1986 (3 seasons) – Averaged less than 400 AB. The words "Pete Rose" and "sure bet" no longer were spoken in the same sentence except for "Hey, Pete Rose sure bet a lot on today's Reds game!"
So let's go back to 1983 – the year before Big Brother started watching us, the year of Michael Jackson 'Thriller' and the year Father Time did a piledriver on Pete Rose's baseball stats.
Turning 42 and in his 4th year with the Phillies, Rose manned first base. While his lack of power (4 home runs in the previous 3 years) would seem to make him an odd choice for first base, there were several logical reasons why Phillie managers Pat Corrales and Paul Owens did this:
He was still quite good at getting on base – averaging a .350+ OBP his first three years in Philly.
He made approximiately 0.25 defensive outs a year over the average 1B by catching pop-ups off catcher Bob Boone.
His bookie had season tickets down the first-base line.
It made ex-Red teammate and beloved announcer Joe Morgan feel young over at second base.
Until Steve Balboni revolutionized the position in 1984, 1B had a surprising number of slap hitters. In fact, there were as many 1B that hit less than 10 HRs in 1983 (not including Rose) than hit 20+ HRs (both 7).

< 10 HR: Tom Paciorek-9, Keith Hernandez-9, Ray Knight-9, Pete O'Brien-8, Al Oliver-8, Mike Hargrove-3, Rod Carew-2
20+ HR: Eddie Murray-33, Darrell Evans-30, Cecil Cooper-30, Willie Upshaw-27, Willie Aikens-23, Greg Brock-20, Chris Chambliss-20
Pete Rose never really got started in 1983. Through June, 235 AB resulted in a .247 AVG with 28 R, 0 HR, and 22 RBI. A .303 July hinted at a comeback but Pete evaded success in 1983 like it was the taxman. Over 168 AB from August-October, Rose hit .201 with 14 R, 0 HR and 10 RBI.
The final stat line (with 1B/OF eligibilty):
493 AB, 52 R, 0 HR, 45 RBI, 7 SB, .245 AVG, .286 SLG, .316 OBP
How bad was this season? He finished 3rd to last among all NL players (with 350+ AB) in SLG %. As a first baseman! (other two: shortstops Bill Russell and ex-Red teammate Davy Concepcion). Among starting NL 1B, he finished last or second to last in Runs, HR, RBI, and AVG. He was outhit by Phillie shortstop (and previous Razzball Historical Spotlight recipient) Ivan DeJesus for Christ's sake (.254/.323/.336).
*** In fairness to Pete, he had a lot of bad luck in 1983. He only struck out 28 times so his average should've been in the .280 range with average BABIP luck. And if the outfield fence distances were as Asian-inspired as his haircut, he definitely would've netted at least a couple of home runs***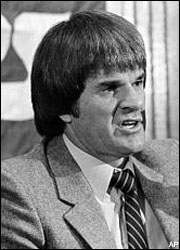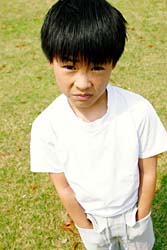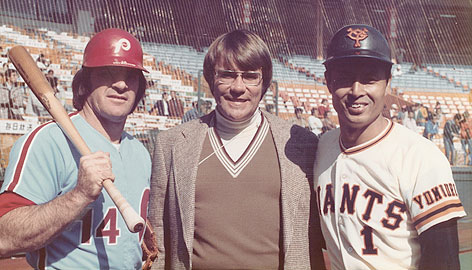 Even with Rose's Razztastic season, the Phillies won the NL Pennant in 1983 led by Fantasy Baseball HOFer Mike Schmidt – proof that a bad moustache trumps a bad haircut. It was only in the World Series when Philly finally realized the error in their ways and replaced Rose with the much younger Tony Perez (41 at the time) for two of the 5 games. Alas, they lost to the Baltimore Orioles who somehow bested the Rose/DeJesus 1B/SS combination of the Phillies with Eddie Murray and Cal Ripken Jr. Honestly, Eddie Munster and Cal Ripken Sr. might have been enough…
Pete Rose stuck around for a couple of years – partly for the competition and partly to cement the all-time record in Outs. In the process, he also set records in Games, At-Bats and Hits. After his playing career ended, he became a radio personality, fathered a surprisingly attractive daughter (yeah, that's his daughter), and made a few poor decisions along the way.
Pete Rose. You may not be allowed in the MLB Hall of Fame but you're in the Razzball Hall of Fame (whether you like it or not).
Podcast: Play in new window | Download
Subscribe: Apple Podcasts | RSS