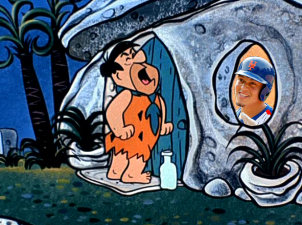 Fred Flintstone has just been locked out of his house and he needs to replace Joey Votto before lineups lock for the week in twenty minutes. He's banging on the door, but his wife doesn't seem to hear him. She's likely out shopping with her best friend Betty. Meanwhile, Fred's dimwitted neighbor Barney hears the hollering. When he asks Fred what all the yelling is about he agrees to set Fred's lineup for him. After all, as commissioner of the Bedrock Fantasy League (BFL) he can do that easily. "Just tell me who you want to add," says Barney. Just as Fred is about to respond, Barney's adopted son Bam Bam begins banging away on something up in his bedroom. At the same time Fred says "Wilmer Flores". Barney can't hear sh!t over Bam Bam's ruckus. "Who? I can't hear you," shouts Barney. "Wilmer Flores," yells Fred. "Who?", repeats Barney. "WILMER FLORES!", demands Fred. "You got it," replies simple minded Barney Rubble who proceeded to log into 1-800-Flowers.com and buy Fred's wife Wilma flowers. Moments later Bam Bam and Pebbles came out of Bam Bam's room. Pebbles was crawling funny but had a big smile on her face.
Since becoming a full time player Wilmer Flores has been consistently average or above week after week. Ignoring the shortened All-Star Break week, Flores has averaged just over 18 points per week over the last eight weeks. And it's not like he had two great weeks to make up for a few crappy weeks either. Here are his point totals over those eight weeks: 16, 24, 13, 22, 22, 15, 16 and 19. He already has 12 points this week and it's only Wednesday. While it's great when your players rip off 30+ point weeks, that is not the norm and cannot be relied upon.
Let's compare Flores to Jose Ramirez who has been the best hitter in points leagues this season. Year-to-date Ramirez has 520 points. That's 40 points more than Mookie Betts at 480 points. Over those same eight weeks Ramirez has 222 points for a weekly average of 27.75 points. While that's a good nine points more than Flores you need to remember that we are talking about Wilmer Flores, a player only owned in about twenty percent of leagues.
Now let's compare him to some other first basemen starting with the aforementioned Joey Votto. Wilmer has 227 points this year in 368 plate appearances (0.616 points per plate appearance). Votto has 307 in 509 plate appearances (0.603 PPPA). When in the lineup they are producing at the same level. I realize that Votto is not having a complete Votto-esque season, but if you replace Votto with Flores right now you wouldn't notice a difference in production.
How about Cody Bellinger? Cody has 296 points in 508 plate appearances. That's 0.582 points every time he steps into the batters box. It appears that Flores is outperforming and outpointing Bellinger. Am I starting Flores over Bellinger? Probably not. However, I just wanted to point out that there is a guy likely sitting on your waiver wire that is going to give you about 18 points a week. Look at your roster/lineup. Do you have anyone that is consistently falling short of 18 points? If so, you know what you need to do. Buy some Flores and thank me later.
Harrison Bader has scored more than twenty points in each of the last two weeks. As the red hot Cardinals starting center fielder there's a good chance he can keep up those numbers. Keep in mind he's only 24 years young. I can see him helping teams down the stretch this year, but is also a guy to look out for next season. I can see it now, the NL Wild Card matchup between the Brew Crew and the Cards. It's the bottom of the ninth. Brewers lead by one with a runner on second. Hader sends the 2-2 pitch to Bader…
Luis Castillo has pitched at least five innings in each of his last six starts. Except for a 5 inning, 5 earned run stinker ten days ago against the Diamondbacks, he has pitched relatively decent in five of those six starts. In two of them he managed to strikeout nine batters, and is averaging about 15 points per start over that span. I'm not saying I'd drop someone of value to pick him up, but he is a guy I'd like to have on my bench for the right matchup because Castillo can certainly drop a 30+ point start in your lap on any given day. Figuring out when has become the challenge. Let Streamonator help with that!
Brad Keller is another pitcher that has averaged about 15 points per start over his last six starts. While that's nothing to get super excited about, it's worth noting that he has RP eligibility and should be considered at RP based on the matchups should he have another two-start week.
Come on baby light my Mike Fiers. In his last three starts he's pitched 18.3 innings while striking out 21 batters. He gave up only three earned runs during that span. Fiers hasn't lost a decision in over a month, and his most recent seven-inning, one-hit gem should be enough to turn some heads.
Beware of impending innings limits. There are several starters that might be approaching that point. Walker Buehler and Zach Wheeler are two names that jump out at me.
I wonder if every time J.D. Martinez hits a home run he says "no way Jose" in response to Ramirez's chances of taking the American League home run title.
Why didn't Fred just go in the window?
Follow me on Twitter at @malamoney