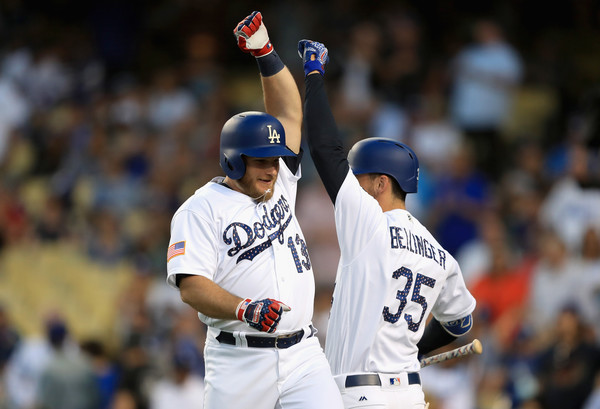 After hitting 39 home runs and stealing ten bases in just 132 games in 2017, Cody Bellinger not only won the National League Rookie of the Year Award, but he had also taken the fantasy baseball world by storm winning the hearts of many. Not too shabby for a guy that went undrafted in most leagues. Not to pat myself on the back or anything, but I grabbed him for one dollar at the end of one of my 2017 auctions. Considering his output versus cost, he was the most valuable player in our entire league. I traded him at the deadline for three very high priced studs. It was one of those deals that on paper looks like the most unfair trade in the history of fantasy baseball, but when you factor in keeper rules and dollar values, it's a win/win for both teams. It took me from a fringe playoff team to the World Series. I ended up losing, but like they say, "You gotta be in it to win it."
Fast forward a full season and Cody Bellinger is more of a let down than a pick me up. This season Bellinger did manage to hit 25 home runs, drive in 76 and steal 14 for a total of 364 points. That's a pretty decent stat line, but the problem is there were more than fifty batters that scored more fantasy points. Included in those fifty are Jurickson Profar, Eduardo Escobar and Stephen Piscotty. Not exactly names you'd have expected to be ahead of him on draft day. Bellinger didn't even finish in the top ten first basemen. That's quite the disappointment considering he was the fifth first baseman off the board with an average draft position of about 35. Those that drafted Cody lost tremendous value with their late third round pick. With that said, it's easy to see why Bellinger was not all he was rung up to be.
What else went on in Dodger nation this season? How about 28 year old Max Muncy. Who? Exactly what anyone would have said during this year's draft season. When I asked one guy he said "isn't that the catcher on the Yankees that died in the boating accident?" I told him, "no that was Jose Fernandez and he was a pitcher and was on the Marlins". Muncy was signed by the Dodgers in 2017, but spent the entire year in the Minor Leagues where he hit 12 homers and drove in 44 with a .309 batting average in 109 games. As I said, he was on no one's radar coming into this year. If you want a leg up in your fantasy leagues, find the guy who was pushing Muncy (and Jesus Aguilar) and follow him (or her) next season. Give him my contact info as well. Thanks.
The Dodgers called Muncy up to Los Angeles on April 17th (week 4). That week he scored just seven points, but week after week his weekly point total increased, peaking in week 11 with 31 points. In 151 less plate appearances, Muncy hit ten more home runs and drove in three extra runs than Bellinger. While Bellinger had more fantasy points (364) than Muncy (335), that's bound to happen with an extra 151 chances. However, if we breakdown the numbers and compare their points per plate appearance averages, here's what we get.
Cody Bellinger: 0.575
Max Muncy: 0.696
As you can plainly see (look at the numbers above), Muncy outperformed Bellinger from a points league perspective. That's probably the case in roto leagues as well, but that's not my area of expertise today. Bellinger did steal 11 more bases, so that will provide some added value in roto leagues. However, as I've said on numerous occasions, we only care about points in points leagues.
Bellinger was an everyday player, playing in all 162 games. Muncy missed the three weeks and ended up playing in 25 less games. Had he played a full season, the numbers indicate that he would have had more than 40 home runs. Only three players (Khris Davis, J.D. Martinez and Joey Gallo) hit at least 40 homers. As some might say, that's rarified air. Whatever that means. Muncy set a Dodgers record as the quickest to 20 home runs in franchise history, hitting his 20th on his 183rd at bat.
Bellinger had ten weeks were he produced only single digit points. Muncy had seven. Not the greatest statistic to go by, but I felt like mentioning as much. Muncy was eligible at 1B/3B/OF, while Bellinger just 1B/OF. Next season Muncy will lose OF in most leagues however.
So given all of this, it begs the big question, who do you want in 2019? If I had to pick today, the answer would be Bellinger, but I still think he will be drafted rounds ahead of Muncy, so with that said, there's a much better chance of Muncy being on my teams. I recently participated in a very early mock draft (roto league) with several other "experts" and Bellinger went in the 4th round, while Muncy wasn't drafted until the 13th. At that discount, I'd take Muncy. I'm hoping to do a very early points league draft in the coming weeks, so I can better idea of the exact points league situation.
For sh!ts and giggles I just looked up their playoff stats. For what it's worth, both are stinking it up. Bellinger (.139 BA) has 16 points thanks to three singles, a double, a homer, four RBIs, four runs, five walks, ten strikeouts and four stolen bases. Muncy (.182 BA) has 17 points on the heels of four singles, two homers, five RBIs, ten walks, 18 strikeouts and a stolen base. The 18 strikeouts in 33 at bats is a bit unsettling, especially in points league where it costs him 18 points. Anyway, just a playoff update on these two 'dodgy' fellas.
Is it me or does it look like Muncy is ripping a fart in Bellinger's direction?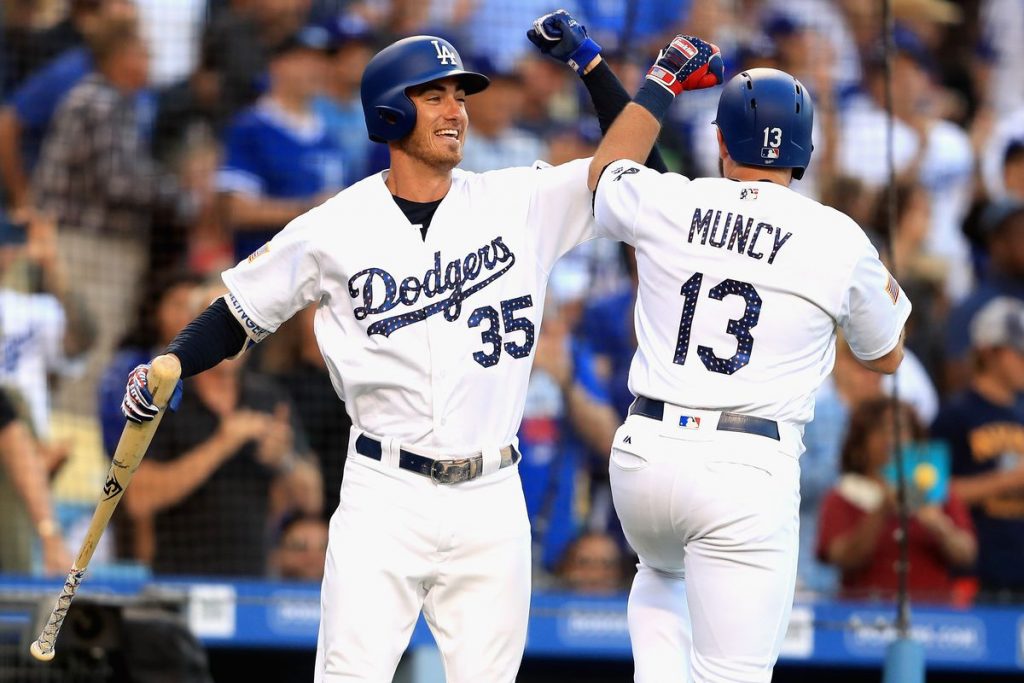 Follow malamoney on Twitter at @malamoney