I'm filling in for the Big Magoo today, as he has gone off to Philly to get a sandwich. Yeah, I thought it was weird too, but the guy sends me pics of his lunch. [Jay's Note: That's the only reason I'd go to Philly…] Back in July, he covered for me and as my dad says: there is no such thing as a free lunch. Which is weird, because he frequently buys me lunch. Enough about lunch, it's making me hungry and I just ate…
Here are a some significant adds and drops in fantasy baseball over the past week:
Corey Seager (+29.5%) – What is there to say about Seager that hasn't already been written. The kid was the top ranked prospect in all of baseball and a fantasy tease because the Dodgers fought all rational thought and held him back to trade for this D-bag. He was Mike's 6th ranked prospect coming into the season and was #3 back on July 15th. This year he cut his K-rate across both levels of the minors (12.8% in AA and 14.0% in AAA) after posting consistent 20 plus rates over the past couple of seasons. Like the title suggests, we have to decide quickly if we want Seager as he has a Mattingly on his back. A Mattingly is a tough habit to kick when everyday you show up for work you and end up with this look on your face. Frequent old school commenter Carnac nailed Donny Baseball in one of his classic comedic takes. Speaking of Donnie Baseball, has that term become a reverse nickname? Like a fat guy named slim or a bald guy named curly. Seager opened his career by posting two multi-hit games with 3 RBI's and 2 runs. His reward for that was a seat on the bench for the .176 hitting over the last month Justin Turner who went a smooth 0 for 5 that day. I like Seager, I own him in a daily league, but I wouldn't own him in a weekly league. If you got him you better be prepared to have a bench backup for when he sits. He gets my love, but owning him is like dating a girl that has an overbearing father who will crush your plans at anytime just to mess with your head…or at least that's how I saw it. But don't worry, those girls were lots of fun because they did things to get back at their dad's or in this case, their donnie's…TREASURE
Eduardo Escobar (25.8%) – There's guys that are a lot more exciting in the big picture, but Eduardo is hitting so he's a lot more attractive in the short-term, and in all redraft leagues, short-term is all you should be worried about. This is me quoting Grey this past Friday, as I couldn't of said it better myself. Going back to August 18th and ending on September 3rd, he failed to cross home plate only once. That's 17 runs in 14 games or 1.2 per game for you nerds. Over that span he's had 4HR's 9 RBI's, and saw his batting average go from .246 to .265. In his minor league career he hit 10 HR's once in a season but that was across two of three lower levels (R, A+, AA) and I'm not sold that his man muscles finally showed up late to the party. Or this could be the rare case where he is a Benjamin Button's Latin 40 and really lied about his age to make himself appear older. Where are those Ancient Aliens guys when I need an assist here? On the flip side, he's increased his dongs as a pro every year and posted a .282 ISO (10 2B, 4 HR) in August. But one another flipside (Jeebus, how many sides are there?) his FB% was his second lowest on the season and had an unrepeatable 19% HR/FB rate. EdBar is what he is, a hot schmotato that is turning into schmotato jam and should be used until he starts slumping. When and if that will occur is a fools errand to predict. You can do one of two things and you either hold him too long or play proactive and grab a hotter schmotato. I'm thinking the latter is the best move. TRASH-ish.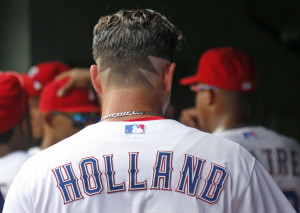 Derek Holland (+24.2) – What is there not to like with the return of "Hey Check Out My Hair" Holland? Looks like that could of been a dumb and dumber move (that's Holland and Justin Grimm) if he was getting shelled lately, but he hasn't. I grabbed him off the waiver wire for $5 back on August 20th in the Razznasty and have been enjoying my well spent money. I didn't start him versus Toronto, but got to reap the rewards of his last two starts and after looking at his schedule I see some K-upside on the horizon. He's @SEA, vs. HOU, vs. SEA, @HOU, and vs. LAA if the rotation stays on track to close out the year. To preface, at this point of the season a few runs isn't going to do much to your ERA so the key here is K's, BB's and hopefully some wins. For you H2H guys I don't want to hear it, you bring this madness on to yourself. Against lefties this season, the Astros post the 5th worst K rate at 22.6% and the Mariners are right behind them with 22.2%. Over the last month against all pitchers the Astros and Mariners are 3rd and 4th respectively in K-Rate. The Astros have shown a good eye as a team against lefties by having the 3rd best walk rate while the M's have posted one of the worst at 6.2%.  Holland has always been one of those guys that could be relevant, in 2013 he put up solid numbers and was looking like a good upside option going forward but got derailed by injury the last two years. The Hitter-Tron likes his next start and gave him a $15.2 evaluation and I agree. The Tron is a little worried about the Houston game on the 15th computing a $4.6 value. I think he is still a must start with lower expectations. For the rest of the season our player page has him as a $8.9 player with a 3/1 K/BB ratio. If anything, look at the guy, he's all business all the time. I'm not from New York but if my context is correct it's worth taking the Holland tunnel from New Jersey to New York…cause you know, going the other way is not. TREASURE.