I tried to open my eyes, but the sun was beaming death rays directly into my pupils. It was hot and sticky, like September in NYC hot and sticky. Yuck. My head was groggy and my body was aching. With my eyes no longer melting, I was able to survey the land. Trees. Lots of trees. Mud, bushes. What the hell had happened to me? Just as the synapses in my brain were starting to fire, I began to hear something in the distance. Boom da da. Boom da da. Boom da da. I reluctantly rose from the ashes and set forth towards the drum beat. I was thirsty as hell. Hopefully, there was water. Lots of water there, as nothing would be more satisfying and refreshing. After trekking for what seemed like days, which was in actuality more like 10 minutes, the Boom da da, Boom da da, Boom da da turned into BOOM DA DA, BOOM DA DA, BOOM DA DA. I had arrived. My thoughts of water all but dissipated, as the discovery of Niko Goodrum, a 15/15 player during a normal season at pick 239 in NFBC drafts, quenched the thirst for all facets of my life.
Goodrum is 28 years old, 6′ 3″, 218 pounds, and bats from both sides of the plate. He was selected by the Minnesota Twins back in 2010 with the 71st overall pick. In eight minor league seasons in the Twins organization, Goodrum produced a .250/.333/.379 slash with 42 homers and 122 stolen bases in 2796 plate appearances. The walk rate was routinely above 10% while the strikeout rate was in a palatable range of 25%.
In 2017, Goodrum elected free agency and signed a minor league contract with the Detroit Tigers. He made the opening day roster and became the super-utility player for the major league club, playing all four infield positions along with the corner outfiield spots. His two seasons with the Tigers had been remarkably consistent.
| YEAR | PA | HR | R | RBI | SB | BB% | K% | ISO | AVG |
| --- | --- | --- | --- | --- | --- | --- | --- | --- | --- |
| 2018 | 492 | 16 | 55 | 53 | 12 | 8.5 | 26.8 | .187 | .245 |
| 2019 | 472 | 12 | 61 | 45 | 12 | 9.7 | 29.2 | .173 | .248 |
Good, not great. Some may even say meh. That's fair, but here's why I like him for 2020.
After years of being a super-utility player, Goodrum has a good chance of being the starting shortstop for the Tigers this season. If so, he's going to get consistent at-bats. The downside is that he retains the super-utility role. Either way, he's going to play and provide multi-eligibility goodness.
He possesses above-average power, as evidenced by his 54th percentile exit velocity and 66th percentile hard hit percentage. Goodrum is also in the 92nd percentile for sprint speed. Power and speed. Yummy. Did I mention that he's being drafted as the 239th overall player in NFBC drafts from 5/1 to 6/28?
Currently, Roster Resource has Goodrum hitting second in the batting order. If you've been reading Grey's 60-game pieces, you know that being atop the batting order is going to be huge this upcoming season. The Tigers also upgraded their lineup, with the acquisitions of Jonathan Schoop and C. J. Cron. If he hits in front of Schoop, Miguel Cabrera, and Cron, then that could lead to him seeing more fastballs, which would be huge for his prospects because he destroyed fastballs last season while being Pedro Cerrano against breaking and offspeed pitches.
| PITCH TYPE | BA | SLG | WHIFF% |
| --- | --- | --- | --- |
| Fastball | .286 | .493 | 25.1 |
| Breaking | .218 | .337 | 37.9 |
| Offspeed | .191 | .340 | 41.5 |
Now, according to OddsShark, the Tigers are projected to score the fewest runs per game this season at 3.61, so the situation isn't ideal. There are only two teams projected for fewer than 4 runs per game, with the Marlins being the other. Also, Goodrum has a chance to be a batting average drain.
With that said, there could be improvement in the batting average if he does see more fastballs due to the improved lineup. The home runs and stolen bases should be there regardless. There aren't too many players past pick 200 that can contribute both power and speed.
VERDICT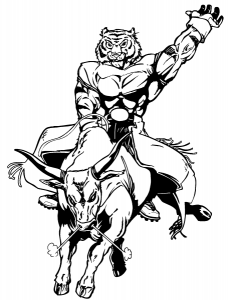 (Image from Fastdecals.com)