What's up party people. Surprise, surprise. Angels made a move and it's actually worth talking about. So, naturally, I'm shelving my planned article and calling an "Omaha" like Peyton Manning. On the heels of Mookiepalooza (that came at a steep, umm, Price), the Dodgers called their neighbor down the street to help them shed some cap space in order to stave off the luxury tax hammer, due to Mookie's, hmmm don't do it lofty Price tag. Angels are receiving: A) the final arbitration year of Joc Pederson (to buy time for Adell/Marsh to develop at AAA and platoon with Goodwin), who naturally became the odd man out at RF with Mookie moving in, B) Ross Stripling who I am now low key hyped for this year (more on that in a minute) and C) prospect Andy Pages, who just went off for .298/.398/.651 with 19 HRs 7 SBs in 63 games of 2019 Rookie Ball… and all for the low low price of Luis Rengifo and possibly prospect Gareth Morgan. That's some mighty fine discount shopping.
***UPDATE*** I wrote this prior to the hilarity that is the Boston Red Sox and apparently their lack of medical research. Mr. Met is that you in there? *queue Curb Your Enthusiasm music* So Minnesota will/has pulled out of the deal. As of right now, the deal is up in the air. Everything I'm seeing is that it is likely to push ahead without Twins involvement, it's just that the 2 sides will need to restructure the deal themselves which will thus involve a lot more bartering, or maybe they get the Angels more involved (I could even see the Angels giving more to get both Stripling and Maeda); Who knows? I believe it will happen eventually since the Dodgers seem to finally be aware they have 12 SP on the 25 man roster, so we'll proceed ahead…
Ross Stripling would like your attention, please. Since 2017, he has a 3.36 ERA, 3.50 FIP, 3.27 xFIP and 25.7 K%. That has a loft apartment above a tapas bar in Flavor Town. As of now, his ADP is close to 300. That's Crazy Town. Now obviously that was due largely to his potential 2020 innings being more clouded than the smog above LA. I expect this to trend down (lower? up? sooner?) now that he's nearly guaranteed a spot in the Angels speculative 6-man rotation; which is Funky Town, and that's not just Lipp service. Here's what Grey had to say about him in the Top 80 Starters for 2020: "Stripling has never thrown more than 122 IP in a season, so to suddenly expect 160+ is foolhardy. I've been confused with Tom Hardy, but never foolhardy. I do think Stripling can sneak into 140 innings and possibly a top 40 overall starter, and well worth the draft pick." It's true, he has never gone over 122 IP in his career; though in the log lam that is the Dodgers rotation, he was never really unleashed sans an injury-interrupted 2018 season where he filled-in but then lost his place in the rotation after coming back. I'm rambling now, let's dive in!
Here's what he has done the last 3 years:
| | | | | | | |
| --- | --- | --- | --- | --- | --- | --- |
| | ERA | WHIP | K/9 | BB/9 | HR/9 | FIP/xFIP |
| 2017 | 3.75 | 1.18 | 8.98 | 2.30 | 1.21 | 3.68/3.37 |
| 2018 | 3.02 | 1.19 | 10.03 | 1.62 | 1.33 | 3.42/2.99 |
| 2019 | 3.47 | 1.15 | 9.23 | 1.99 | 1.09 | 3.47/3.58 |
What's not to like? A mid 3 ERA guy with a decent k-rate and a low walk rate. I know what you are going say… a lot of these numbers are inflated by timeshares of bullpen innings. You are right in part, as over his career he has a 3.71 ERA as a starter and a 3.12 ERA as a reliever. Which is still good… but there's more to the story. Let's break it down to just his 3-year stats as a starter (*2017 discarded as he only had one start):
| | | | | | | |
| --- | --- | --- | --- | --- | --- | --- |
| | ERA | WHIP | K/9 | BB/9 | HR/9 | FIP/xFIP |
| 2016 | 4.52 | 1.32 | 6.54 | 2.74 | 0.95 | 4.02/4.23 |
| 2018 | 3.39 | 1.18 | 10.07 | 1.35 | 1.52 | 3.60/2.86 |
| 2019 | 3.60 | 1.13 | 9.13 | 1.80 | 1.29 | 3.69/3.42 |
As you see a horrible 2016 is heavily inflating his stats as a starting pitcher. When we look at just 2018-2019, he posted 176.1 innings with a 3.47 ERA and 1.16 WHIP. If you remember, when he was at his best, prior to getting injured in 2018 he had an obscene 2.08 ERA 1.08 WHIP and 10.20 K/9. So what changed for him in 2018? He learned how to better use batter heatmaps and he now has a pseudo-cutter that he throws only to lefties and a pseudo-slider only to righties, maximizing matchups as best he can using the data. Which is essentially the same pitch, just with slightly different finger placement. A bit like Jake Odorizzi, who's been on my mind (Pseu-pseu-pseudio). And I haven't even shown you his 12-6 curveball…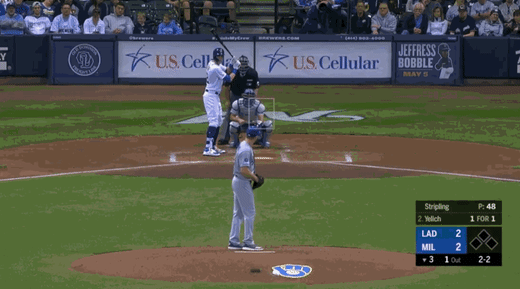 That beauty there tied up Yelich, amidst his rampage on National League pitching, during the first half of last season. How good is that pitch you ask? Last year batters only managed a .167 BAA with a 33.3% Whiff rate and 34.81% Strike rate on that filth. He. Can. Throw. It. For. Strikes. Did I mention the Angels' new pitching coach is Mickey Callaway? Prior to his stint as the Mets skipper, Callaway was the pitching coach for the Indians from 2013-2017. During his 5 years, the Indians had a 3.65 Team ERA good for 4th over that time frame aided by 2 Cy Youngs won by Corey Kluber, who broke out in, you guessed it, 2013.
So while you are shopping for bargains towards the end of the draft (assuming his ADP doesn't change a ton). Take a look in the men's section at the filthy curve aisle. You could end up with Louis Vuitton at a Louie Anderson price. Grey has him down for 10-5/3.77/1.18/141 in 132 IP; I'm a smidggggge more bullish on the upside; I think he can deliver similar 2019 Odorizzi ratios with a tad less K/9 and better WHIP with a chance for more. The main question being his innings, a 6-man rotation may be just what the doctor ordered to guard his durability.
***UPDATE PART 2: THE RECKONING*** Should this all collapse and fall through in epic proportion where Betts stays and embarrasses the Red Sox as they end up losing him for nothing, Pederson stays and plays pissed off all season, and ultimately – for the purpose of this article – Ross Stripling stays put it would certainly, ummm, curb some of my enthusiasm for Stripling. His current ADP of around 300 (200+ range) would still be worthy of a flyer towards the end of drafts for his spot starts and middle-innings ratio help in 12 team or more formats with the chance he's one injury (or voodoo doll) away from a rotation spot, especially if you find yourself with a roster full of WHIPing boys, but far less of a sure thing.