Two things really stood out for this 2009 fantasy baseball mock draft. 1) I was not familiar enough with the draft interface. 2) It's November. Hey, Grey got a calendar! Awesome! Yes, the date is obvious, smart ass. I'm just pointing out the obvious because so much will change between now and January, let alone March, that it's very difficult to evaluate this mock draft. I will still do my best in my inimitable style. Yo, I'm inimitable! The draft was held at Mock Draft Central and organized by The Fantasy Man. Before I get to my thoughts, written as I was drafting, here's my fantasy baseball team for the first mock draft of 2009: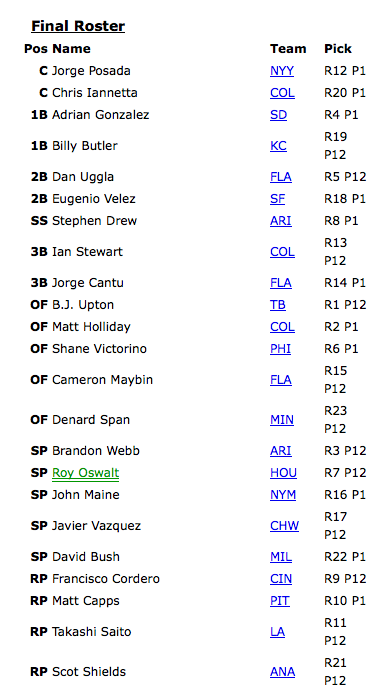 As we went along, here's my observations. Mock me, if you like:
1st and 2nd Rounds: The draft began pretty poorly because I was logged into my MDC account, but I guess there was another account made for me. I wasn't aware of this until ten minutes into the draft. So it was my pick (12th out of 12 teams) right when I entered. The draft chat went basically like this. "Grey, you in?" "Yup." "You're up." I look at the clock to see I have 28 seconds for my first two picks. I grabbed Upton and Holliday.  I'm severely computer-stupid so this could've all been my fault and I don't blame Mock Draft Central. I'm sure if I were doing this draft in 2009, I would've been better prepared with the draft interface. In fact, I'm better acquainted with MDC's software now from just doing this one mock draft.
3rd and 4th Rounds: I was eyeing my old standby Alexis Rios (who is now Alex Rios. Or maybe it's Alex is Rios?), but he was taken right before my turn. I was scooped, ya'll! I went with Webb and Adrian Gonzalez. My thoughts during this round, "Where the eff did all of the 1st basemen go already?" Seriously, Gonzalez or Lee were my choices. I don't want Lee, whose numbers are beginning to resemble a 2nd baseman. Some other guys that went in the 4th round who I wouldn't want this high: Cliff Lee, Victor Martinez, Joe Mauer and Garrett Atkins.
7th and 8th Rounds: Soto went in the 7th round. I'm not a fan of grabbing top catchers, but that was really good (mock) value. I grabbed Oswalt and Stephen Drew in these rounds. Kazmir went right after Oswalt, and I contemplated him for a brief second, but decided Oswalt was a bit safer. Drew will be my 2009 crush. I'll cover him ad-nauseum during this offseason. Ronnie, Bobby, Ricky and Mike, I like Drew. Who cares who you like?
9th and 10th Rounds: I grabbed Matt Capps and Francisco Cordero, the top two closers left on the board. I contemplated Marmol and Huston Street instead of the aforementioned schmohawks, but I didn't grab them because of the uncertainty right now (in November) of their closing situations. Billingsley went right after Capps and I mock kicked myself that I didn't grab him. BTW, Triumph, the Insult Comic Dog just came on my iTunes. I do not keed.
11th and 12th Rounds: All right just grabbed Posada and Saito by accident. I timed out and it Auto-Selected for me. This was my error because I was typing up the last paragraph and jamming to Triumph, the Insult Comic Dog. By the time I looked up, I had Posada and Saito. I wouldn't draft either of them, especially not Saito, but c'est la vie. I imagine a lot of this team would change because of how early I'm mock drafting (in November) and if there's one thing I can find on the (mock) waiver wire is (mock) closers.
13th and 14th Rounds: I was set to grab Conor Jackson but someone (mock) grabbed him right before me. Since I was scooped again, I went with Cantu and then a longshot pick, Ian Stewart. I wanted average in this round and did not get it. I prolly could've (mock) waited on Stewart until the 23rd round, but this is a mock draft, so whatevs.
15th and 16th Rounds: In a boneheaded move, I grabbed Cameron Maybin, but it's (mock) November (wait, it really is November) so this could end up being the mock steal of the mock draft or not. No way of knowing right now. Then I snagged John Maine — the real one, not mock one.
19th, 20th, 21st, 22nd and 23rd Rounds: I grabbed Billy Butler, Iannetta, Scot Shields and Denard Span respectively with my last four picks (and, if you must know, Cypress Hill came on iTunes… Here is something you can't understand, how could I choose Denard Span…). These were actually my best value (mock) picks of the entire mock draft. I expect three of these four guys will not only play, but play well for their draft position. Then there's Shields. It was between him or Wheeler for potential saves. I think Arrendono will take over for K-Rod, but Shields is a favorite of Scioscia so there's potential there.