Oh, they're not just bad.  Nah, I outdid even myself this time.  On this drafternoon, I picked a team that is near-perfectly awful.  They simultaneously suck and blow.  On a scale of one to ten, they're a negative seven.  I did the math!  Somehow I managed to get a team where not one hitter projects for more than twelve home runs.  If someone in the Royals brass gets wind of my drafting skills, I may get a job!  If you think I'm being facetious (which was recently outlawed in Madagascar), shame on you.  And shame on this team!  I took part in a fantasy baseball draft this past Saturday to pick the worst fantasy baseball team.  And I think I done did it.  My co-conspirators in this were:
Roto Rob
Tirico Suave
Drunk Jays Fans
Fantasy Baseball Cafe
Fantasy Pros 911
Hire Jim Essian
Sharapova's Thigh
Fantasy Baseball Geeks
Beyond the Box Score
Come with me as I take out the trash: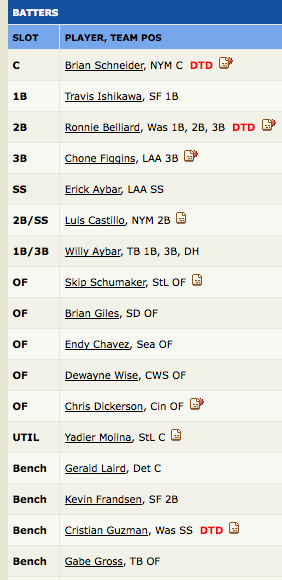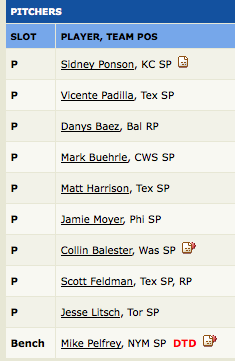 Random thoughts about various rounds of the draft:
ROUND 1 – I had my eye on Ronnie Belliard like only Mrs. Belliard could ever know.  He's eligible at 1st!  Need I continue?  Okay, he's on the Nats.  Should I go on?  His K rate has been going up.  More?  He's also eligible at 3rd.  All right, one more thing.  He's projected for 400 ABs and 11 home runs.  Bleh, and thank you.
ROUND 2 – It was between Chone Fuggums and Lousy Castillo.  Had to go with the more shallow position of 3rd base.  Fuggums will probably get 500 ABs, and, I don't know, 4 HRs.  Not a bad guy for the Not Corner.
ROUND 3 – And Lousy Castillo makes it back to me.  Projected for 487 ABs and… Wait for it… Here it comes… Hold on, I have an itch… All right, here it is… Zero home runs!  WTF?  How is that even possible?
ROUND 4 – Okay, I've waited on crappy outfielders long enough.  Skip Suckmaker, you're mine!  Thank you, LaRussa.
ROUND 5 – I'm actually worried about my Runs at this point.  No, I didn't just drink some Mexican water.  So to clog up my tailpipe, I select Erick Aybar.  He's projected for less than 50 Runs and over 400 ABs.  Later I will add his Brother in Razzball Charms.
ROUND 6 – One thing I really notice about drafting craptacular players, everyone has a different draft sheet.  It's like you got ten owners together that have all been in solitary confinement for the last six months.  Everyone knows who's crappy, but nobody knows which order anyone else is going to take them, so guys last longer than you think they will.  Without further ado, Brian Schneider.
ROUND 7 – And because no one knows when anyone is drafting a player, you (or at least I) want to fill up your (my) Utility spot with another catcher that I know will rack up the ABs and little else — Yadier Molina.
ROUND 8 – Super futility man, Willie Aybar.
ROUND 9 – Finally, I take a pitcher.  Not just any pitcher, but a pitcher worthy of a Razzball Spotlight, Gorilla Ponson.
ROUND 10 – B. Giles because anyone who's ever played any level of baseball can put up his stats.
ROUND 11 – Travis Ishikawa.  Everyone loses a job on your fantasy Razzball team, so backups are very helpful and Giants hitters are even more so.  Worst case scenario, Ishikawa and Belliard will make a nice blahtoon.
ROUND 12 – Vicente Padilla, probably my riskiest pick so far.  He can't make it out of May with a job, can he?
ROUND 13 – Endy Chavez.  Nicest thing anyone can ever say about a guy on your Fantasy Razzball team, "He's a great fielder!"
ROUND  14 – DeWayne Wise. Ozzie's crazy enough to give him 500 ABs, but he's not crazy enough to lead him off, is he?
ROUND 15 – Having played this league last year, I knew anyone I took on the pitching side would lose their job sooner than later if I was playing right.  With his 150th pick, Grey selects Danys Baez, a leading candidate for an Orioles rotation spot.  You heard me right, non-Orioles fans.  Baez might be an Orioles starter this year.  How's dem apples?  Delicious!
ROUND 16 – Mark Buerhle.  Tried to balance all of the starters I was going to lose with a guy who can give me 200 lame innings.  There's a chance I bench him until he gets cold.
ROUND 17 – Matt Harrison.  Okay, I'm a sucker for sucky Texas pitchers.
ROUND 18 – Jamie Moyer.  Another innings eater-slash-guy you can't believe is still a major league starter.
ROUND 19/20 – Chris Dickerson and Gerald Laird.   Dickerson's a K machine, but he's the only guy on my entire team with any downside.  I'll be honest.  I might be patroling the waiver wire for a Dickerson replacement.  As for Laird, it's really hard to resist taking an extra catcher.  They're all so good!
ROUND 23/24 – Jesse Litsch and Mike Pelfrey.  Some of you may be sad to see these guys here because you have them on your regular fantasy teams.  Let's just say, I'm hoping these guys stay healthy because they could be in for an awfully wonderful year.
ROUND 25/26/27 – Kevin Frandsen and Cristian Guzman and Gabe Gross.  Not sure how this crapfecta lasted this long, but I just had to back up some of my other guys that are sure to lose playing time.  Actually, if I played my cards right, some of them might have lost playing time already.  Razztastic!