You can travel far and wide across the internet and find any number of statistics touting the thump in Joey Gallo's bat. It's legendary power that doesn't deviate much from players like Aaron Judge, Giancarlo Stanton, and J.D. Martinez, no matter how much offseason buzz and the Big Apple may suggest otherwise.
When I started to chop up Gallo's stats on various parameters, my intentions were simple: consider whether a better version of Gallo could exist.
The idea of adjusting a power hitter's strikeout rate to foster greater productivity isn't new and neither is it innovative, but it's something I always kick around in my head with big bats. I remember watching Kris Bryant on ESPNU (do you remember that thing called cable?) mash for the University of San Diego when I was just a young lad and falling in love with his swing. When he debuted in 2015 with a 30 percent strikeout rate and a .375 BABIP average to buoy his .275 average, I backed off. That was a mistake.
The next year Bryant cut his strikeout rate by over six percent, refining his peripherals into a drastically new hitter. Then he did it again, cutting his swinging-strike rate by another three percent and posting an OBP north of .400 in 2017.  I learned quickly to never doubt Bryant.
We often say to learn from our mistakes, but I'm torn with where to take my affinity for Gallo. On one hand, he's a different breed of power hitter, with a swing-and-miss problem that I don't anticipate ever falling below 30 percent. But the pedigree in his bat was once considered similar to Bryant and I love Gallo's swing for different reasons than Bryant's. The Cubbie was, and is, compact in his approach. Gallo was, and is, extremely aggressive in coiling his 6-foot-5 body to generate unbelievable bat speed and power, even with some inherent length to his swing.
That length is one reason why we see what I'd like to call "Mount Gallo" below.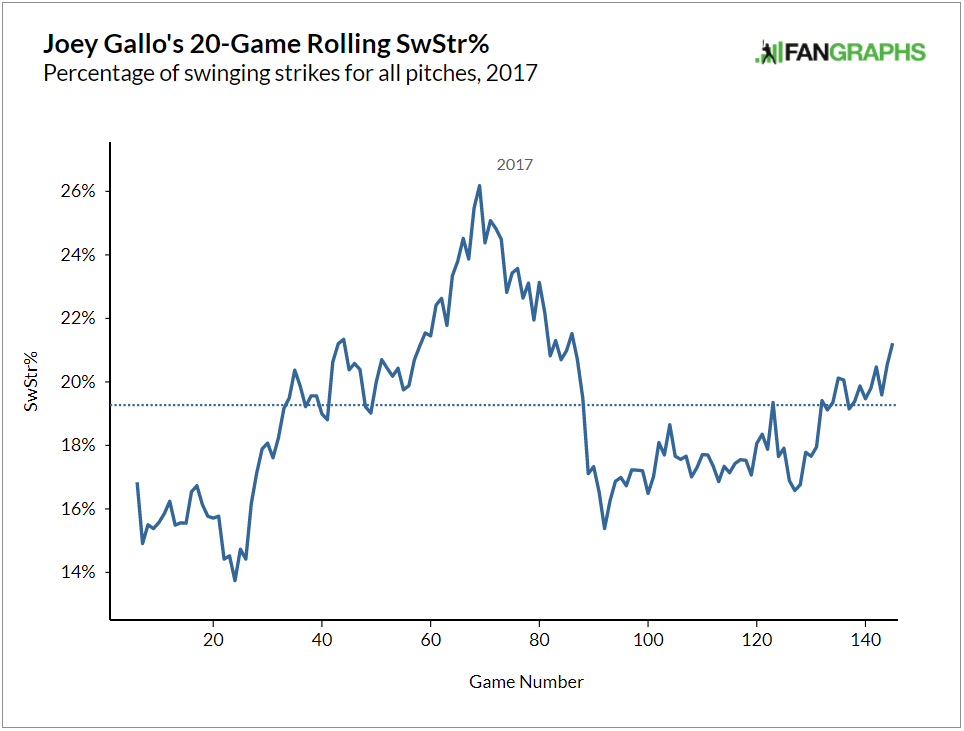 Gallo's swinging-strike rate is grotesque, tied for worst in the majors last year with Javier Baez, and Gallo's 20-game rolling average peaked around midseason at a mind-boggling 26 percent. Then Gallo stopped seeing breaking balls at a rate above 30 percent in a small sample of games during July (right around game number "80" in the graph).
Coincidentally, one pitch Gallo struggles to produce against is the slider (-1.27 pitch info pitch value/100 on Fangraphs).
This presents itself as one of the drivers for Gallo cutting down to a manageable swinging-strike rate for a short period of time. But the thought is somewhat fleeting given the reversion back to above 20 percent come season's end (game number "140").
While I cite swinging-strike rate in Mount Gallo above, it's important to understand the variables that lead to a swing-and-miss hitter.
Out-of-zone contact is one. It's why players like Jonathan Schoop can maintain a swinging-strike rate of nearly 14 percent and only strikeout 21 percent of the time. (Schoop's 59 percent outside-of-zone contact rate is nearly 17 percent higher than Gallo's – that's night and day.)
Gallo's out-of-zone contact rate is one of the main issues, but during the same block of time where Gallo's 20-game-swinging-strike started to descend from Mount Gallo, his outside-zone contact rate rose to just below 50 percent.
Something clicked, and even if it was for a short period of time; merely a blip, it shines a light on what Gallo needs to adjust in order to push ahead of his sub-.210 average. You wouldn't anticipate a player of this size having problems with plate coverage, but given the path of Gallo's bat through the zone, he's trading his light-tower power for the ability to cover areas of the zone other 6-foot-5 hitters can.
Given that Gallo is a relatively patient hitter (near league average swing rate at 47%), the lack of an average ability to make contact when he chooses to swing may tie to how deep he gets into counts with his patience. Breaking balls are thrown more with two strikes than one or two. While it's easy to suggest that Gallo should simply be more aggressive, as I detailed in a post of mine for BigThreeSports, that aggression is going to drag down his walks.
It's a double-edged sword, and for a hitter with flaws, like Gallo, to find a balance is a tall task.
Even though out-of-zone contact ability may not produce the highest quality of contact, I still see it as a sign of development from from Gallo; one that could make Gallo a better version of himself.
This mental exercise allows me to apply what my doubt of Kris Bryant taught me: never toss the possibility of adjustment completely out the window. Although I don't put nearly as much stock in such a small window of change with Gallo, I have a hard time dismissing the potential for further adjustment by elite talent.
Gallo's ability to positively adjust his out-of-zone contact rate and general contact rate as a whole is key. As he creeps into the prime years for hitters to trend up in their discipline and contact profile, the direction of these contact and discipline metrics and their components will dictate the legacy he leaves.
***
Your fantasy team could reap the benefits of potential adjustment come late March.
I consider Gallo in a class of players that are strictly owner-dependent. Some hate the idea of taking such a hit in average. Others want to build around the few players with legitimate 40-homer power. (In the few mock drafts I've done with Lawr Michaels this offseason, he seems to be a subscriber to this belief).
Using Razzball's Player Rater, here is the pure dollar value Gallo produced last year.
R: $3.6, HR: $9.8, RBI: $3.2, SB: $.9, AVG: $-4.7
That nets a total of $13.8, placing Gallo 88th overall, just behind Yasiel Puig and Wilson Contreras. I phrase it in terms of dollar value per category because I want to emphasize the net effect of having an average this poor from a hitter.
With his early average draft position sitting at the end of the eighth round, we're seeing a slight devaluation given where most 24-year-olds trend statistically given extended looks at major league pitching. Fangraphs' Steamer agrees with me, giving Gallo the following – what I consider appropriately bold – projection for 2018…
39 HR, 84 R, 93 RBI, 7 SB, .228/.338/.514
This would give him the following dollar values for each offensive category according to last year's standards.
R: $3.4, HR: $9, RBI: $5.8, SB: $.9, AVG: $-3.8
This nets out to $15.2 of value, which would bump Gallo roughly 10 spots on 2017's overall roto leaderboard, to 78th overall (close to 2017 Mike Moustakas). Steamer assumes about a 2.5 percent drop in Gallo's strikeout rate in his age-25 season. Likely driven by what I speak about above: Gallo's contact profile crawling along the standard aging curve and improving along with his discipline.
If you want to buy into a more Bryant-esque change for Gallo, then paying middle-of-the-eighth-round value for a player who can touch 45 home runs with the profile shown above, can return substantial value on your investment.
I can be found on Twitter – @LanceBrozdow. Where I enjoy GIF'ing up hitter adjustments (like this one!) and posting all of my baseball-centric, written and spoken content. FOLLOW ME!