A prospect who will play his home games at Coors Field with formidable ISO numbers in the minor leagues? Sign me up. Sign everybody up.
It was easy to buy in, but McMahon hasn't lived up to the hype.
With Rockies prospects in particular, evaluation is difficult. At nearly every level of the Rockies minor league system there is a park that heavily inflates home runs for a particular handedness according to Stat Corner. McCormick Field of the Asheville Tourists is advantageous for left-handed bats. The Hangar of the Lancaster Jethawks is one the most home run-inflating parks in the minors for either handedness of hitter. Dunkin' Donuts Park for the Hartford Yard Goats is great for right-handed bats. Isotopes Park of the Albuquerque Isotopes is in the Pacific Coast League, which is all you really need to know. Memorial Stadium of the Boise Hawks is neutral for home runs, yet my conversations with an individual in their media department gave me the perspective that even in Boise, balls do carry.
This makes live looks at McMahon essentially to fully understanding the level he is playing at and what he projects to be. The funny thing is that I got live looks at McMahon in Double-A when the Yard Goats were homeless, playing an entire season on the road despite a few games in Norwich, CT.  I bought fully bought in at the time, but I may have been overzealous.
McMahon graded out as a 60 raw power bat with discipline that miraculously improved as he graduated through the minors. His swing has always been silky smooth, even with its length. A strikeout rate around 20 percent now feels like it will take some work rather than the 50th-percentile outcome it once felt projected to be. The hype around McMahon decayed because he couldn't steal consistent playing time in 2017, ending up with only 24 plate appearances after the Rockies signed Ian Desmond to play a mix of first base and outfield. I tend to defer to organizational assessments of players when a signing blocks a prospect the industry determines "ready." (This goes back to how important it is to refrain from aggressive stat-sheet scouting with Rockies prospects). The Rockies didn't think McMahon was ready last season and they were probably right, even if the Desmond contract looks terrible at the moment. This season has been much of the same with small windows of playing time starting to shape the road ahead.
With those small windows McMahon has developed… in weird ways.
Each of the last two seasons in the minor leagues, McMahon has struggled versus left-handed pitching. This season has been oddly different.
2017 MiLB

v LHP – .633 OPS
v RHP – 1.059 OPS

2017 MLB (*small sample)

v LHP – .200 OPS
v RHP – .635 OPS

2018 MiLB

v LHP – .661 OPS
v RHP – .857 OPS

2018 MLB

v LHP – .979 OPS
v RHP – .653 OPS
Splits can be noisy in small samples, but one promising aspect is McMahon's 9:5 strikeout to walk ration in 31 plate appearances. Compared to his 42:11 ratio versus right-handed pitchers, it seems like McMahon has somewhat adjusted to left-handers, even if he hasn't been rolled out consistently against lefty arms. This could be a matter of reps at the major league level. Given he's only 23 years old, any improvement, even if it isn't sustainable, on one of his biggest flaws is a great sign.
McMahon is also seeing a high amount of fastballs, which might be a product of his inherent ability to adjust to breaking balls and keep his swings in the zone. His Fangraphs pitch values for changeups and sliders are above average, supporting the idea that his breaking-ball recognition isn't the issue. McMahon's ability to make contact is. He's in a weird limbo with success against offspeed, but struggling to simply put bat on ball. If he was a qualified hitter, his contact rate would land him among the bottom five hitters in the league. McMahon doesn't have the light-tower power to hang at the bottom of that list with Aaron Judge, Joey Gallo and others.
McMahon's inability to make contact is most evident against fastballs.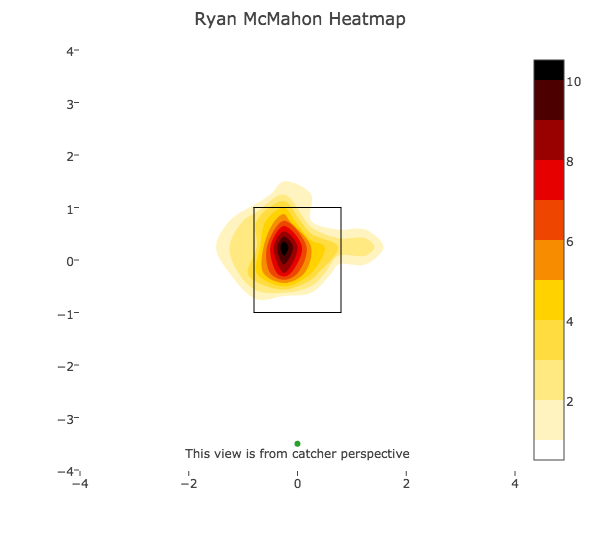 (Whiffs on four-seamers, sinkers and two-seamers, through 8/19, Ryan McMahon)
Even more perplexing is where McMahon is doing damage in comparison to his swinging strikes.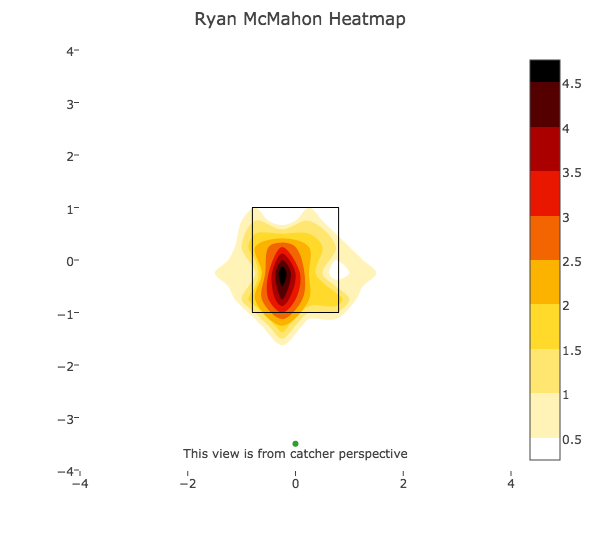 (All hits through 8/19, Ryan McMahon)
The line between hits and whiffs for McMahon is very slim. While a lot of his hits are coming off breaking balls rather than fastballs, the proverbial book on the lefty is simply to keep everything hard against him and to elevate above the belt. This has resulted in a 90th-percentile fastball rate among qualified hitters and struggle against better pitchers throwing harder up in the zone. I don't think it's a bat speed problem for McMahon, given his passable average exit velocity per Baseball Savant. But he does lack the ability to barrel balls, landing him near the bottom quartile of the league (min. 50 batted ball events).
McMahon's lack of barreling emphasizes not only the lack of an ability to make contact, but the lack of productivity when he does make contact. I think this primarily relates back to McMahon's struggle with fastballs, which again, is something, given his bat speed, you have to hope comes with reps against major league pitching.
The majority of hitters come in as fastballs hitters and are fed a steady diet of breaking balls until they adjust — which sometimes never happens. McMahon is the opposite and a unique case in hoping his contact profile improves with time because his pitch recognition seems to be beyond his years.
Colorado has the responsibility to let McMahon develop at the major league level. He's earned it and needs it to become the heir apparent to Nolan Arenado upon his potential departure from Colorado after next season (if the Rockies envision him at third base). These faults won't fix themselves quick enough to make him value rest of season in roto leagues, but I think McMahon is a fantastic investment in dynasty leagues if an owner doesn't see as an everyday player at the major league level.