After a mixture of smooth and rough waves last week, we're looking for some smooth sailing here. This group of streamers is much more reliable and we have some guys that the Streamonator absolutely loves. What does make this time of year fascinating is the weather though, as any starters matchup can change if Mother Nature is unhappy. That's why it's imperative to check the weather before picking up any pitcher, as you don't want to get stuck with someone who may not even make their start. So, with that in mind, let's get to one of the hottest pitchers in the league.  
Two-Start Streamers 
Matt Shoemaker TOR (at MIN, at OAK) 
It's simply hard to fade Shoemaker right now and it's a wonder why he's still so widely available. Over his first three starts of the season, Shoemaker has posted a 0.92 ERA and 0.71 WHIP while owning a 27 percent K-rate. That's the numbers you expect from a top-10 starter but we're getting that production from waiver wire scraps. While the Streamonator doesn't necessarily love Shoemaker, it does have him collecting 10.3 strikeouts while generating a 1.22 WHIP across 11 innings. Facing Minnesota is the best matchup of the two, as they currently rank 23rd in the MLB with a .307 xWOBA. Facing Oakland is no easy treat but pitching in their stadium is beneficial considering it's one of the best pitcher's parks in the majors. That makes Shoemaker tough to avoid in a two-start week, especially with his sparkling form.  
Trevor Richards MIA (vs. CHC, vs. WSH)  
Any time the Marlins have a week of home games, it's always worth looking at their starters. The main reason why is that ballpark, as Marlins Park has surrendered the second-fewest runs in the majors dating back to last season. In three starts this season, Richards has accrued a 2.00 ERA and 1.11 WHIP, striking out 18 batters across 18 innings. He's also allowed a fantastic .250 wOBA so far this year and it's clear he's building off a superb spring training. That's about all you can ask for from someone who's this low owned, especially a guy who gets to pitch in this spacious ballpark. That high strikeout rate shouldn't surprise anyone either, considering he posted a 28 percent K-rate in the minors. These matchups are slightly worrisome but not enough to scare me off if you need the extra starts.  
One-Start Streamers 
Michael Pineda MIN (vs. TOR) 
Pineda actually just climbed above the threshold percentage for a streamer but I see him available in too many leagues not to recommend him. In three starts this year, Pineda has accumulated a 3.00 ERA and 1.00 WHIP while striking out 15 batters across 15 innings. That's the Pineda we knew and loved in his Yankees days, as his .238 xwOBA is hard to argue with. What we really like here is this matchup though, as he faces a Toronto team who owns the worst strikeout rate in the league while ranking bottom-six in OBP, OPS and xwOBA. The Streamonator has him projected to provide $16.6 worth of value, which is hard to fade considering he could be a -180 favorite here.  All that makes Pineda hard to fade, even without the goop all over his neck.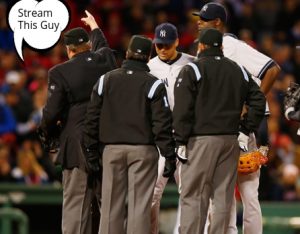 Domingo German NYY (vs. KC) 
We might have to change this article name to "Ride the German". Wait, that sounds weird and slightly inappropriate. In any case, this marks German's third appearance in four articles, as he's getting extremely close to the streamer threshold percentage. It's easy to understand why when looking at the Streamonator though, as he's the highest projected one-start streamer. In fact, German is projected to provide $23.4 worth of value, which is the equivalent of a top-20 pitcher.
His early-season form speaks for itself, with German posting a 1.38 ERA and 0.77 WHIP across 13 innings, while striking out 14 batters. Those massive strikeout numbers should be no surprise when you consider the fact that German owns a 27.1 percent K-rate for his career. The matchup is simply the icing on the cake, with the Royals ranking 25th with a .300 wOBA and 20th with a .311 OBP. Not to mention, German is projected to be a -190 favorite in this game.
Jake Odorizzi MIN (vs. TOR) 
Odorizzi is a wildly inconsistent pitcher but he has some huge upside in this spectacular matchup. In fact, Toronto sits 25th in the majors with a .293 xwOBA. That's far from shocking, as the best hitter on this team is Justin Smoak. Not to mention, Toronto owns the worst strikeout rate in the majors while sitting with an ugly OBP of .279. 
That's why the Streamonator loves Odorizzi this week, as it has him projected to provide $11.6 worth of value. Not only will he enter that matchup as a favorite in the -160 range, he's projected to accrue a 3.89 ERA and 1.17 WHIp across 5.6 innings, striking out 6.3 batters. That strikeout number is especially high and it makes him hard to fade with Toronto's lack of discipline at the plate. While Odorizzi's 6.35 ERA may scare off some owners, his 1.15 WHIP, 4.01 FIP and 33 percent K-rate indicate that he has some serious positive regression headed his way.  
Yonny Chirinos was originally in this article in a start against the Baltimore Orioles but has been moved to the bullpen since. He still might be a sneaky pickup though, considering he could provide some quality innings out of the pen against this weak lineup. Prior to a blowup over the weekend, Chirinos allowed only five baserunners across 12 innings in his first two starts of the season.
Kyle Gibson has a high rating according to the Streamonator and should have success against the Toronto Blue Jays and Baltimore Orioles, if he makes both of those starts. Needless to say, get as many Twins starters as possible into your lineup against the Blue Jays and Orioles garbage lineups.
If you have any comments or questions, write me here or contact me on Twitter @BartilottaJoel.