The All-Star break gave us a breath of fresh air, and it really showed in last week's articles. The craziness continues to pour in, though, because we have the trade deadline right around the corner. There were already a few moves over the weekend, and they're going to keep streaming in with the deadline a week away. That's something that needs to be monitored because it'll wreak havoc on a lot of these rotations. With that in mind, let's get into our favorite streamers for this week!
Two-Start Streamers
Michael Pineda, MIN (vs. DET, at STL)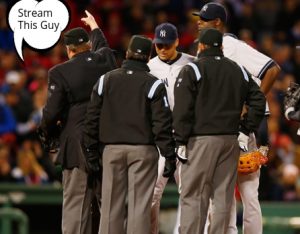 This is the first-ever picture I made at Razzball, so I have to bust this bad boy out every time I write up Pine Tar Pineda. All of the sticky stuff controversies clearly haven't hampered Pineda because he continues to chug away. If you take out his one start off the IL, Pineda has provided a 3.54 ERA, and 1.13 WHIP in his other 12 starts this year. That's pretty much the guy we've seen for a decade, with Pineda owning a 4.02 ERA and 1.19 WHIP for his career. That makes it hard to understand why he's around 50 percent rostered on most sites, making him one of the best streamers of the week.
We'd pretty much like Pineda against anyone behind those numbers, but we really love him in these two matchups. The first one against Detroit is delightful, with the Tigers ranked 23rd in xwOBA and dead-last in K rate. They've actually been much better recently, but Pineda allowed five baserunners, and two earned runs across seven innings in his last start against them. Facing the Cardinals might be even better than the Tigers, with St Louis sitting 25th in OBP, 26th in wOBA, and 27th in runs scored.
Tyler Anderson, PIT (vs. MIL, vs. PHI)
I always saw glimpses of hope out of Anderson when he pitched for the Rockies, but you knew it would never work unless he went elsewhere. Lucky for him, he did, and it's doing wonders for his career. What makes Anderson so good is his consistency, allowing four runs or fewer in 16 of his 18 starts en route to a 3.41 ERA and 1.09 WHIP in those 16 outings. He's been even more impressive at home, collecting a 3.31 ERA and 1.13 WHIP at PNC Park this year. That's really no surprise when you see how spacious that stadium is, catering to Anderon's abilities perfectly.
Getting two home starts for TA has him as one of the best streamers of the week, but these happen to be solid matchups too. The Brewers have been a huge surprise but only rank 25th in SLG, 21st in wOBA, 22nd in OPS, and 26th in K rate. The Phillies are a little better but sit 24th in K rate and 19th in xwOBACON. What's also nice is that Anderson had his best start of the year against those aforementioned Brewers, with TA throwing seven scoreless innings and allowing just three hits.
Kyle Muller, ATL (at NYM, vs. MIL)
The Braves had so much hope coming into this season, but it's hard to overcome how many losses they've suffered. The one silver lining is that it's opened the door for some of these youngsters, with Muller carving out a role in this rotation. The left-hander has a 2.41 ERA, 0.96 WHIP, and 9.4 K/9 rate in his first four starts this season, holding down tough offenses like the Padres and Reds. That says a lot about this kid, with the southpaw accruing a 3.13 ERA in his abbreviated minor league career.
The matchups against the Mets and Brewers are magnificent, with Milwaukee being mentioned in the previous write-up. The Mets are even worse, ranked 18th in K rate, 24th in xwOBACON, and 29th in runs scored. Muller actually mauled the Mets in their one meeting earlier this season, throwing four no-hit innings in his first career start,
One-Start Streamers
Jameson Taillon, NYY (at MIA)
Rough night, Jameson? The good news is that he's getting over these hangovers quickly, with Taillon tallying a 1.47 ERA and 0.87 WHIP over his last three starts. That's the guy we've been waiting to see all year because JT has been destroying his peripherals. In fact, Taillon has a 3.97 ERA and 24 percent K rate, indicating that even more positive regression is headed his way. The recent run is definitely the start of it, and it's far from shocking when you see Taillon's 3.35 ERA and 1.17 WHIP in his final two seasons with the Pirates.
All of that makes him one of our favorite streamers of the week but getting to face an NL lineup in a pitcher's haven like Marlins Park only adds to Taillon's intrigue. Miami currently ranks 27th in OBP, 28th in runs scored, and dead-last in xwOBA. The Streamonator agrees with our assessment, projecting Taillon to provide $9.1 worth of value in this brilliant spot.
Adbert Alzolay, CHC (vs. CIN)
My name is The Real Joey Bart, and I'm addicted to Adbert Alzolay. I rarely say this, but I truly believe that this guy has the stuff to be an ace sooner rather than later. His 4-10 record and 4.58 ERA are certainly nothing to write home about, but his peripheral numbers tell us a different story. We're talking about a youngster with a 1.11 WHIP, .218 BA allowed, 3.84 xFIP, and 25 percent K rate. Those are some great numbers from a blossoming 26-year-old prospect, and it feels like he could be in for a big final three months. Facing Cincinnati looks tough when glancing at the statistics, but they're currently missing Nick Castellanos, Mike Moustakas, and Nick Senzel. That leaves them very thin, and it could put Adbert in an awesome spot at Wrigley Field.
Andrew Heaney, CIN (vs. COL)
Heaney has been dropped in a ton of my leagues over recent weeks, but this is a great opportunity to capitalize on that impatience. The biggest reason we like him is this matchup with the Rockies. As someone who lives in Denver, I can tell you that this team couldn't hit a little leaguer on the road. In fact, they rank dead-last in runs scored, OBP, OPS, and xwOBA on the road this season. They're historically bad outside of Coors Field, and that should allow Heaney to recapture the form that made him a fantasy asset in draft season.
It's four starts against the Giants, Yankees, Astros, and White Sox that have really killed his averages, but those teams have damaged many opponents' ERAs. In the other 13 outings, Heaney has a 3.57 ERA, 1.15 WHIP, and 10.4 K/9 rate. The Streamonator definitely anticipates that ladder guy showing up here, with Heaney projected to provide a season-best $32.5 worth of value this week.
Streamers to Consider
Touki Toussaint, ATL (vs. MIL)
Touki is one of the top prospects in this organization and should get plenty of time to thrive with so many injuries on this roster.
Kolby Allard, TEX (vs. SEA)
Allard had a 4.06 ERA and 1.11 WHIP this season before a rare dud on Friday and gets to face a 25th-ranked Seattle offense in a pitcher-friendly Globe Life Park.
Ryan Weathers, SD (vs. COL)
We already discussed how bad the Rockies are on the road, putting Weathers in play against them. The southpaw has a 2.91 ERA and 1.14 WHIP this year as well.
Feel free to comment me here or reach me on Twitter @Bartilottajoel if you have any questions!