I'm in a bunch of leagues because I'm popular and smart. Feathered hair is coming back! It is? Yes, Grey said so! This fantasy baseball league is being hosted by RotoRob. (NOTE: It's not RotorOB, RotOrOB or roTOROb.) After the pretty picture of my fantasy baseball team, I share with you never-before-seen thoughts I jotted down during the draft. This draft was held about two weeks ago, so two of my last three picks are already off my team. Anyway, here's my fantasy baseball team: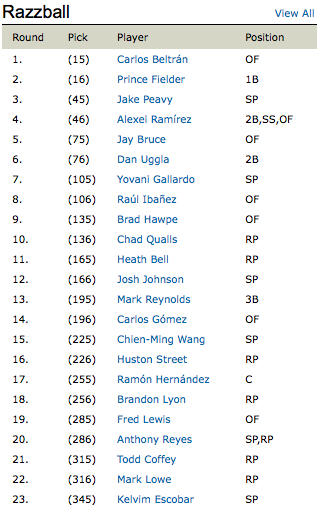 ROUNDS 1/2 – I turn on my draft thingie to find I'm drafting 15th out of 15 teams. Sweet.  I prefer the corner. Gives me time to go on a Mad Dog 20/20 run between picks. Since I'm the corner, I'm going to combine my pick recaps. I take two predictable guys (Carlos Beltran and Prince Fielder) as two guys above me predictably grab Hamilton and Longoria.  Whatever, I wish my fellow drafters nothing but love, peace and Rickie Weeks.
ROUNDS 3/4 – Of course Pedroia and Manny go quickly.  There's nowhere for them to go but up. /sarcasm  I'm hoping for Quentin to come back to me, but it's a pipe dream with 15 teams choosing twice before I go again.  I dropped some hints about Rios in the chat to see if I could persuade people away from CQ.  Oh, well, Quentin was taken three picks before me.  I was surprised he lasted that long.  Went with Jake Peavy and Alexei Ramirez.  As everyone knows I love Peavy and at the 45th pick overall it's hard to refuse when Lincecum and Santana were off the board at 20 and 21, respectively.  As for Alexei at 46th, he has 2nd base and SS eligibility in Y!  and I like him better than Pedroia who went almost 30 picks prior.  If you didn't know, now you do.
ROUNDS 5/6 – Third basemen are flying off in this round leaving me looking at Huff.  Blech!  I've decided sometime after my third draft this year that I'm punting 3rd basemen.  I refuse to reach for Davis.  2009 is the Year of the 3rd Baseman Flier for me.  There wasn't much appealing to me for these two picks.  I decided I could use something safe and something Bruce.  I went Dan Uggla and Jay Bruce.  My average is in the dumpster by this point, but I'm not going to worry about it right now.
ROUNDS 7/8 – I'm hoping at this point to solidify my outfield because of the Bruuuuce upside pick.  I'm looking at Raul Ibanez and I'm actually finding him appealing.  Weird!  I also like Broxton right here too, but, alas, someone else liked him right before me.  I end up with Raul Ibanez and Yovani Gallardo.  See, this is the thing about having the 15th pick, you know that you might have to reach a little bit for guys you want.  Gallardo wasn't getting back to me and I've been taking Cain in every other league and that gets boring.
ROUNDS 9/10 – All right, I need a closer in one of these two picks.  Then again Ryan, Jenks, Marmol, Qualls, Bell and Devine are all on the board.  I might pass on relievers again.  There goes Ryan, Marmol, Jenks and Devine… Somebody's been reading my mind — no fair!  I took Chad Qualls and Brad Hawpe.  As for Hawpe, in a league this shallow (no Corner or Middle Infidel), I figured I'd stock up on safe HRs/RBIs wherever possible.
ROUNDS 11/12 – I will be reaching for Carlos Gomez and Mark Reynolds with my next picks for a Utility and 3rd baseman because I need steals and my average is in the caboose already.  But I have a long wait… Off to the bodega for a bottle of cheap wine.  Okay, back and buzzed.  Wow, Reynolds and Gomez are both still there… But in front of the bodega, a homeless man said something to me that was pretty prophetic, "Everyone fears bad averages.  They'll be around for your next two picks.  Oh, and could you spare a buck, I'm trying to finish up my Master's in Sociology–" "Sorry, gotta run!"   I decided to try the homeless guy's advice on for size and went with Heath Bell and Josh Johnson.
ROUNDS 13/14 – Homeless Post-Grad Student was right!  Why does everyone fear a poor average so much?  Ah, for another day, I suppose.  Carlos Gomez and Mark Reynolds, you are mine!
ROUNDS 15/16 – For some reason, no one drafts Chien-Ming Wang anymore.  Or maybe they never did.  Guys chosen before him – Saunders and Ben Sheets.   Double shot of blech.  Anyway, it worked for my team because I have K-heavy pitchers on teams that might not win a whole lot and because I can't refuse closers this late… Huston Street.  Warm up the DL slot!
ROUNDS 17/18 – Ramon Hernandez has been at the top of my queue forever now and I'm getting sick of looking at him.  250-some-odd picks in, I'll take a potential 20 HRs catcher and another closer, Brandon Lyon.  (NOTE:  He was still the closer at this point.  But so was Corpas, so one out two ain't bad.)
ROUNDS 19/20 – Fred Lewis.  Beans don't burn on the grill!  Then I was looking at Aaron Cook and Pettitte, but decided to go with the upside of Anthony Reyes.  A few picks I liked this round, Josh Fields, Jed Lowrie, Kendry Morales and Colby Rasmus.  Great upside picks.
ROUNDS 23 – (Omitted Rounds 21/22. As said earlier, Mark Lowe and Todd Coffey are no longer on the team. So sad.)  With my last pick, I took Kelvim Escobar.  Not even really sure how he lasted this long.  Sure, he's injury-prone, but he's that much worse than Wandy Rodriguez? Crickets. Hmm… Maybe he is, but at the 345th pick I'll take this schmohawk every day of the week and twice on Muesday.