Greetings! What a day. What a muph*ckin day! LeBron James has officially ascended into Godhood as we are witnessing a beast of the likes I haven't seen since Rocky Balboa got absolutely shredded and destroyed by the supposedly indestructible Ivan Drago. I've been on my knees more often than an alter boy as of late, giving all that I have to the city of Cleveland, giving all that I possess in rooting on The King, Machine Gun Delly, and the rest of these scrubs. IF they pull this off, it is without question, the largest finals upset in NBA history. Well, at least since I was birthed by the Queen of the Elder Gods on the rim of Mt. Vesuvius… Oh… this is a baseball post… My apologies, as I know most of you could care less about the NBA finals, but seriously this is incredible television and I hope you get involved. Let's talk a little baseball though, shall we, my goodmen (and women)?
I am Tehol Beddict, and this is Disgrace/Delight! Take heed!
Players who Delighted: 
Giancarlo Stanton – The Yardfather cometh! Giancarlo "Reaver of souls" Stanton is  claiming the scalp of seemingly every pitcher he's faced as of late, blasting 8 gargantuan moon shots in his last 10 games. Brohemoth should have starred in the new Terminator flick– maybe then I would have actually gone and seen it. The batting average is up to .245 and I have no doubt that it will continue to rise like my yardstick when I witness Stanton at the plate. Pay homage.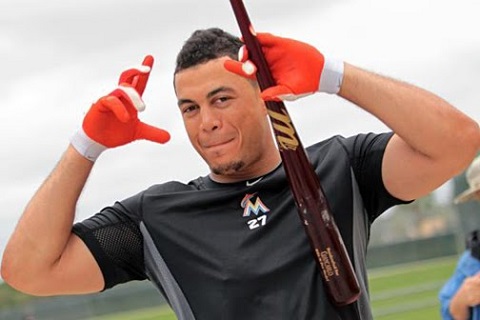 Masahiro Tanaka – Tanaka flocka flame has been gettin jiggy wit it ever since he returned from his DL sting, and I for one, am enthralled. The sexy Japanese import has now dropped a gem on em in back-to-back games, going 14 innings, with only 2 earned, and 15 ks. Is Tanaka back? Yea, I'm thinkin he's back, as Tanaka just went full John Wick on that ass. Im buying, and you shall do the same, for the Elders may curse you for getting uppity.
Carlos Correa – Dadadadadaaaaaaamn, this kid doesn't play around, does he???! Correa went 2-for-4 last night, with a late inning 2-run bomb. You want to know how I feel about son? I offered Dickerson and Clippard for him like three weeks ago in a NON-keeper league and was turned down instantly. Ballsy, bud, hella ballsy. Kudos to him though, as Correa's minor league numbers were absolutely magnificent, and now he joins a nice lineup so, sky's the limit. Hurry up and buy!
Carson Smith – Rodney, it's time to, say goodbye, say goodbye to Hollywood, as you're probably being taken out to the woodshed as we speak. Smith has straight up been nastier than Shaq's drawls after a weekend at Ribfest, and I fully expect him to hold on to the closer role for the remainder of the season, though, they won't allow him to throw in back-to-back-to-back games. Yes, he gave up a solo job last night. Yes, he gave up a single. Yes, my undercarriage smells like popourri, but that's all besides the point. This young stallion's business is pitching, ladies, and business is good!
Chris Heston  – I suppose it would be rude of me to leave Heston off this list, after throwing a no-no last night, even though my lack of respect for his game almost caused me to do just that. C-Hes has been erratic thus far, throwing a gem out of nowhere, then following it with a cow pie down our throats. He's got a solid strike out rate, so I can get behind that, and he should definitely be owned in all 12 team leagues. Just don't expect anything close to this form of dominance on anything resembling a regular basis.
Players who Disgraced: 
Noah Syndergaard – It's gettin, it's gettin, it's gettin kinda hectic, as Syndergaard is letting me down harder than every J-Lo movie ever made……WOULD IT KILL YOU TO SHOW THAT FLAWLESS AZZZZZ, Hollywood? Huh?!?! Would it??? With his luscious blonde locks, Syndergaard is said to resemble the mythical Norse Gods, so one would assume his game would be worthy of worship. One would be incorrect. He somehow managed 10 Ks in 4 innings, last week, while getting piped like Marcellus Wallace did in Pulp Fiction, so we know he has some game… Or wait… Does that just mean he's Mike Fiers? I shall pray that is not the case, as I own him in my head-to-head money league and refuse to drop him, much like I did with Taijuan Walker… and that has paid off… for 2 starts. Syndergaard's last start was just as strange, as he somehow managed a minuscule 2 Ks through 6 innings while giving up 10 hits, including a solo jack to some bum I don't even have the heart to mention (that ruined his shot at a quality start). Ughhhhhhh.
Jimmy Paredes – He's finished. Don't think about, just stop what you're doing and drop him, as he fell off like a bad bag of dope. It was fun while it lasted, but you've got to be realistic about these things. I'll cherish the memories.
Mark Trumbo – Welcome to the Mariners, bud! Dumbo has settled right in with the rest of the disgraceful Mariners lineup, going an abysmal 2-for-20 in his first 5 games with the club. I would say we're a cursed organization when it comes to adding big time power hitters, but hey, look at Cruz… Look at Cruz getting carried off the field in stretcher after pulling his groin. The cuuuuuuuuurse!!!! Reminds me of the time when I was in 10th grade, and got carried out of huge city fair after two friends and I killed a 5th of vodka in my car in about 10 minutes. YIKES! Beddict was hella crazy, ya'll. Good thing I've found the Elder Gods to guide me, aye? You could say I was a mix of Lindsay Lohan and Edward Furlong, so yeah, let's just leave that TB behind, agreed? Good. Say one thing for Tehol Beddict, he was a raging alcoholic.
Thank you for joining me for another edition of Disgrace/Delight. I will be traveling to Alaska Wednesday for a fishing trip, but assume I'll have internet service at airports and resort, so that I may reply to all the comments and questions you leave below. They better have that Cavs/Warriors game on Thursday or I might shart a brick. As per usual, it's been an absolute pleasure. Enjoy the rest of your week, my goodmen and women.
Want more Beddict? Follow him on Twitter at @Beddict143.